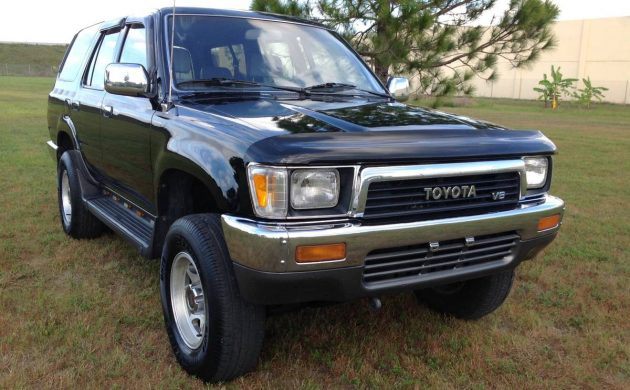 Older model 4Runners are near and dear to the hearts of many Toyota buffs largely because they were built on the same platform as the Hilux/Pick-up and, of course, because of the legendary reliability of the 22R motor.  In 1988 Toyota offered the option of a new 3.0 liter V6 but unfortunately, this motor failed to live up to its 4-cylinder cousin's rock solid reputation.  Head gasket failure was a problem from the get-go and in 1996, Toyota began recalling and replacing the faulty gaskets.  This 1991 4Runner, available here on Craigslist near Orlando, Florida, is reported by its seller to have had its "heads replaced" and with only 140,000 miles, is being offered at $5,995.  Special thanks to Barnfinds reader Jack M. for the tip!
Yours truly was a victim of one of Toyota's failed head gaskets when, after owning a '95 4Runner for less than three months, I suddenly noticed a massive puddle of fluid underneath my truck while at a gas pump one day.  I've owned more than a few Toyota's over the years and I consider myself a 'Yota guy through and through, but since that experience, I made a vow to only purchase trucks with 22R motors!  Those who live in the Northeast like I do know it's just about impossible to find a vintage Toyota truck or 4Runner that doesn't look like the remains of an old shipwreck.  It's tough to be choosy when shopping for one of these old rigs around here.  This Sunshine State 4Runner is certainly tempting to someone used to seeing these vehicles in an advanced state of deterioration in spite of the fact that it's got the V6 instead of the 22R.  The original black paint looks super glossy and extraordinarily well preserved despite a few stone chips and a ding or two.  I'm not too crazy about the lighted running boards and it's evident they could use a good dose of Mother's Back to Black.  The other complaint I have is with the choice of wheels.  Yes, they show some pitting but that doesn't bother me nearly as much as the fact that they don't appear to be the original Toyota-designed slotted rims that helped enhance the signature look of these trucks.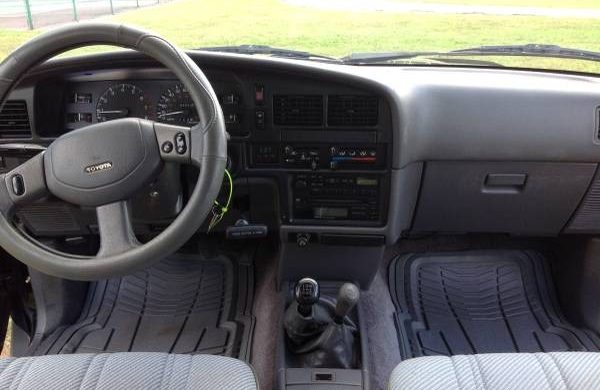 The interior looks equally pristine.  The only blemishes I can see are a small tear on the lower portion of the driver seat and some light stains on the front passenger seat cloth and the rear passenger seat belt.  The rubber molding around all of the doors looks to be in great shape and I wish I could keep the door jams on my vehicles so spotlessly clean!  I usually don't like the look of a wrapped steering wheel but the thick, textured wrap on this truck's yoke looks comfortable and very functional.  The rugged floor liners (front and rear) are a nice complement to the interior as well.
The seller provides a nice picture of the aforementioned 3.0 liter EFI V6 and the cleanliness of the engine bay matches nicely with the pristine condition of the rest of the truck.  It's very evident this truck has been well taken care of and with only 140,000 miles since new, Toyota aficionados will refer to this 4Runner as being in a stage of late infancy.  A timing chain and water pump job were done at 134K miles and the seller insists the truck needs nothing.  The presence of a 5-speed manual transmission and 4WD top out this truck's list of desired features.  At $5,995 this clean 4Runner is priced to sell fairly quickly.  If the seller can provide documented proof of the manufacturer's recall and repair of the original head gasket, do you think it might be worth pulling the trigger on this beauty?