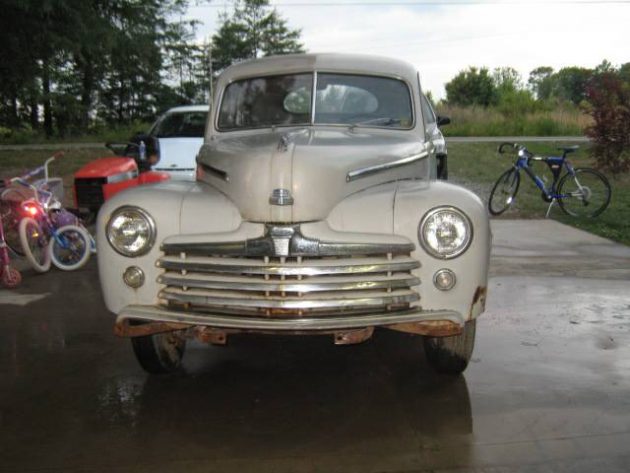 One of Johnny Cash's best songs was "One Piece At A Time."  It told about a lowly worker on an automobile assembly line that snuck parts out one piece at a time, in order to build his own new car.  The catch was that the "project" took several years, and it took a lot of work to assemble a car with parts from different model years.  In the collectible automobile world, a lot of projects start with a car that is a little rough around the edges, but was often purchased for a fraction of what a cream puff of the same model sells for.  Then, one piece at a time, the owner collects good parts to one day complete a restoration, or the project is returned to the road only to be upgraded slowly with the addition of better parts.  This 1948 Ford coupe, found on Craigslist in Madison, North Carolina, is being sold for just $3500.  To a collector who is a little bit short on upfront money, but wants a good car at the end of his project, this could be a great bargain.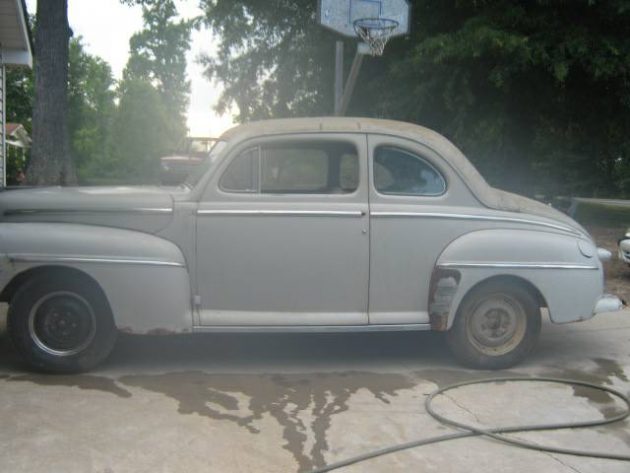 By 1948, the seller's market caused by the four plus year break in car production, necessitated by World War II, was pretty much over.  Ford had been selling what was, essentially, a warmed over 1942 Ford since production restarted, and a number of other makers were already introducing much more modern designs.  Ford had a new design coming in 1949, but they were on the ropes financially due to slow sales and mismanagement.  The 1948 models were good, proven cars, but buyers wanted something new and fresh.  Even today, collectors are not as warm to the idea of owning a 1946-1948 Ford.  They tend to bring a lot less than prewar cars of the same body style.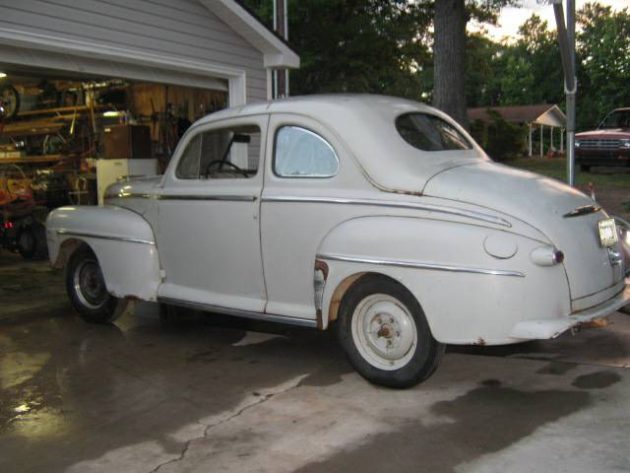 You can look at this as a "glass half empty" or a "glass half full" situation.  The "glass half empty" view says that the car will not be worth the cost of restoration on top of the purchase price.  On the other hand, the "glass half full" perspective is that you can get into one of these cheap, and end up with a very solid and useable car for not a lot of money.  There is something to be said for having a reliable, solid driver level antique car with a proven drivetrain and understated good looks.  1946-1948 Fords are very good cars if you want to drive your car a lot, and not worry about it being messed with while you run into the hardware store.  They almost blend in with all the other cars in the lot, and that kind of subtlety has a quality all its own.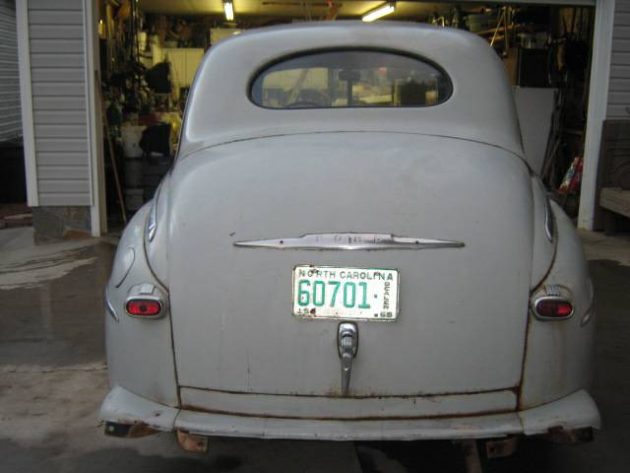 This particular 1948 Ford is in very restorable condition.  There are a few problems with rust in the body seams, some rust through in a few spots on the fenders, and it will need a full interior.  The owner says that it is 95% complete, but does not specify what exactly is missing.  Obviously, the bumpers are absent, and he offers to sell the new buyer two different Flathead Ford V-8s.  While missing bumpers may charitably be called 5%, I think a missing motor is worth at least 25%.  It would be nice if sellers would spend some time being specific about a car's condition, but vagueness seems to be a hallmark of Craigslist and EBay ads.  Maybe I should rent myself out as a writer….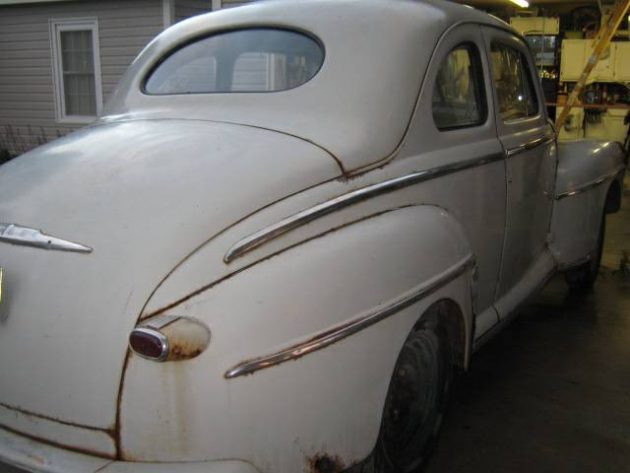 At any rate, the fact that this one is a coupe is a good reason to save it from becoming scrap sent to China, only to come back as a cheap knife set sold at Wal-Mart.  These coupes had the best lines of any Ford body style of the series, except for maybe the convertibles.  They are roomy and comfortable for front seat passengers, and usually have a small seat in the back for kids or adults still able to contortion themselves to some degree.  If it is just you and a partner in crime, the backseat area can be used to hold extra luggage, snacks, and a cooler to make a multi day tour more comfortable.  A well sorted 1948 Ford is a wonderful long distance touring car, but only for cooler days.  They can get a bit warm on long summer days, and smart restorers are liberally using extra insulation these days to make cruising a bit more bearable.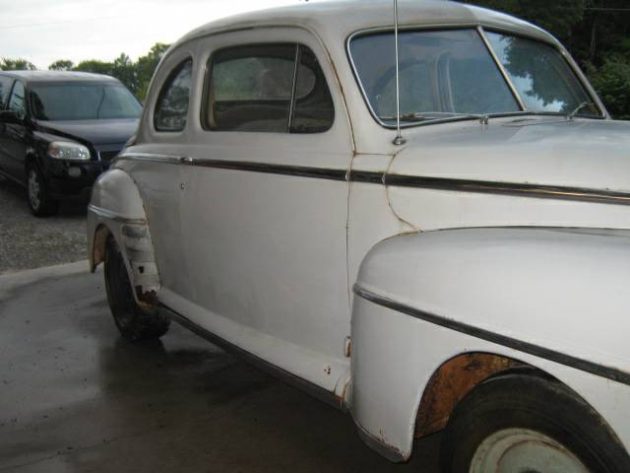 If you embark on a restoration of a Ford like this, then the path is usually a smooth one.  Support from the Early Ford V-8 Club of America is fantastic, as they have model year experts that can answer your questions.  They have even published restorer's guides for nearly every 1932-1953 Ford automobile and light truck built.  On the parts side, you can practically build another identical Ford from the quality aftermarket and plentiful used parts available.  Complete interior kits are available for purchase, from the headliner to the floor mats, and you can get quite a discount on holidays if you sign up for the e-mail lists of many of the parts suppliers.  Finally, a Flathead Ford is easy to hot rod, and there are a plethora of speed parts available if you need a little more oomph when you mash the go pedal on this one.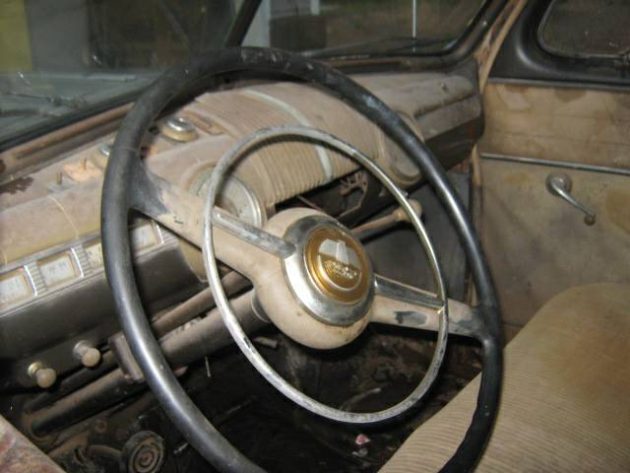 If a useable engine is included with this coupe, then you could probably get it back on the road fairly easily.  From there, you can decide which version of "one piece at a time" you want to choose from.  If it were me, I would keep it in drivable condition while I slowly amassed my parts stash.  Once the parts and needed materials are stockpiled, the restoration could begin.  If you have done your homework well, and have everything you need there waiting for you, you'll be amazed how fast a restoration can be completed.  In the end, you'd have a great driving coupe to enjoy for years to come.  A good antique car can be a great way to spend your spare time, and there are few hobbies more rewarding.  Especially at this entry price.