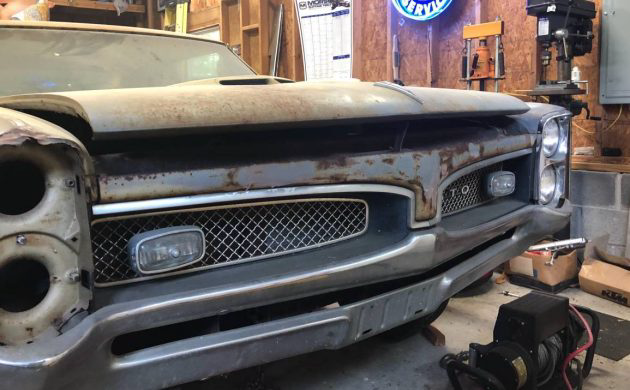 If the front-end styling doesn't give the game away, the badge that you can just see peeking around the center of the grille should leave you in no doubt that the car parked in this garage is one of the most desirable American classics ever built. This is a 1967 Pontiac GTO Sport Coupe, and it is a complete vehicle that needs the right person to return it to its former glory. Making it more tempting still is the fact that it is numbers-matching. Located in Powder Springs, Georgia, you will find the GTO listed for sale here on Craigslist. You could become the next proud owner of this beauty by handing the seller $18,000. I have to say a big thank you to Barn Finder Arkie for spotting the Pontiac for us.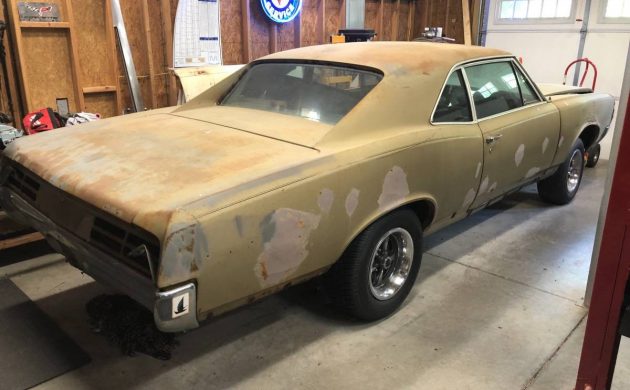 It's easy to see why the GTO has become such a legend when you look at this Champagne Gold example. Pontiac hit the nail on the head with the vehicle's styling because it looks muscular and purposeful. This one will require some work, but the buyer will be commencing their journey with a completely original car. It has never had any repaint work, and it appears that it is a project that stalled pretty early in the journey. There are a few dings and dents, and there is some Bondo in a couple of areas. These aren't locations usually associated with rust problems, but I would probably grind the Bondo out and check to be on the safe side. There is also an extra front fender included in the sale to replace one that has damage. The big news here is the rust because there isn't much of it. There is some in the lower rear quarter panel on the passenger side, but I believe this could be addressed with a patch. There is also some around the back window, but that appears to be it. There is none visible anywhere else, and the seller doesn't mention any problems with the floors or frame. The GTO was ordered with tinted glass, and this appears to be in good order. The owner has all of the exterior chrome and trim, and the wheels that the car rolls on look to be new.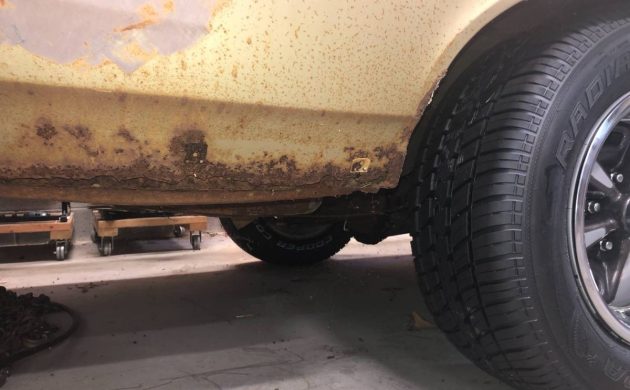 This is the quarter panel that I referred to, and as you can see, it isn't that bad. One thing that the owner doesn't supply is any engine photos. This is a surprise because the engine has been pulled, so getting a shot should have been easy. It is a 335hp version of the mighty 400ci V8. The GTO also features a 3-speed automatic transmission, power steering, and power brakes. This is a potent package and would be capable of firing the 3,648lb Pontiac through the ¼ mile in 14.8 seconds. That's the sort of figure that confirms this classic's muscle car credentials. The owner states that the GTO is a full numbers-matching vehicle, right down to the starter, intake, and carburetor. He doesn't indicate why the engine has been pulled, although I suspect it was probably done as part of the stalled restoration. With a touch of luck, it won't need anything more than a clean and a detail before it can be slotted back into its rightful place.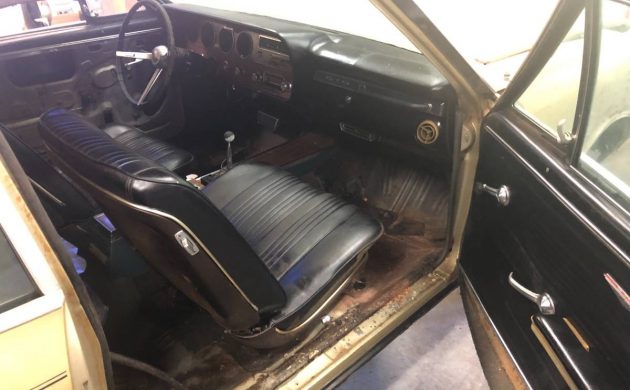 When you take a look at the Pontiac's interior, you begin to appreciate that it is nicely equipped. There are bucket seats in Black, along with a console and a His-N-Hers shifter. Throw in factory air conditioning, and this would have been a pleasant place to spend some time. The interior is mostly complete, but it will require some restoration work. However, it remains original and unmolested to the point that the original radio is still in situ. That suggests that someone has treated this classic with a degree of respect because it's common to find the radio gone and an aftermarket stereo in its place. This photo shows that a new carpet set will be one of the things on the shopping list, but the lack of carpet affords us a clear look at the floors. This seems to reinforce the owner's claims about a lack of rust problems.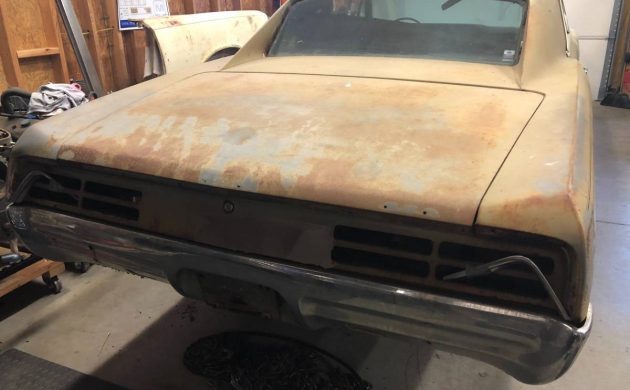 At first glance, especially for the uninitiated, the asking price for this 1967 Pontiac GTO might seem a bit high. However, you begin to see that it is a classic with a lot to offer when you delve below the surface. Its general lack of rust is a huge plus, while its originality and numbers-matching status help its cause. It comes with PHS Documentation and its original Protect-O-Plate, and these serve to confirm its originality. With pristine examples regularly selling for more than $40,000 and $60,000 not being out of the question, this looks like it could be a project that would be well worth the effort.