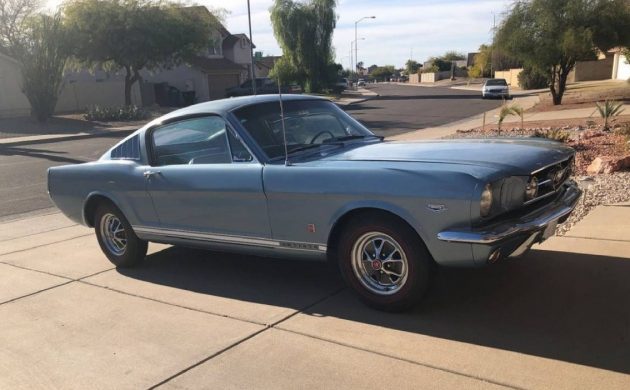 Ford's 1st Generation Mustang could be a wolf in sheep's clothing. This 1965 GT Fastback is a perfect example of this because while it has a tidy but unassuming appearance, the K-Code V8 under the hood would make it a bitumen burner. The owner has decided that the time is right to part with the Fastback, which opens an opportunity for someone to become the next proud owner of a potent classic. It is located in Mesa, Arizona, and has been listed for sale here on eBay. Bidding currently sits at $45,400, although the reserve hasn't been met.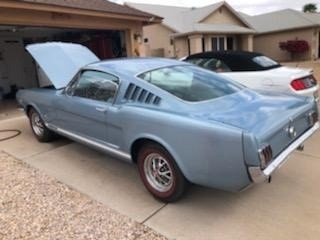 The Silver Blue Mustang is an attractive car, and it is a guaranteed head-turner. The paint holds a pleasing shine, and the panels look to be free from dings and flaws. Not all of the steel is original, with both front fenders and the hood having been replaced at some point. It isn't clear why this happened, so that could be a question for potential buyers to ask. A life spent in Arizona has paid dividends when we shift to the inevitable question of rust. There is a small spot in the passenger door's bottom corner, but the rest of the Mustang remains rust-free. All of the correct trim is present and in excellent condition, while the same is true of the styled steel wheels and glass.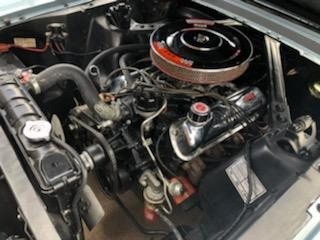 Lifting the Mustang's hood reveals a numbers-matching K-Code 289ci V8 that should be pumping out a healthy 271hp. All of those ponies find their way to a 9″ rear end via a 4-speed manual transmission. This was the combination to order if you were a serious buyer in 1965 because the K-Code only added $276 to a Mustang GT's price. Performance figures were about as impressive as you could hope for, with the 2,914lb Fastback capable of blitzing the ¼ mile in 14.6 seconds. That V8 is also one reason why this car has generated so much interest from potential buyers. While Ford managed to sell a whopping 559,451 Mustangs during the 1965 model year, a mere 7,273 buyers chose to hand over the cash for the K-Code option. That represents a take-up rate of 1.3%, which is microscopic when you consider it in a "bang-for-your-bucks" perspective. While the engine in this GT is original, the 4-speed transmission has been replaced at some point. Both the engine and transmission were treated to a rebuild around 10-years-ago, and the Fastback has only accumulated 3,000 miles since. The owner doesn't indicate how well the Mustang runs or drives, but the low mileage and spotless presentation of the engine bay both paint a pretty positive picture in that regard.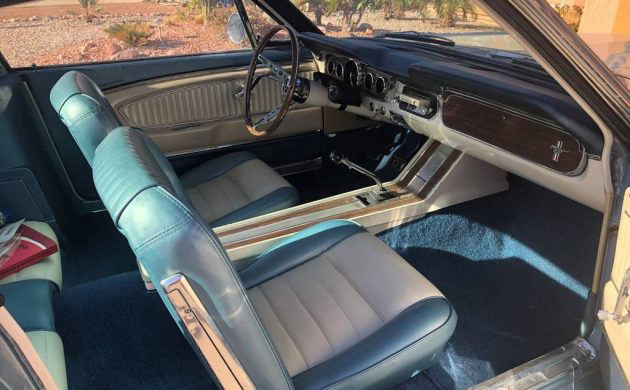 When you take the time to look around inside the Mustang, you find interior trim that is hard to fault. The blue and white Pony upholstery looks close to faultless, with no evidence of wear or tears. The carpet is just as nice, while there are no problems with the dash or pad. The original owner chose to equip the GT with a console and Rally Pac gauges (one of my favorite options), and these appear to be as clean as the rest of the interior. The factory radio has made way for a radio/8-track player, but the rest of the interior is unmolested. This is an interior that would seem to need nothing and would be a pleasant place to be as the miles roll effortlessly beneath the wheels of this classic.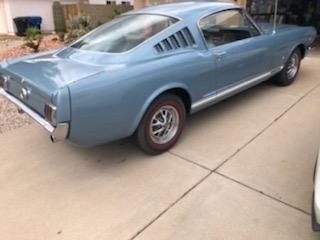 I have a soft spot for these early 1st Generation Mustangs, and it seems that I'm not alone on that front. There have been 27 bids submitted at the time of writing, which indicates that there are plenty of people who like what they see. There is a fair chance that there is some way to go before the reserve is met and that K-Code V8 is a significant part of this car's appeal to enthusiasts. When taken as a percentage of the build total, it is a relative rarity. You might want to watch this auction closely, or you could be tempted to yield to temptation and submit a bid. If you did, I can't say that I'd blame you.