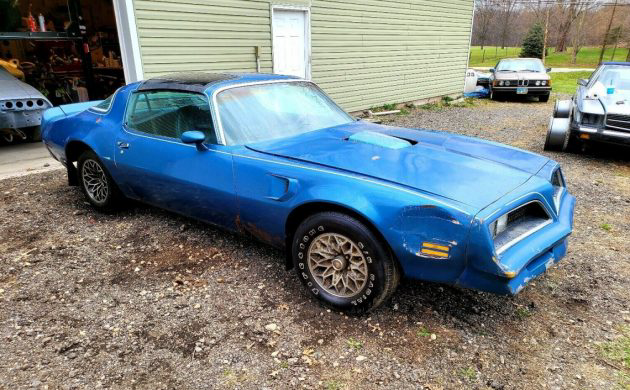 This 1977 Pontiac Trans Am saw a mere decade of active service before it was parked in a barn. It has only recently emerged, and it will take a complete restoration to return it to its former glory. The car runs and drives once again, but it isn't clear whether it's roadworthy. If you feel that you have what it takes to tackle this T/A, you will find it located in Ravenna, Ohio, and listed for sale here on eBay. Solid bidding has pushed the price along to $4,200 in this No Reserve auction.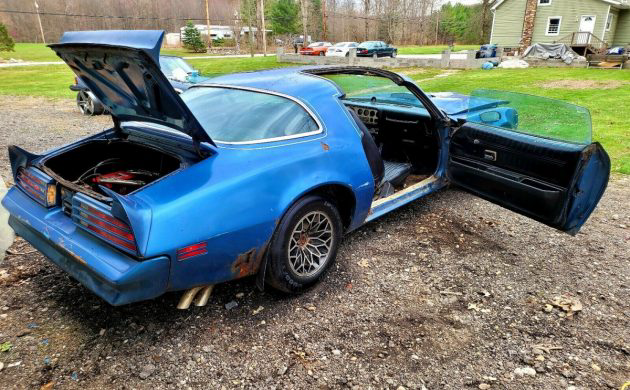 Let's start at the very beginning because, as someone once said, that's a very good place to start. When the Trans Am rolled out of the showroom, it wore iconic Starlight Black paint. It seems that a previous owner didn't go much on that shade, so a color change was performed. I believe that the new color is Martinique Blue, which appeared on the Trans Am palette in 1978. The quality of this work is less than brilliant, and it is lifting away in many places. The Pontiac saw active duty for a decade but was parked in a barn in 1987. It has only recently emerged, and it will take a lot of work if it is to be returned to its former glory. The body has a few dings and dents, but these appear to be repairable. However, the biggest obstacle that the buyer could potentially face will be tackling any rust problems. We can see it present in all of the usual spots, including the lower front fenders, lower rear quarter panels, the bottom corners of the doors, and some appearing around the back window. Sadly, Trans Ams from this era seem to subscribe to "the iceberg principle" when it comes to the question of rust. That means that what you can see is only a small proportion of the trouble in many cases. Potential buyers will need to inspect the floors, trunk pan, rear valance, and cowl to determine if any significant issues need addressing. The original owner ordered the Trans Am with tinted glass and a Hurst T-Top, and these items appear to be in excellent condition.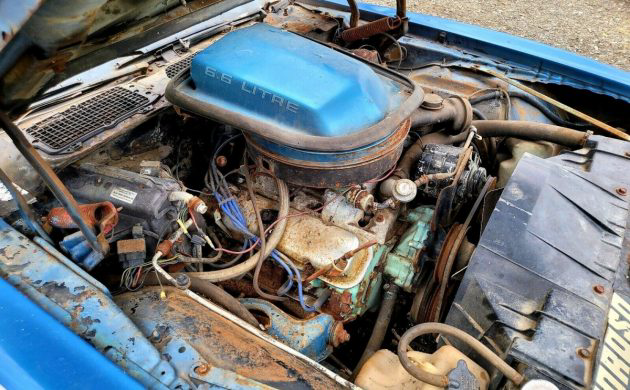 The previous owner told the seller that the 400ci V8 under the hood of this Trans Am is the W72 version. If that's the case, it should be pumping out 200hp. The 400 is bolted to a 3-speed automatic transmission, while the Pontiac is also equipped with power steering and power brakes. This car rolled off the line during the height of "The Malaise Era," a period when the performance of the humble American V8 was being strangled by tightening emission regulations. Pontiac was attempting to buck the trend, and when you look at the performance figures of the Trans Ams from this time, they easily trump those of its cousin, the Camaro. This car should be capable of covering the ¼ mile in around 16 seconds, and while it is possible to buy a humble Toyota Camry today that will give that number a shake, it still looked good in 1977. The Trans Am is said to run and drive, but it isn't clear whether it is roadworthy. The owner says that the V8 seems to be healthy, with no odd noises or smoke. If it isn't roadworthy, it might not take a lot of work to get it to that point.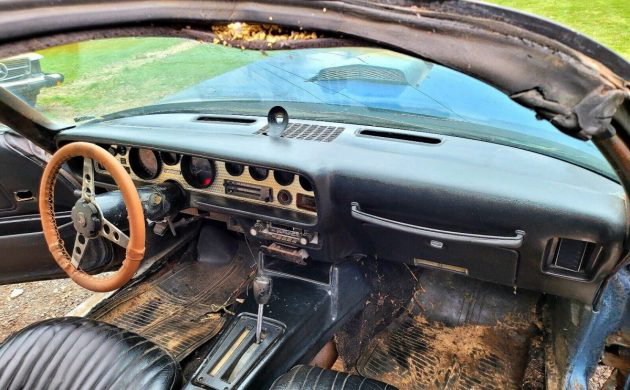 The interior has its good and bad points, but there's no question that the original owner chose to tick a lot of boxes on the options list. As well as the T-Top and engine upgrade, he ordered the car with air conditioning, power windows, power locks, and deluxe interior trim. Some of the components for the A/C are missing, but the remaining items work as they should. There are a couple of minor trim pieces missing, but the interior is otherwise complete. It will need to be stripped and fully restored, which isn't likely to be a cheap exercise. Trim kits start at around $1,600 and contain most of the parts required to return this interior to its best. At the risk of repeating myself, it is worth remembering that although a kit is a significant investment in any restoration project, it does represent a one-off expense. One item that the buyer won't need to find is a dash pad. Given the state of the rest of the trim, the spotless and crack-free pad is a bit of a bonus.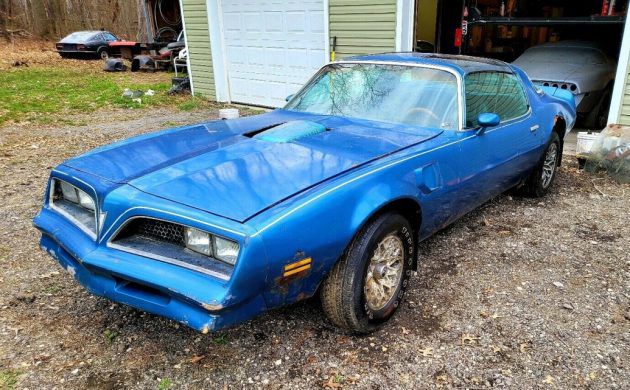 I have never shied away from my passion for the Pontiac Trans Am. I am a Ford man at heart, but I have a weakness for these cars. I think that part of this is because Pontiac attempted to produce vehicles with performance credentials in an era when most manufacturers had thrown in the towel. Whenever I see a car like this, I hope deep down that someone will buy it and treat it to the restoration that it deserves. I would love that person to be one of our readers, and to a certain extent, that is for selfish reasons. We've all seen this classic as it currently stands, but I want to see it after it has received heaps of TLC. I'm sure that I'm not alone in feeling that way. So, will you be the reader who tackles this one?