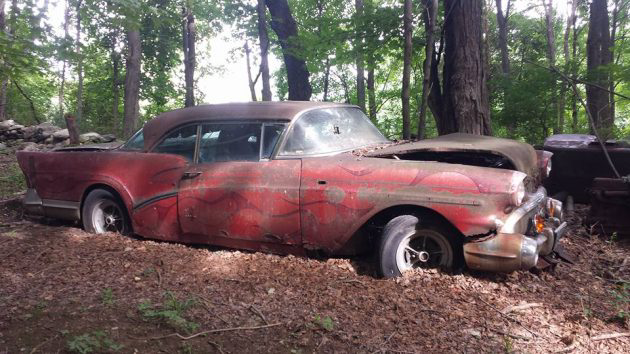 It's usually sad to see a once-proud vehicle returning to the earth, but even more so when it's clear that the car was once loved, was once somebody's baby and the product of their blood, sweat, and tears. A casual glance at this photo might reveal just another mid-'50s GM lookalike, but look just a little bit closer at this '57 Buick and the details start to pop out: the bumper-mounted driving lights, the rally wheels, the ghosted flames. If you have a thing for stray dogs and other people's passion projects, maybe you have enough love in your heart to honor the pride and joy that went into building this sweet vintage street machine and bring it back to life. If so, check it out on the Facebook Marketplace (craigslist's less-anonymous and therefore theoretically less skeevy cousin—here's a screenshot of the ad if you're not a Facebook user), where it's offered in Dover Plains, New York for $1,200. Thanks to reader Doug in CT for the share!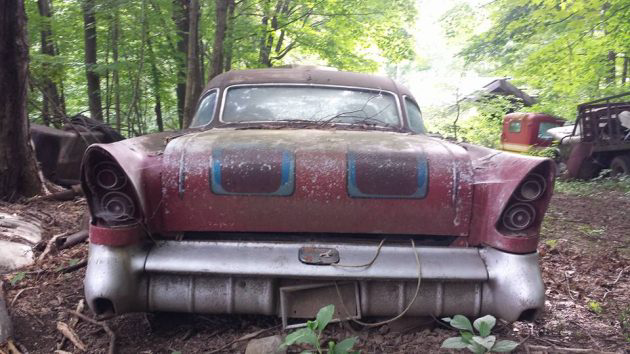 I really love the looks of this thing—at least, what it looks like in my head, which is decidedly shinier and more roadworthy than it looks in these pictures. The Buick's sweepspear character line and three-pice rear window are cool to begin with, so the mostly subtle mods just enhance its street presence. The biggest deviation from the original styling is around back, where the big, chrome-wrapped tailfin caps have been replaced by really neat looking frenched, stacked taillights. It looks a bit more Studebaker/Packard than Buick, but I like it.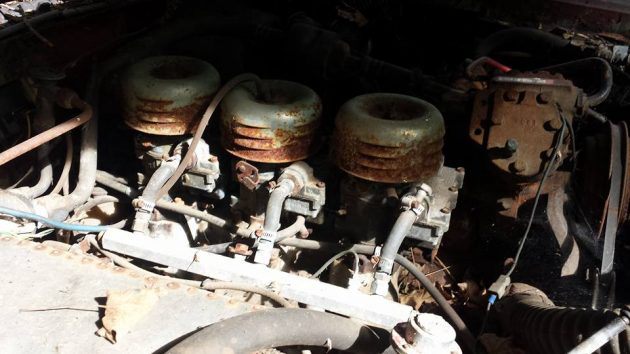 Under the misshapen hood we find a Buick Nailhead V8 of indeterminate displacement (original equipment would have been a 364, so that's the most likely candidate) with the popular "three deuces" modification. For the midcentury hot rod illiterate (like me, I admit it), this means three two-barrel carburetors mated to the engine via a custom manifold. No specs are given for the setup, but we are told that, unsurprisingly, the car doesn't run. There's an artfully shadowy picture of a Spearco Injectronic liquid injection system that may or may not be installed on the car as well; in any event, it adds a bit of period-appropriate dressing, since a non-running car doesn't require much cooling anyway.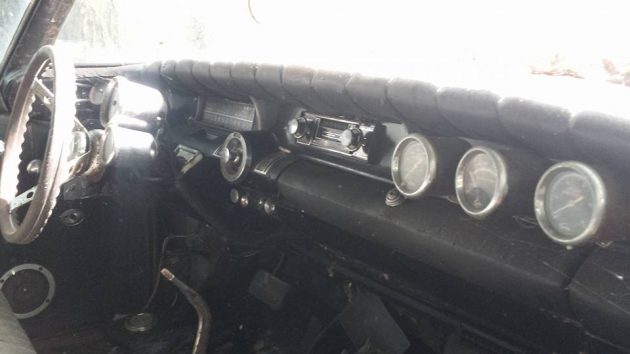 The interior shows some modification as well, with a full complement of gauges alternately obscuring the speedometer and being obscured themselves by being much too far away from the driver to be effective. There's also a comically undersized steering wheel and a nicely rolled padded dash, plus a floor shifter for the automatic transmission. The ad also enigmatically refers to a "fiber glass [sic] tune deck;" I have no idea what that is, but I figured I'd pass it along in case it was useful information.
Whatever it is, the fact that it's fiberglas has to be a point in its favor, because the metal on this beauty isn't looking too healthy. If you buy your cars on a dollar-per-pound basis, $1,200 might seem like a good deal for this big Buick; it's got a lot of needs, though. As much as I like it, I don't know if I could be passionate enough to bring it back from the dead, but clearly a lot of passion went into this car once, and that's what it will need if it's going to ride again.