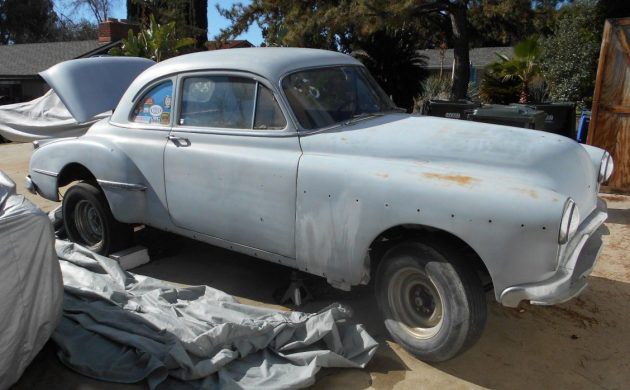 I've seen many "gassers" over the years that are later conversions — cars that have been made over after the fact. This 1950 Oldsmobile actually was a competition car as far back as the 1960s and is now for sale here on eBay. The buy it now price is $11,000 but the seller admits they are looking for offers that will be below that. The eBay listing says it is located in La Canada Flintridge, California.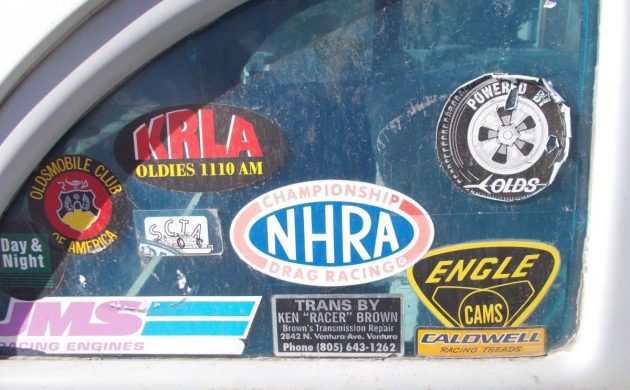 The seller has included this picture of the decals still on the window of the Olds. I sure hope the buyer keeps these pieces of history intact! The seller knows something about the history of the car as well: the car…"belonged to well-known Southern California drag racer Norm Voorhis out of Monrovia, California. Raced at Lions in the 1960's running a 394. Raced in the 1980's and 1990's at Terminal Island (11.78) and at Carlsbad (11.80) running a 455 with a 4 barrel. In 2002 at Carlsbad the engine blew up and was totally destroyed."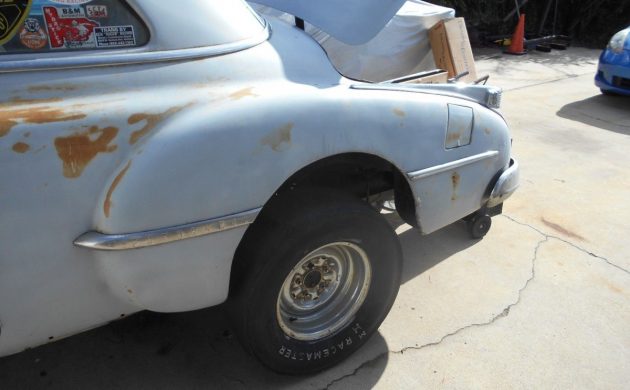 The seller goes on to tell us he purchased the car from the Voorhis family after the owner's death and that he has a clear title to the car along with a set of California black plates from the 1960s.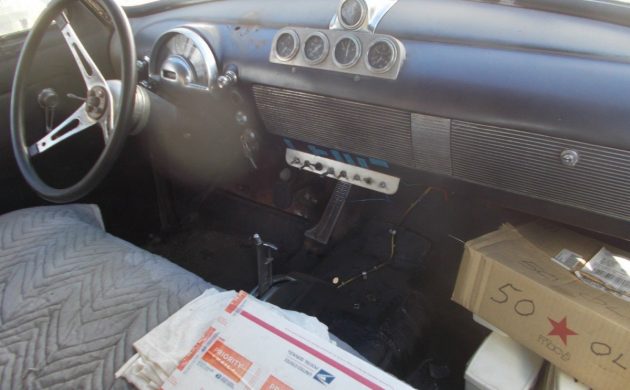 It's great to see that the car looks like it left the drag strip yesterday, not 17 years ago. Unfortunately, there is no engine and transmission included, but you may look at that as an opportunity to recreate something other than the car's last configuration. I did some searching for Norm Voorhis but didn't find anything, although there were plenty of other Voorhis racers.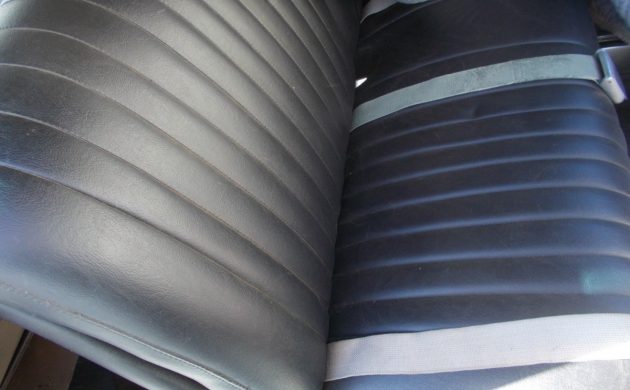 If the rest of the interior looks as good as this shot, that's another plus for this car. I'd love to read about what you would do to make this car whole again — tell us in the comments!
Have something to sell? List it here on Barn Finds!