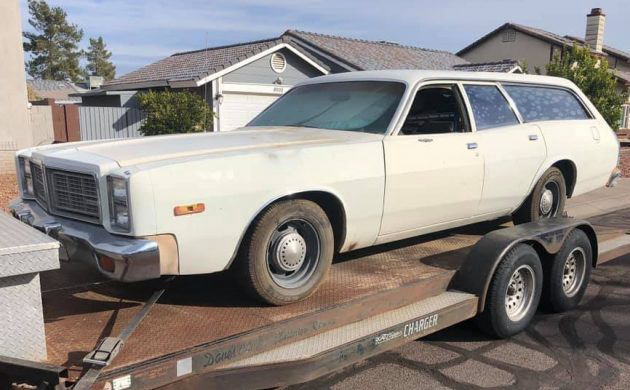 Police cars are generally four-door sedans equipped with, as Elwood Blues explained,  "It's got a cop motor,  it's got cop tires, cop suspension, cop shocks…" though any more, SUVs have wormed their way into police fleets pretty much everywhere. But at one time, the lowly station wagon had a place in the police line up too, and according to the seller, here is just such an example in the form of a 1978 Dodge Monaco. It is located in Queen Creek, Arizona and available here on Facebook Marketplace for $5,500.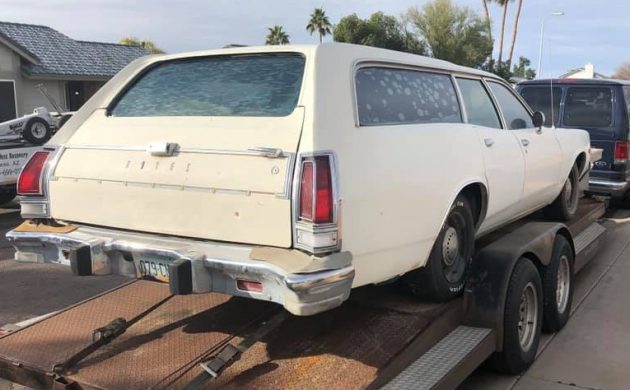 I clearly remember the '78 Dodge Monaco's role as a police cruiser, The State Police where I was residing in the late '70s used mid-sized Dodges in '77 and '78 but I can't recall seeing a station wagon version, certainly not a marked one. This example was owned by the Phoenix, Arizona Police Department from new until 1999, amassing a paltry 54K miles. It is assumed that this wagon was assigned to some sort of staff function and not used as a cruiser. Prior to its acquisition by the seller, this Monaco sat unused for twenty years.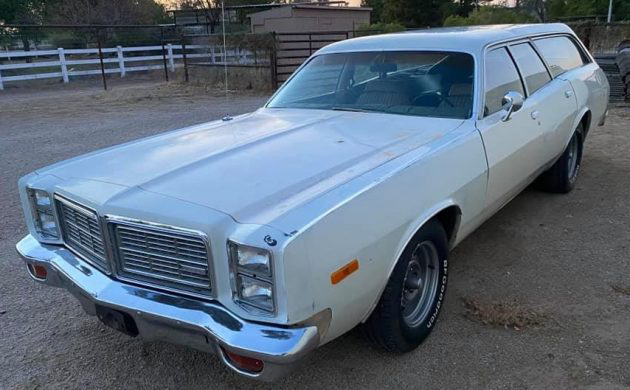 The exterior appearance is about what you would expect for a southwestern domiciled car, the white finish is faded but the body is supposedly rust-free. That mostly seems to be the case but there is something going on in the lower portion of the driver's side fender. The chrome and minimal trim show as decent. The seller advises that the car is being sold with factory black police wheels and that is what appears to be on the driver's side but not the passenger side – but then it could be the image lighting too. There is no evidence of any police lights, sirens, equipment or markings. And actually, the second digit of the VIN is "L" which decodes as "low" in the price class category as opposed to "K" which is the "police" code.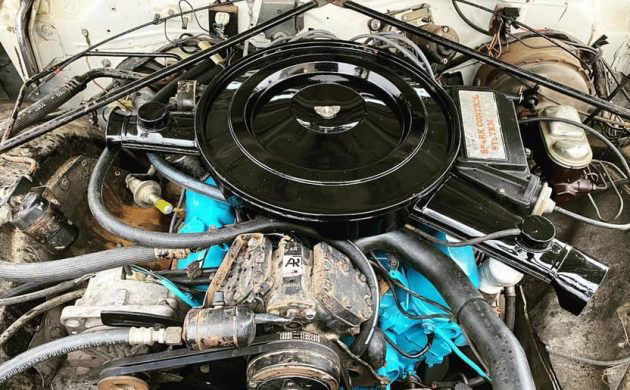 The VIN does certify a 155 net HP, 360 CI V8 engine, fueled by a two-barrel carburetor. The seller advises that he has swapped the two over for a four-barrel Edelbrock carburetor and intake manifold and then topped off by a dual-inlet "police-issue" air cleaner assembly. Since this car had not run since 2000, the seller "went through" everything with new seals, hoses, belts, master cylinder and 134A refrigerant – the A/C is listed as "COLD" and the brakes as "fantastic".  It is advertised as a "drive anywhere" vehicle, so operationally, it should check out.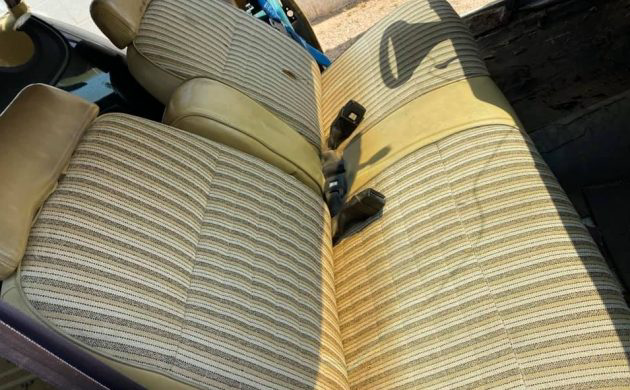 The interior doesn't particularly look like a cop car interior, it more or less resembles a mattress cover. The dash pad has been destroyed by the Arizona sun, the carpet is shot and there is at least one door card MIA, can't tell about the rest of it. There is a 140 MPH "certified" speedometer in place however – is it original or was it swapped in later?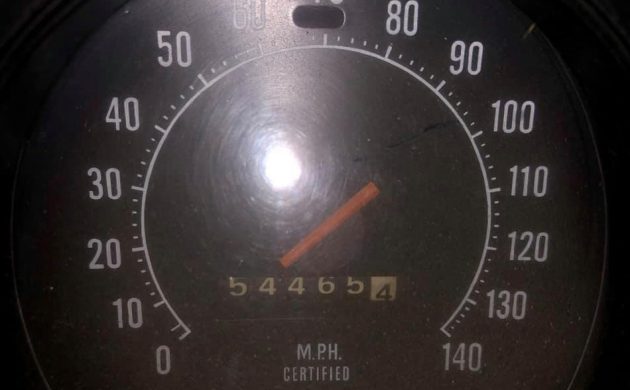 The lack of a police identifier in the VIN and the decidedly non-police interior is troubling. It is easy to imagine that this station wagon is just a civilian model that was, in fact, purchased by a police department and then used for whatever but maybe not standard police work. And then, because of the police association, it has been tarted up with the wheels, air cleaner and speedo to look like the real deal. And then again, maybe it is the real deal and Dodge didn't use the police "K" identifier on a station wagon. The price is not cheap but it's not outrageous either but the police association seems vague so it's doubtful that it would have a positive price effect. Real or clone, what do you think?