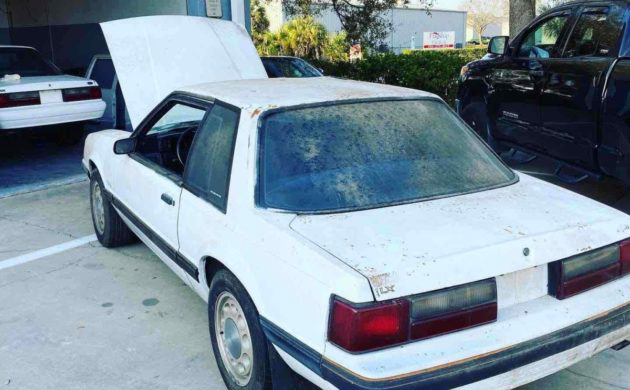 Update 4/3/20 – Here's your second chance! This Mustang has been relisted here on eBay with no reserve.
From 3/29/20 – This 1988 Ford Mustang LX may look completely ordinary from the outside, but it is a rare find. First of all, it is a notchback; secondly, it's a manual transmission/V8 example; and thirdly, the seller's uncle is the original owner who ordered the Mustang with minimal options, including a radio delete, and the only accessory is factory A/C. It was removed from the uncle's barn and power-washed, but otherwise, hasn't been touched. Find it here on eBay where bidding is over $10,000 with no reserve.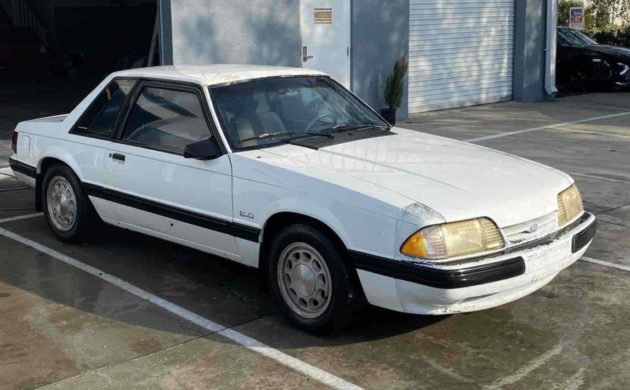 The pictures show a car with decent, but not perfect, paint. Still, it's pretty solid considering it's been locked in a barn since 2009. And the bigger deal is that it remains completely stock, with no obvious modifications and a rust-free body. The nose panel will likely need some work, along with the bumper and valence, but that's hardly the end of the world. Wheels remain the stock LX-trim rollers, and it's equipped with OEM mudflaps. The headlights have the typical Fox Body yellowing, but those can be easily updated.
The interior is in surprisingly good condition, with the seller noting it as a definite highlight. It's super basic inside, but therein lies the charm: this is a stripper, pure and simple, with the original owner going out of his way to not add unnecessary luxuries to this classic 90s muscle car. The GT may have gotten the nicely bolstered bucket seats, but the flat-bottomed cloth buckets here are what came standard in the LX (and I'm guessing are a few pounds lighter than the racier GT seats.) The cabin is in remarkably good condition, and the five-speed is obviously the transmission you want to see here.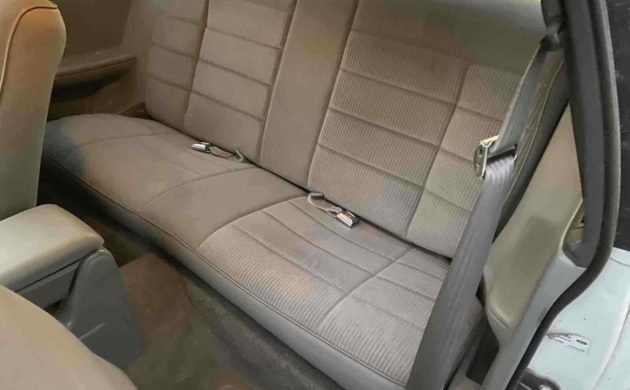 The back seat looks unused, and while a detailing would definitely spruce it up, you can start using this car as-is once the mechanicals are suitably refreshed. The seller notes it still runs and drives and comes with lots of supporting documentation, including both sets of keys, the original window sticker, title, and warranty card. To me, this is a sleeper of a collector car, with the likelihood of other Fox Bodies equipped so sparsely (that weren't SSP cars) incredibly low. To find one that has the ideal combo of the 5.0L V8 and manual transmission starts pushing it to unrepeatable status.
Have something to sell? List it here on Barn Finds!