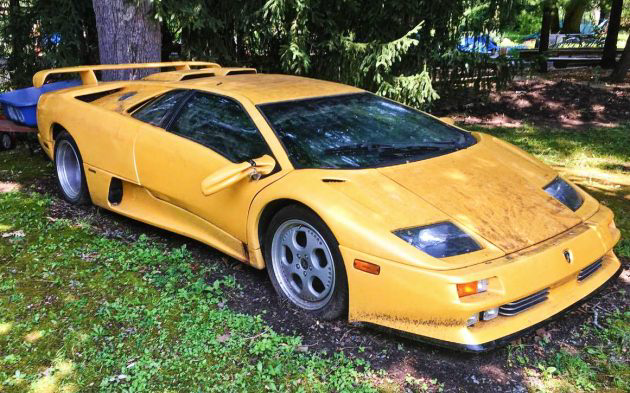 Reader John C recently spotted a bright yellow sports car parked in someone's yard, so he decided to have a closer look. That's when he realized it was a Lamborghini, or at least it looks like one. To be more specific, it appears to be a 1994 Lamborghini Diablo SE30. They only built 150 of these 30th anniversary specials, so it seems unlikely that it is the real deal, but you never know. He sadly was unable to snap any photos of the interior or engine, but he said he could see a big engine through the slot in the back. More photos of his roadside sighting below!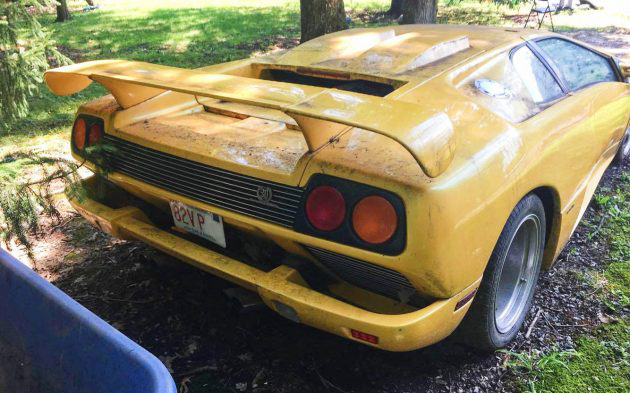 I've seen some very convincing Lamborghini style kit cars over the years, but they always have a flaw or two that gives them away as a fake. At first glance, this one looks correct, the door gaps look nice and the body panels aren't wavy. However, I think I found a few issues that prove that it's a fake. For one, the rear brake vents should have slates and the engine cover is that of the Jota edition SE30 (an even faster version of the Diablo). It seems even more unlikely that someone would have parked one of the 15 Jotas built in their yard, then again between having 595 horsepower and not being street legal, their usefulness is somewhat limited. Also, take a look at the fuel filler door, it's in the wrong spot.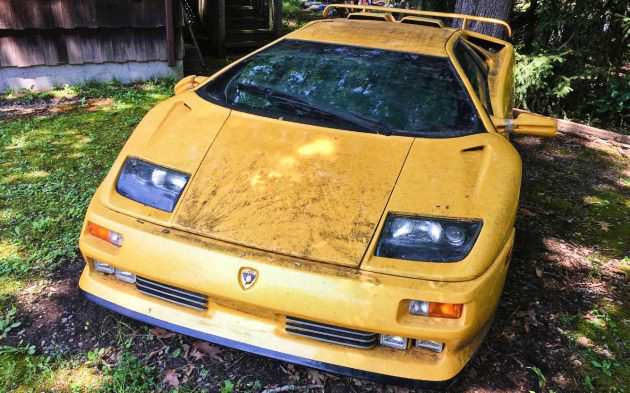 To be honest, I'm actually really impressed with this field find. If it is a kit, it's one of the better ones I've ever seen. Of course, I'm no Lamborghini Diablo expert, so I will let those of you with more knowledge weight in on what exactly it is. I want to thank John for sharing his sighting with us!