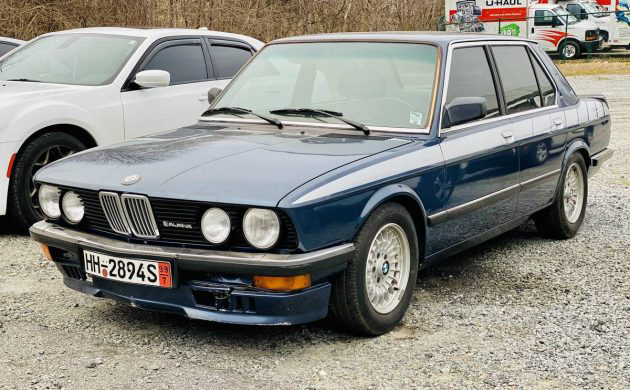 This 1986 BMW 528e is an unusual assortment of parts, featuring some very desirable period-correct upgrades. However, the seller calls it an "Alpina Package" car, which raises some questions about what we're actually looking at here. Alpina is BMW's in-house performance shop, much like Mercedes-Benz's AMG division. Cars built by Alpina are often full of both mechanical and cosmetic upgrades, and worth a mint. This E28-chassis 5-Series seems more like a standard European-market model gussied up with some cosmetic add-ons and no real changes in the horsepower department – but I could be wrong. Decide for yourself here on craigslist where it's listed for $13,999 in Mooresville, North Carolina.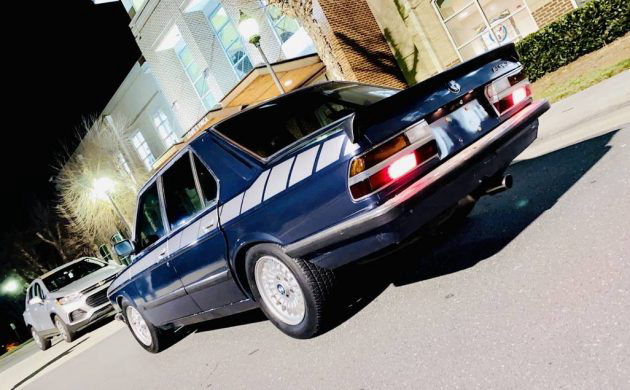 Now, the 528e is a European market car, as it has the slimmer euro bumpers and the H4/H1 headlights that many owners of U.S.-spec cars choose to upgrade to. The rear spoiler may be the real-deal Alpina spoiler, but it could also be a very good copy of what comes on the genuine Alpina B9 3.5. The stripes going down the sides are another feature from the original Alpina design, but whether it left the factory with this scheme is what I'd want to know as a potential buyer. You can find the replica sticker kits all day long, and frankly, all of the add-on parts seen here are possible to find in various BMW forums and message boards. The 528e still resides on its original TRX wheels and tires, and it appears to have an aftermarket exhaust.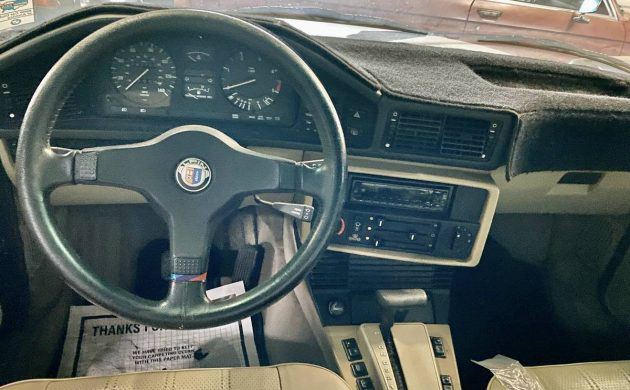 The interior is standard E28 stuff, with the so-called "Comfort" seats, generally considered less desirable than the optional "Sport" buckets with their thick side and leg bolsters. So, if it weren't for the rear spoiler, chin spoiler, and graphics going down the side, you'd be hard-pressed to call this anything other than a standard entry-level E28, save for the fact that it wears Euro bumpers and lighting. The steering wheel is just a standard U.S.-spec sport package three-spoke wheel, and someone has removed the BMW roundel logo from the center and replaced it with an Alpina badge. Now, the automatic isn't a total shock, as many B9 cars were destined for the Japanese market, where automatics are generally preferred.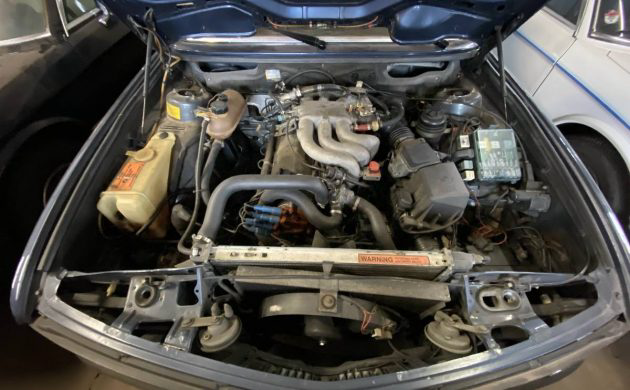 Under the hood, this is your bread-and-butter M20 inline-six cylinder. The hot-rodded E28s typically used the 3.5L M30 inline-six as its basis for upgrades, so this is another wrinkle in determining just how much of an Alpina this Alpina really is. The seller claims a previous owner worked for BMW in Munich, so it's entirely possible an employee traveling back and forth to the U.S. bought a Euro-market car and kitted it up with the parts readily at his disposable overseas. Without a numbered dash plaque and supporting documentation, it's hard to draw any direct connection between this car and Alpina, other than having the good fortune to wear some rare parts that a BMW enthusiast won't have to spend months hunting for.