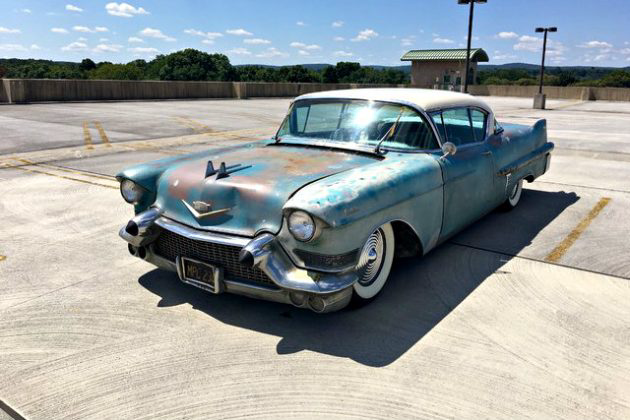 A classic car is always a pleasure to see whether it has been restored to a "T", is in original condition, or is otherwise modified. Collectively everyone's flavor is a little different, so some see beauty where others see something else. This 1957 Coupe Deville is a restomod of sorts featuring a slightly modern drive train than the original unit, with freshened up brakes and suspension. With a few dents from the test of time, this Caddy's weathered appearance and low stance has a certain allure that makes it hard to not stare. With 7 days remaining in the auction, this Coupe Deville has been bid up to $6,100 with the reserve not met. Take a look at it here on eBay out of Bethel, Pennsylvania.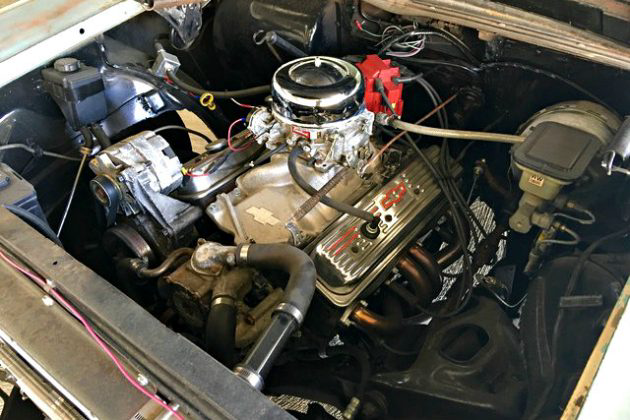 Beneath the heavily weathered body lies a modern Chevrolet V8 that is decked out with some goodies. Absolutely no information has been provided on this car, its past, or its modern components. The engine appears to be an LT1 and is quite clean. Featuring a neat cast aluminum intake manifold with an Edlebrock carb and headers, this Caddy looks like it is ready to drive wherever you may please.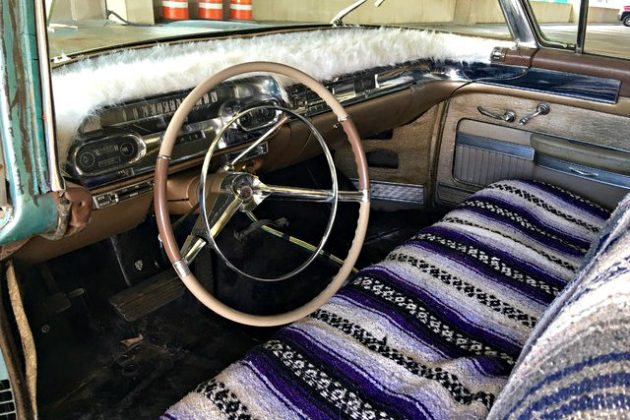 The interior is a bit "wild" in flavor, but the sheep skin dash pad, and seat cover could certainly be removed. You will notice the interior has survived rather well minus the carpet and possibly the seats and dash. I would imagine a few cracks would be more appealing to me than the furry dash, but to each their own. There is no word on the seats condition under the cover, but again, I would likely ditch the cover as well. The door panels, and rear seating are in nice shape looking only to suffer from minor dirt and age.  Same with the dash and steering wheel. A solid cleaning and detailing would likely breathe some life back into these remaining interior components leaving you with a seat that needs upholstery work.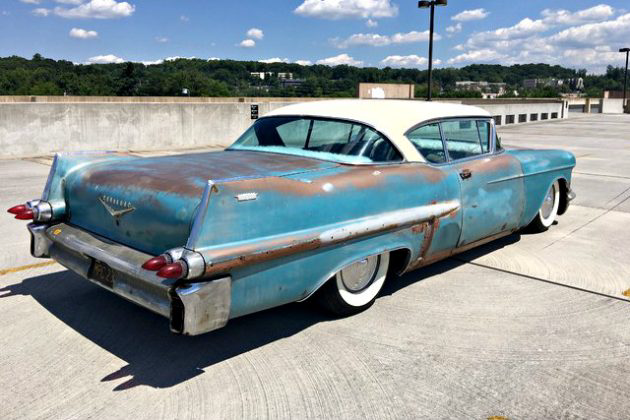 The exterior is stunning as this Cadillac is no slouch in the styling department. Repainted at some point in its life, the blue is a color change from the copper like original color. Worn quite thin, it would appear that some of this patina may have been "forced" to yield such a weathered appearance. There are some areas where surface rust is present, but as a whole, rot seems to be minimal. Some trim is missing, but the remaining bright work is in fair shape and matches the weathered look of this Caddy nicely. The factory tinted glass is all accounted for, and the custom exhaust is still routed through the uniquely designed rear bumper. Depending on your flavor, this turnkey restomod has a sleek appearance and modern amenities that will make it a comfy and easy driver. Is this Deville the right flavor for you?