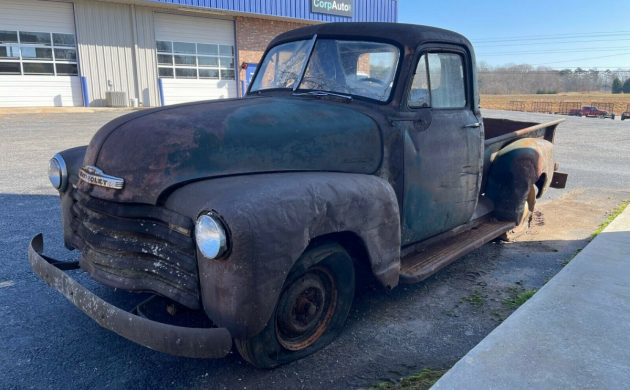 The seller of this 1953 Chevrolet 3100 Pickup purchased it from its original owners, intending to use it as the base for a custom build. However, as so often happens, other things in life have taken priority, and he admits that he hasn't got time to tackle this classic. He has therefore chosen to wave the white flag and to place the 3100 on the market. Located in Cleveland, Georgia, you will find the Pickup listed for sale here on eBay. The owner has set a BIN of $3,500, but the option is available to make an offer. I have to say a big thank you to Barn Finder Larry D for spotting the Chevy for us.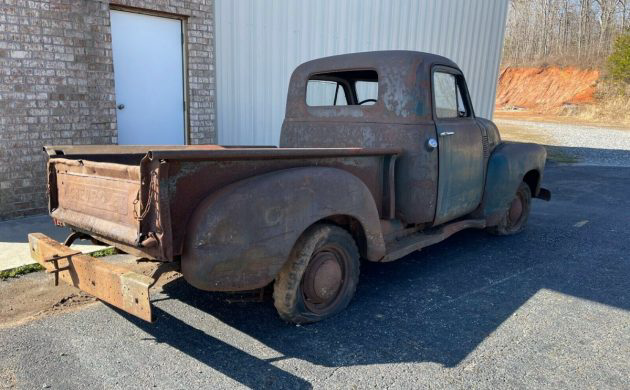 Who says that lightning can't strike twice? The seller bought the Juniper Green Pickup from the original owners after it had been sitting in a barn for more than 30-years. They had intended to restore it, but it was a project that stalled before it could start. Hmm, that seems like a fair dose of deja vu, in my opinion. Since neither party has performed any work, the Chevy remains unmolested and begging for attention. The paint is all but a distant memory, and the panels wear their share of dings and dents. Many of these issues could be addressed with time and patience, and I think that most of the panels could be salvaged. It appears that the frame is in sound shape, but the body has rust in many of the usual spots. This includes the lower cab corners and the floors. We've discussed these issues in previous articles, and one of the attractions of these classic pickups as a project is the ready availability of replacement steel. A set of inner and outer cab corners will cost around $80 per corner, while complete floors to the original specifications can be found for $500. If a custom build is the objective, some companies sell floors designed to fit around various drivetrain combinations, and these also sell for around $500. The attraction of these is that all of the engineering and fabrication is already done, and it is simply a matter of welding them into place. The trim will require restoration, while most of the glass is missing, cracked, or cloudy. The buyer will find themselves on a first-name basis with their glass supplier by the time this one is finished.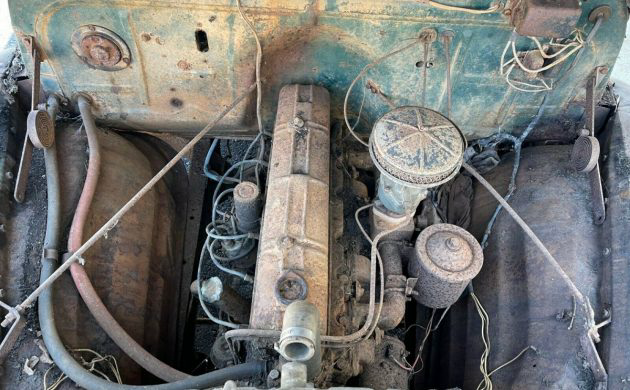 Mechanically, I believe that the Pickup remains completely original. The original owner ordered it with the 216.5ci six-cylinder engine backed by the optional 4-speed manual transmission. The six should be capable of pumping out 92hp, along with 176 ft/lbs of torque. Neither of those figures is startling, but Chevrolet did put some thought into the drivetrain. With no load on board, drivers could get rolling from a standing start in 2nd gear with no real effort. However, on a steep gradient with a full load, the ultra-low 1st gear could make any getaway reasonably effortless. It seems that the Pickup hasn't moved under its own power for more than three decades. It isn't clear whether the engine turns freely, but this might not be a huge problem even if it doesn't. If the buyer squirts some of the right stuff down the plug holes, it might respond positively. The other option would be to perform a transplant. The seller had intended to drop the body onto an S10 chassis with an LS under the hood. That could be an option to consider if a faithful restoration isn't going to be performed.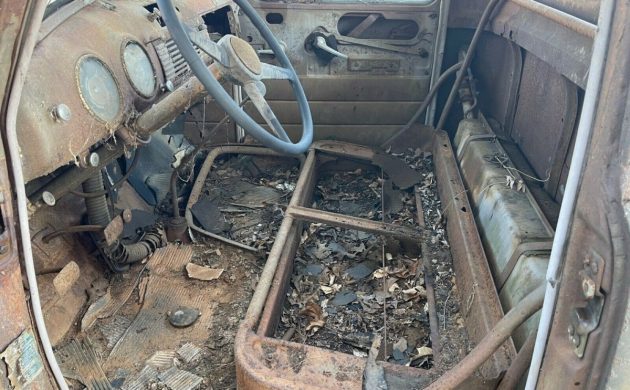 Apart from the seat and the radio blanking plate, the Pickup's interior is essentially complete. Sprucing it up isn't going to be the work of a weekend, but it is certainly achievable. It looks daunting, but it isn't as bad as it might seem. Dismantling what is there would not be difficult. Then, it would be a matter of treating all of the metal surfaces and applying a new coat of paint. The plated items look like they could be restored, while a new set of lenses would make a world of difference to the gauges. The wheel looks like it could be returned to its former glory, and at least the horn button is present in this one. That is one item that tends to disappear over time, so that's a bonus. Sourcing a secondhand seat should be easy, and blanking plates are available for under $70. Tackle those tasks and fit a fresh mat on the floor, and this is an interior that would shine like a new penny.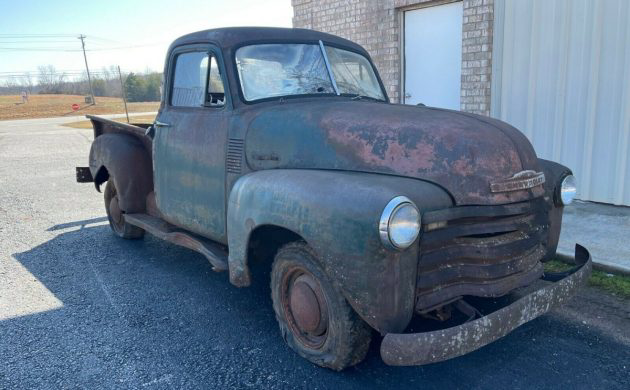 Older pickups have always had a place in the classic market, and while they started slowly, they have gained traction in recent years. Values have climbed steadily, and you will now struggle to find a decent Chevrolet 3100 of this vintage for less than $20,000. If you want a spotless head-turner, then you need to go out into the market with $40,000 or more in your wallet. This one would need a lot of work to command that sort of price, but most of the tasks could be tackled in a home workshop. The asking price seems reasonable and leaves a lot of room to move on restoration before its financial viability would come into question. Maybe a pickup wasn't on your radar for a project build, but with this one being so affordable, perhaps it should be. It's something to ponder.