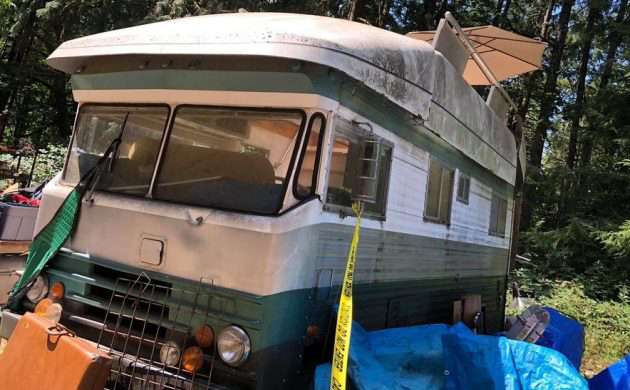 When it comes to campers from the 50s and 60s, there's an endless supply of odd and downright ugly, slab-sided concoctions that are hardly worth their weight in scrap metal after years of being used as beater mobile homes. Now, that changes significantly when the camper in question has been well maintained and/or the interior has been restored and updated. But this 1955 Dodge Spicer is an odd middle ground, as it's far from perfect cosmetically and has a broken automatic transmission. But the seller claims it is a prototype design known as the Skydeck, which features a roof top sitting area accessible via a wooden staircase. Find it here on Facebook Marketplace with a firm price of $5,250 and located in Springfield, Oregon.
Thanks to Barn Finds reader Kevin for the find. Now, I don't know how you ever prove the prototype claims, as there's no obvious result in Google that tells you whether the folks building Dodge campers decided to embark on a custom roof top design. The seller doesn't provide much info as to how it works, and I'm genuinely curious as it looks like half the roof pivots up or out – is that how you access the roof once you ascend the stairs? Not sure. The beach umbrella up top is a nice touch, and the pictures reveal a clever design that seems built for NASCAR races or other trackside events where having a vantage point above the crowd makes a big difference in your viewing pleasure of an outdoor event.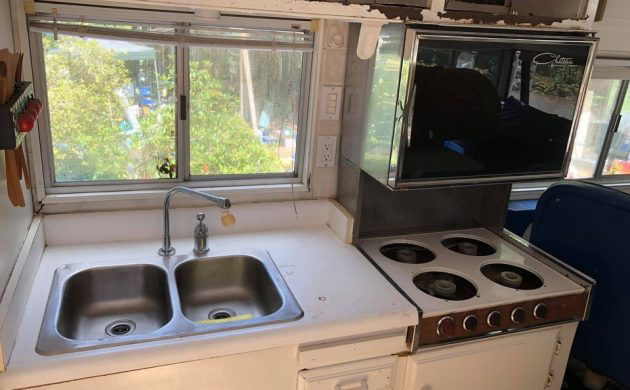 Now, despite the fact that the transmission is busted and it's pictured sitting in the middle of a yard sale with what looks like months of filth covering the sides, it still looks pretty decent inside. Whenever I visit Oregon or northern California, there's always a ton of old campers like this lurking around, and they usually look pretty awful inside with someone standing nearby who clearly has no attention on obtaining a fixed address any time soon. The pictures show decently clean floors, cabinetry, sleeping spaces, and appliances, so there was a time when someone wanted to keep the Dodge in the sort of condition where you wouldn't mind spending months at a time inside.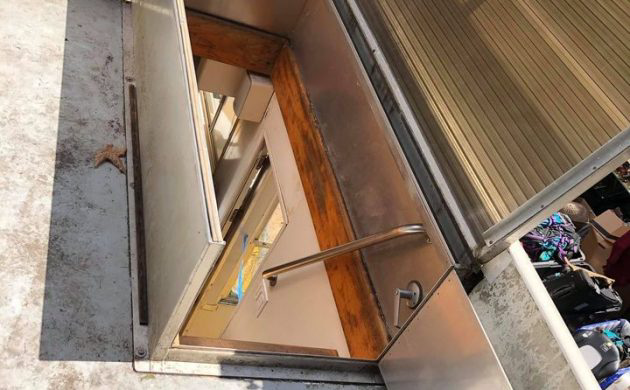 Here's the stairway to the roof party, and despite not being able to find any evidence supporting the prototype claims, the rooftop design and construction looks a little too nice to be a total accident that happened in someone's backyard after one too many adult beverages. This does look pretty well done, with a handrail and sturdy handle for the door. Overall, I'm not sure where you go with this one given it doesn't move under its own power and the rooftop features leave more questions than answers, but it definitely seems too unique to let fall into the hands of a cash-strapped roadtripper who just wants an old RV. Keep this one for the enthusiasts, or at least someone who can prove whether this is, in fact, a rare prototype design. Have you ever seen one before?