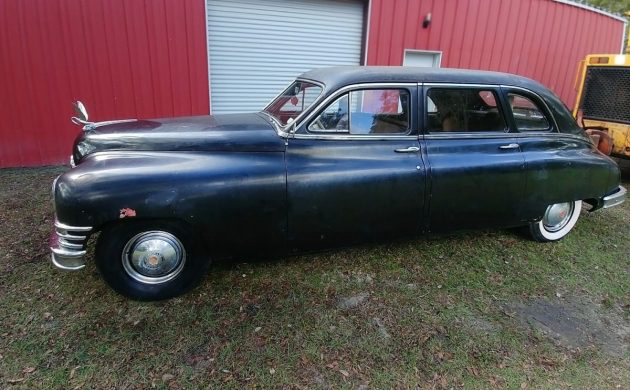 What an amazing car, a big car, a luxurious car, an important car, a beautiful car, a long car and all kinds of additional descriptive terms could be used to talk about this 1948 Packard Super Deluxe Eight 7-passenger sedan. This super ride can be found here on eBay in Archer, Florida. The seller has it listed for $8,800 or you can make an offer.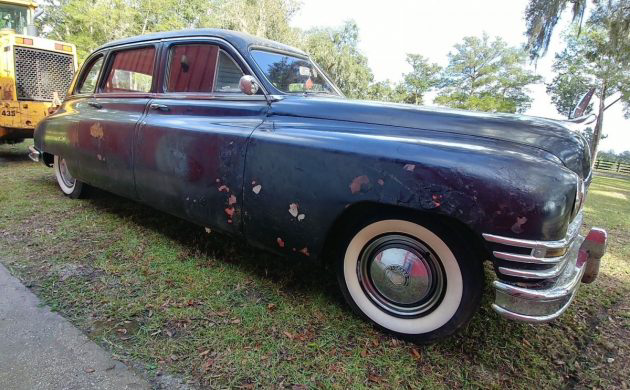 The seller lists this beautiful car as a Super Deluxe Eight Limo but it could be a Super Deluxe Eight seven-passenger sedan, too, I admit to not knowing the exact differences between a seven-passenger sedan and a limo other than more luxurious interiors? Anyone? The seller says that there is no body damage, no bodywork and no bondo! It does have a bit of rust around the wheel well in the trunk – I'm assuming the spare tire well? – and a couple of tiny holes in the floor but that's it. This isn't a car that you'd want to take to a splash-and-dash paint shop down the street, this car was about as nice as it got in the late-40s.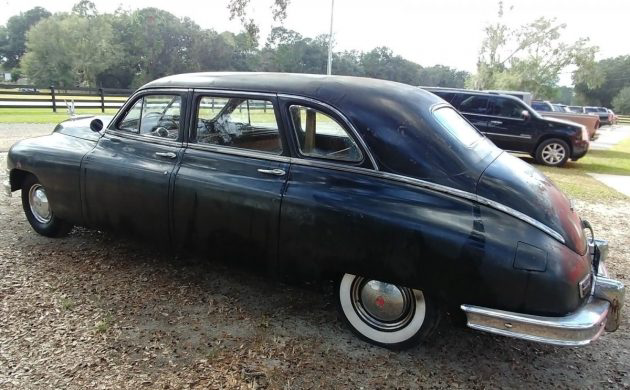 This Packard Blue Metallic car actually looks quite restorable and a car like this one, in my opinion, really should be restored to look like new again. Again, I'm not positive what this car actually is, a Super Deluxe Eight Limo, a Super Deluxe Eight Seven-Passenger Long-Wheelbase Sedan, a Super Eight Deluxe, etc. One of you will know. Howard? The VIN starts out as 2271 which would be a Super Deluxe Eight Seven-Passenger Long-Wheelbase Sedan if I'm correct.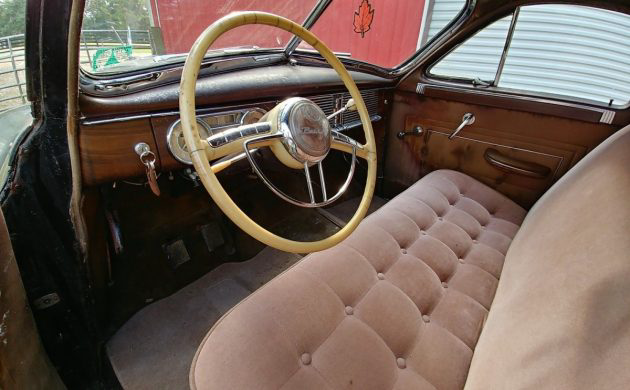 As outstanding and impressive as the exterior is, the interior is where the magic happens. Look at this thing! Gorgeous. This is a three-speed column-shifted manual and you can see that a few things could use some help. Windlace is available and hopefully you know of a great upholstery shop that can redo the door cards/panels and whatever needs reupholstering in there. The back seat area is amazing. I have always wanted a car with jump seats. I don't know why, 90% of the time it's just me in my vehicles so why would I need room for six other people?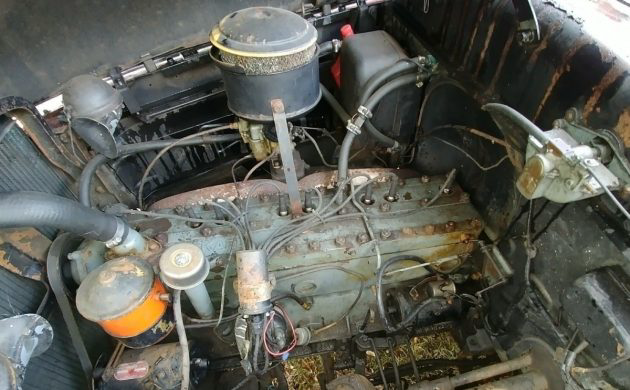 This should be Packard's 327 cubic-inch straight-eight with 145 hp and 267 ft-lb of torque. It took 17 seconds to get this car up to 60 mph but I bet it felt great sitting in the back seat knowing that someone else was driving so who cared how long it took to get there. The seller says that the engine runs good but they also say that it needs to have the fuel system cleaned, it needs a battery, the brakes serviced, and new tires. I would budget $10,000 just for mechanical services and that's not restoring the engine or really anything else. A full restoration would be expensive, but anyone who owned a Packard of this quality in 1948 probably didn't care that much about money. Can one of you positively identify this gorgeous Packard?
Have something to sell? List it here on Barn Finds!