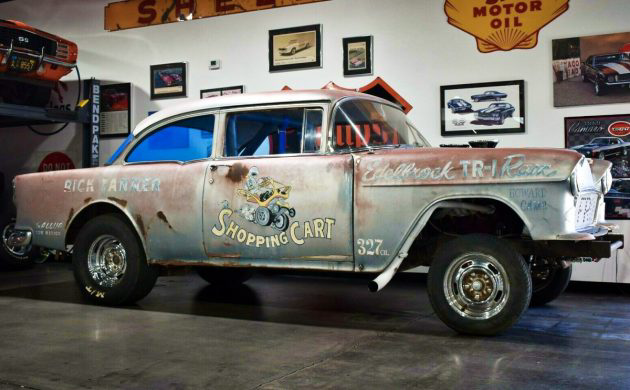 At the other end of the spectrum from the "sleeper," a stealthy car that looks slow but will kick your fanny, you find the "Gasser!" From the unmuffled exhaust dumping out the front wheel openings to the race lettering, there's nothing remotely sleepy about this hot-looking Chevy! According to Rod Authority a Gasser runs on gasoline, not more complex racing fuels, and many use a lightweight beam axle up front for weight reduction and weight transfer. This 1955 Chevrolet 210 post ran in the '60s as the "Shopping Cart," and retains its paint from those days including the hand-lettered sponsor tags. The listing here on eBay awaits a $25,000 opening bid. The seller promises documentation necessary to run in vintage events.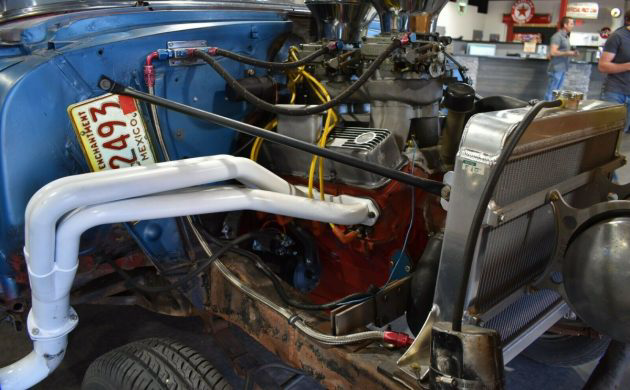 The 327 cid (5.3L) Chevrolet V8 wears a high-rise dual-quad intake with twin chrome horns on top. Nothing says "I'm gonna wind up and bust your jaw" like an engine sticking up through the hood. Driving this bad Gasser is like a walking statement of fact: "I may not win, buy you'll know you were in a fight." A four-speed manual gearbox transfers power to the fat rear tires.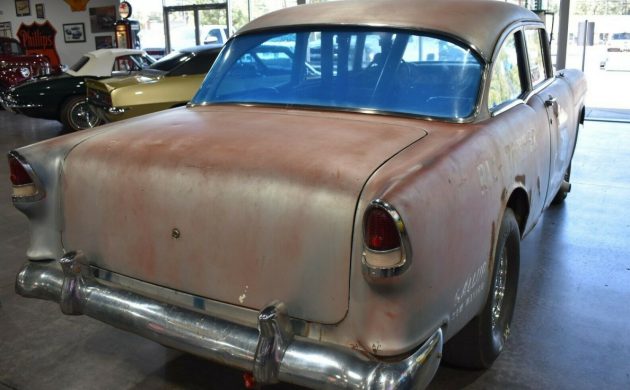 I believe a 210 wears more trim than this one from the factory, but smooth sides make a better canvas on which to paint your car's name and sponsor lettering. Is that blue window tint?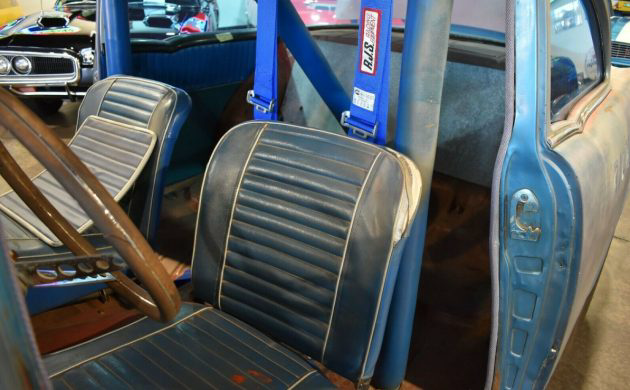 The blue theme continues inside. New racing belts are the only hint of anything from this century. Van seats were a common Gasser addition, again with weight reduction in mind.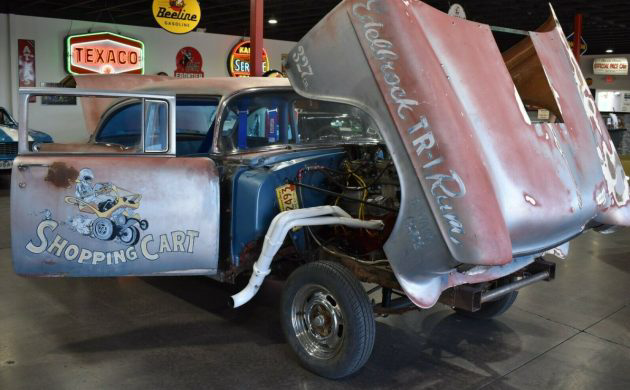 It's hard to see a flip-front '55 and not think of the iconic Chevy from the 1971 car flick Two Lane Blacktop, even though that road-legal ride is certainly not a Gasser. I'm more the sleeper type myself, but I love the outrageous in-your-face style of the impractical Gasser. What better way to transport yourself back to the '60s than in a true vintage drag car like this? Have you had a close encounter with a Gasser?