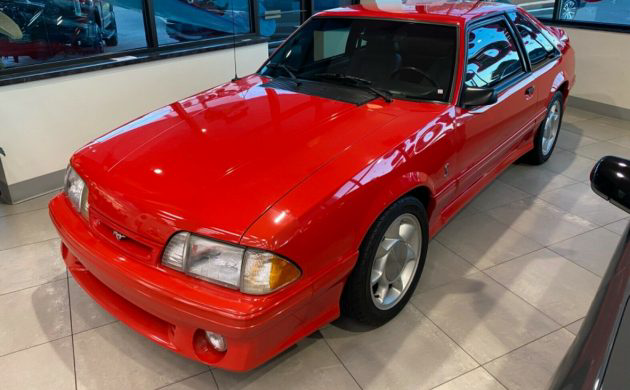 The deluge of Fox Body Cobras appearing for sale shows no sign of slowing, with yet another well-preserved example up for grabs. This red on gray example isn't even super low mileage or the most mint one we've seen, yet bidding is already over $20K. The Buy-It-Now is a reasonable $24,500, and it seems like there's a good chance it will get snagged at that price or just under. The seller is a Ford dealership that claims the Cobra has been sitting in the showroom for two years and is listed here on eBay in Centennial, Colorado.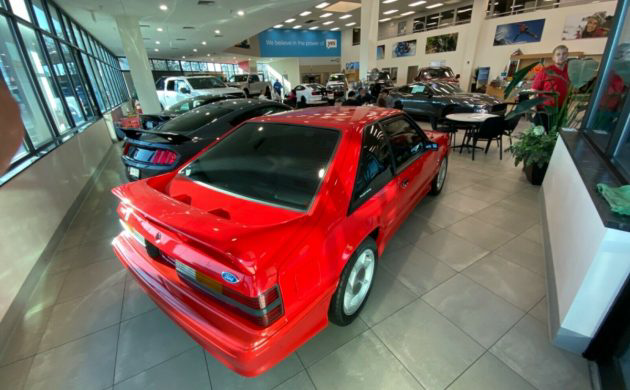 The selling dealer is  Groove Ford, which appears to specialize in Mustangs, based on the showroom inventory. It seems likely this was an employee car or a longtime owner who decided to upgrade to one of the new models that makes the Cobra of yesteryear seem laughably slow by comparison. One has to wonder why so many Cobras are suddenly up for grabs – are my instincts correct that all things 90s are suddenly hot, or is just a case of older owners deciding to upgrade while the muscle car wars are in full swing?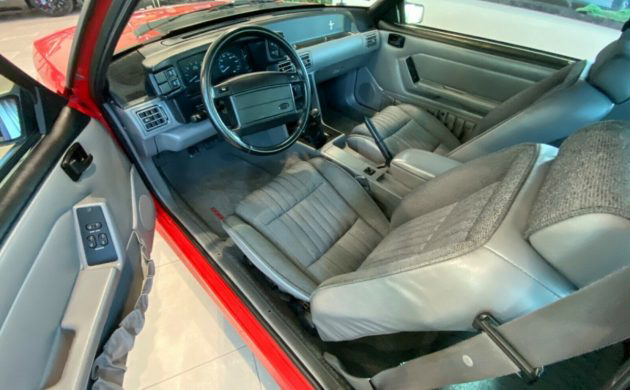 Like so many Mustangs, this one is completely stock except for aftermarket mufflers. I can't criticize the owner too much for this, as it does sound wonderful. The interior isn't as mint as some of the other, lower mileage Cobras we've featured; note the map pocket on the driver's door doing the typical Mustang sag that they all seem to do, and close-up pictures reveal lots of scratches on the black trim surrounding the shifter. With over 80,000 miles, it's not surprising that some cosmetic blemishes exist, but the seller does call the interior "immaculate."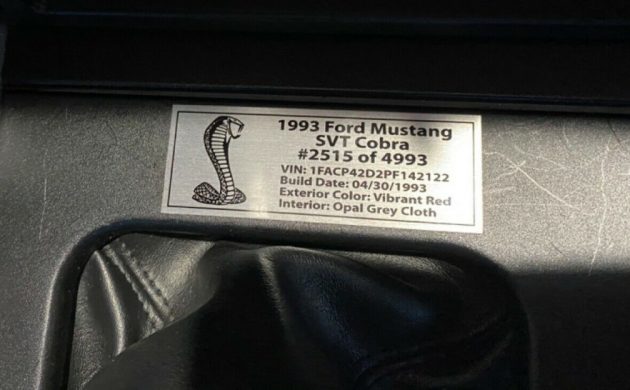 Some recent maintenance has been performed, which includes a new clutch "…to fix a leaking freeze plug," according to the listing. I have to chuckle when the seller says these are getting hard to find in this sort of condition – well, not according to eBay these last few weeks. But I do notice whenever there's a rush to cash in on a certain model's moment in the sun, there are longer dry spells where that particular model hardly ever pops up for sale. I'd say to hold onto your Fox Body Cobras for the time being, as I have to imagine this latest round of sales will make good ones scarce in the future.