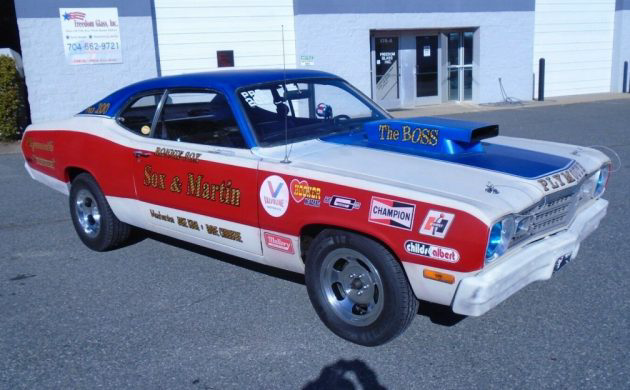 UPDATE 11/12/2019 – It's almost been a year since we first featured this Duster and while it was originally listed on eBay, it's now popped back up but this time on craigslist and for $13,500. At least there are better photos this time! They don't really justify an increase in price, but at least you can get a better idea of its condition.
FROM 2/18/2019 – No, don't get excited: this isn't an actual drag car that flew under the Sox & Martin flag in the '60s and '70s. Curiously, it's called a barn find, but it's a barn find tribute car if you can make sense of that. There are two possible stories here, one far better than the other: this is a tribute car built in the '70s that hasn't seen the light of day in decades, or it's a tribute car built in the recent past with some dings and dents from its life prior to becoming a rolling memorial. See if you can sort it out in this listing here on eBay with a $10,995 Buy-It-Now.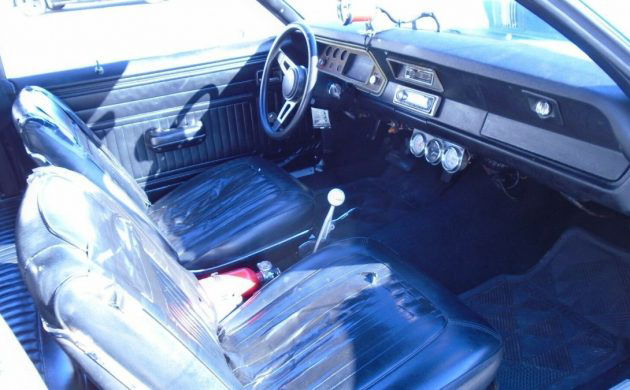 The seller doesn't offer any history on this Duster, or whether it was in fact conceived at the same time Ronnie Sox was tearing up drag strips everywhere he went. It's certainly understandable why someone would want to build a tribute to this iconic racing team backed by Ma Mopar, as any number of Plymouth vehicles driven by Sox were often winners in their respective fields. The seller says the dings and dents it accrued over the years will give the next owner the same feeling as discovering one of the actual track cars in a forgotten barn – do you agree?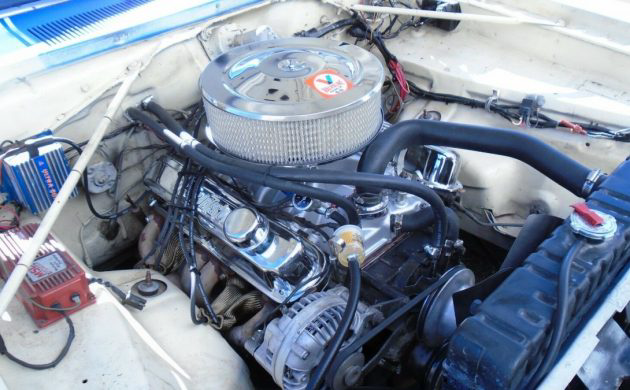 This barn find tribute car isn't just about its looks, however, as the seller notes an extensive list of modifications: "The 360 motor is full of the usual go fast goodies, it is backed up by a reverse manual valve body 904 with a 3000 stall speed converter. It also has a driveshaft loop, weld in subframes, competition engineering shocks all around." The seller notes a fresh Optima red top batter in the trunk and new tires and wheels are also included, and that the Duster has seen time at the local track while running on pump gasoline.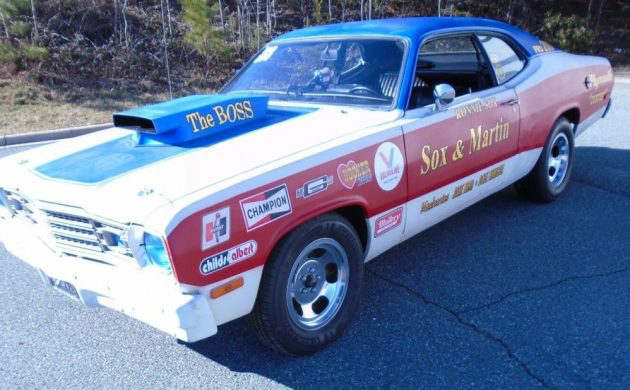 This Duster leaves me feeling conflicted. It's certainly far cheaper than trying to buy the real thing, but without any proof that this car has been in barn storage for the last decade, I'm not sure this is anything other than a replica with some dings and dents. The listing is confusing at best, but whether that will dissuade someone who saw an actual Sox & Martin car laying its competition to waste in the '70s from taking this one home in a fever of nostalgia is nothing I can predict.
Have something to sell? List it here on Barn Finds!