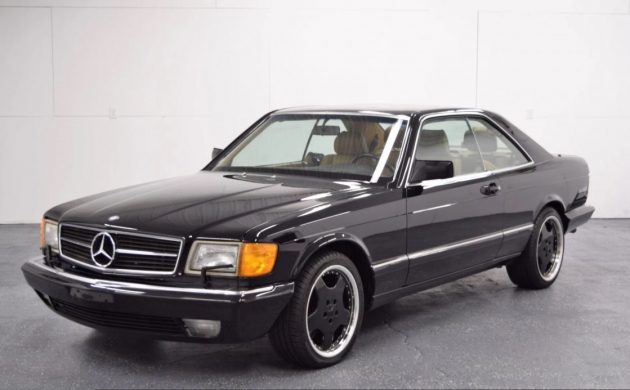 When a classic car undergoes a color change, sometimes the results can be less than impressive. That is hardly the case with this 1990 Mercedes-Benz 560 SEC because the transformation couldn't be more dramatic. When you combine the color change with updated wheels, the result is a prestigious classic with an added touch of menace. The Mercedes is now looking for a new home, so it has been listed for sale here on Bring A Trailer. It is located in Manheim, Pennsylvania, and bidding has reached $4,000 at the time of writing.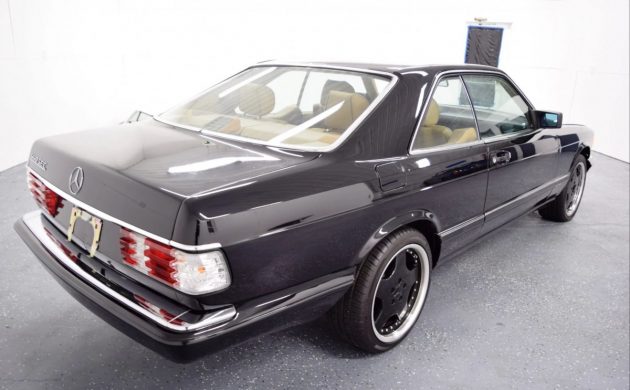 Performing a color change on any classic car is fraught with challenges and pitfalls. It seems that the newer and more complex the classic in question, the more difficult it can be to achieve an acceptable standard of finish. In the case of this 560, the change couldn't be more dramatic. When it was shiny and new, this Mercedes wore Arctic White paint. A previous owner chose to add a touch of menace by having the vehicle repainted in Black. The result is a striking looking car, and the paint still looks beautiful today. The original wheels have made way for a set of AMG-style alloys, and with the black centers, they just add to the vehicle's overall sense of presence. It is worth noting that the cap is missing off one wheel, but otherwise, they look to be faultless. The panels appear to be laser straight, and there are no signs of any rust issues in the comprehensive photos that the owner supplies. The chrome trim seems to be in excellent condition, and it provides a striking contrast against the predominantly dark German classic.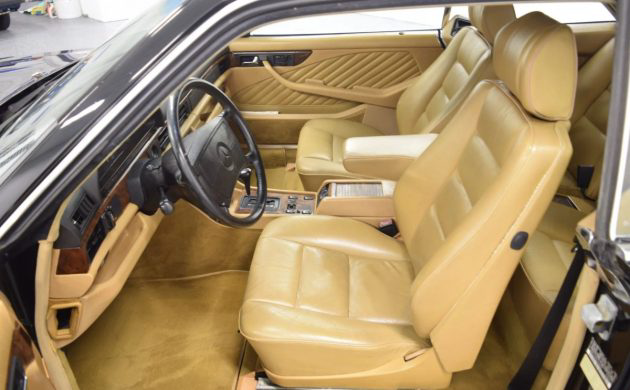 The interior is trimmed in a color called Palomino, and it is a color that is sure to divide opinions. I quite like it. I think that this is mainly because it provides that distinct contrast to the Black exterior. A darker interior would not have surprised me, but I suspect that it might make things quite oppressive. The seats are upholstered in leather, and this looks soft and supple. Such light-colored carpet can be prone to all sorts of nasty stains, but this seems to be extremely good. The dash features the pre-requisite lashings of burl timber trim, adding to the overall air of luxury. Mercedes-Benz is a prestige brand, so it seems only fitting that this interior should feature its share of creature comforts. There is climate-control air conditioning, power windows, heated power seats, a leather-wrapped wheel, cruise, power mirrors, and a premium AM/FM radio/cassette stereo. If you've never experienced heated seats, then they are worth checking out. If you live in a colder climate, they are an absolute blessing on a cold morning. Or maybe I'm just getting soft in my old age!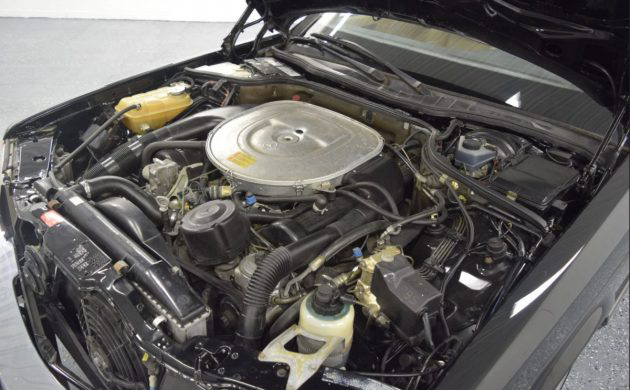 Nestling under the hood of the Mercedes is a 5.5-liter V8, which is backed by a 4-speed automatic transmission. For added security, the vehicle also comes equipped with power steering and 4-wheel disc brakes with ABS. At 3,549lbs, the 560 is not a massively heavy car. Therefore, with 238hp at its disposal, it can cruise through the ¼ mile in 15.9 seconds. That's really only part of the story because this is a luxury car that is at home on the German Autobahns. That means that it will happily sit at its top speed of 150mph for extended periods. The owner doesn't mention how well the vehicle runs or drives, but he does claim that it has a genuine 89,000 miles showing on its odometer. Given the inclusion of a set of Service Records in the sale, it would be fair to assume that he can verify the mileage claim.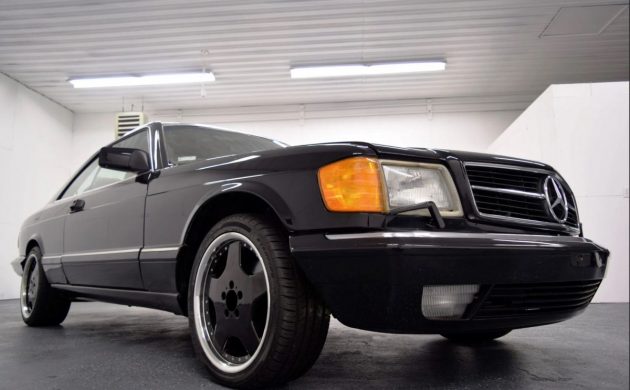 Mercedes-Benz is a marque for which I have a great deal of respect. I'm especially fond of their offerings from the 1980s and 1990s because they really could be considered to be cars of excellence in design and engineering. They are also a brand that has lost its way to a certain extent today, which makes cars like this 1990 Mercedes 560 SEC even more attractive. They are modern and refined, but hail from a time when the company was renowned for the quality of its products. There are undoubtedly faster and more potent coupes on the used car market at present, but very few will transport you in the sort of comfort and refinement that this vehicle offers its next owner. The color change has brought a new level of character to this classic, so when you combine that with the comfort and performance, this looks to be an all-round winner.