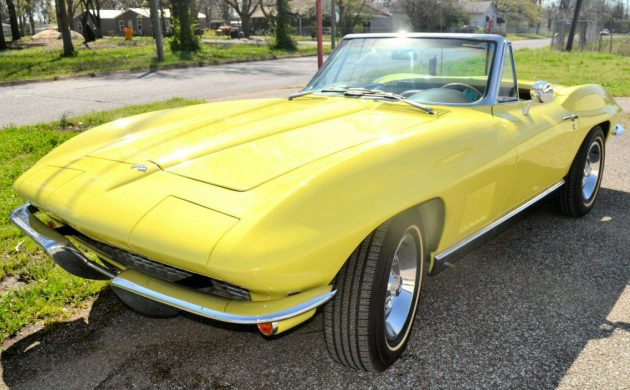 This 1967 Corvette Convertible has been in the custody of the same owner since 1977. It has always been garage-kept and is in excellent condition. After 43-years of ownership, he has now decided to part with a classic that is certain to turn heads wherever it goes. With plenty of warm weather in the offing, there is still time to grab this Convertible and to indulge in some top-down cruising. The Corvette is located in Memphis, Tennessee, and has been listed for sale here on eBay. You can drive this beauty home by merely handing the owner $49,999.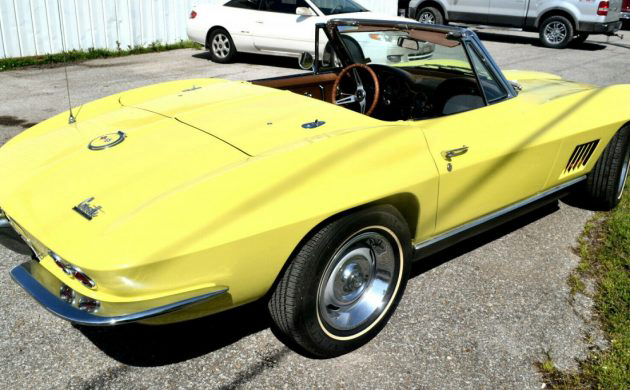 It appears that the person who has listed the Convertible for sale is doing so on behalf of its current owner. Sunfire Yellow is one of those colors that I like because it has what I would term "personality." Some paints remain consistent, regardless of the prevailing light. This is one where it can show some remarkable variations in different lighting conditions. The owner indicates that the Corvette has received a repaint at some point, although he says that it does look original. I would take that as meaning that it is wearing its original color. If it is, then it does raise some interesting questions. The convertible top appears to be in good condition. However, its color is something akin to Saddle, which is not right for a Corvette of this era. I would have been expecting either White or Black on a car of this shade. The Corvette also comes complete with a factory hardtop that is finished in Yellow. The Sting Ray presents extremely well, with a pleasing shine. There are no signs of any issues with the paint or fiberglass, while the trim and chrome appear to be in good condition. The owner also indicates that there are no rust problems with this classic.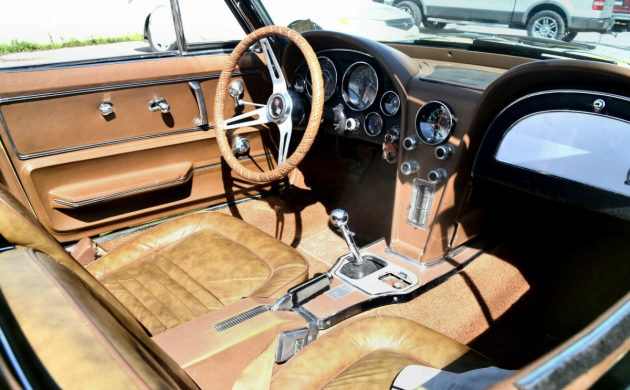 The interior of the Corvette presents just as impressively as the exterior. Once again, we find some discrepancies with this classic. If a Corvette rolled off the line in 1967 wearing Sunfire Yellow paint, then interior trim choices were restricted to Black or White. Judging by the condition of the majority of the interior components, I suspect that this vehicle might have received a full retrim at some point. If this is the case, then this might explain the color discrepancy. It does present nicely, with a single blemish in the vinyl just to the right of the radio as the only apparent problem. The carpet has an as-new appearance, while the upholstery on the seats and door trims appears to be in good order. There have been no aftermarket additions, with the original radio still intact.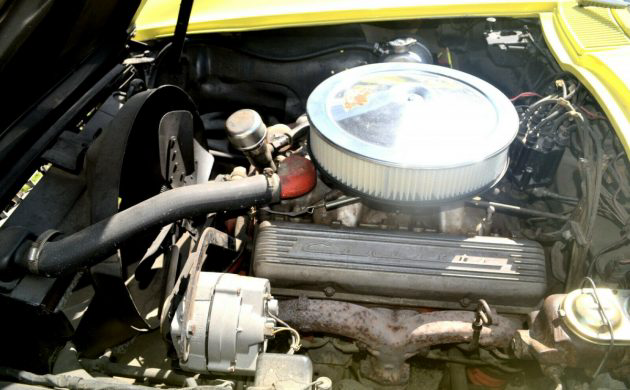 Powering the Convertible is a 327ci V8, which is backed by a 4-speed manual transmission. The 327 was treated to a rebuild approximately 15-years-ago. The seller states that the Corvette runs and drives well, but he does suggest only driving the vehicle a short distance at present. He doesn't fully explain the logic behind this, but I get the impression from the listing that the Corvette hasn't seen a lot of active use in recent times. If that is the case, then it will probably require a thorough mechanical check before any extended trips are attempted. He also says that while the speedometer works perfectly, the odometer doesn't. However, he estimates that the Sting Ray would have approximately 70,000 original miles under its belt.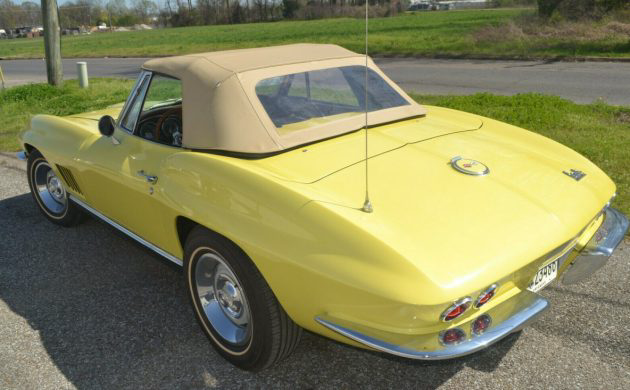 There is no doubt that excellent examples of the C2 Corvette have been desirable collectibles for many years. This is a trend that doesn't show any signs of changing in the foreseeable future. This particular vehicle does appear to be a good one, but it isn't totally original. It would seem to need nothing beyond a thorough mechanical check, and then it would be ready to hit the road. Good examples of the '67 Corvette Convertible can easily fetch figures of $70,000 or more, but the occasional gem will pop up for under $60,000. That is what this car would appear to be. So, if complete originality is not the highest priority on your wish list, this is a classic that might be well worth a look.