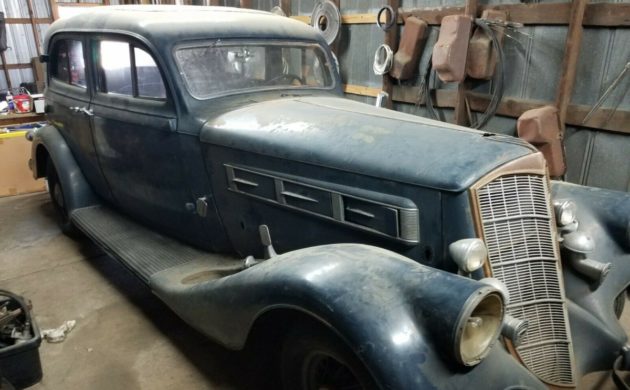 Recently, on Barn Finds, we published several articles on early 20th-century luxury car manufacturer Packard. While Packard was a significant automotive player in the non-big three large, luxury market segment, they weren't the only game in town. Another substantial participant was The Pierce-Arrow Motor Car company. And found in Williston, Florida is an example from that storied manufacturer, 1934 model 836A, available here on eBay for a starting bid of $28,101, no reserve. 
Pierce-Arrow had a life before auto manufacturing but its first automobile was produced in 1901. Like many manufacturers, especially those that produced expensive, luxury items the great depression reversed Pierce-Arrow's fortunes and by 1938 they were gone from the American automobile landscape. Curiously, and unlike most other auto manufacturers, Pierce-Arrow was based in Buffalo, New York and not the more traditional Detroit. This model 836A was introduced in 1934 as a smaller, lower-cost model designed to capture markets that their larger more expensive cars could no longer reach. The retail price for this 836A was $2,395 and it is one of only 1,740 Pierce-Arrows produced that year.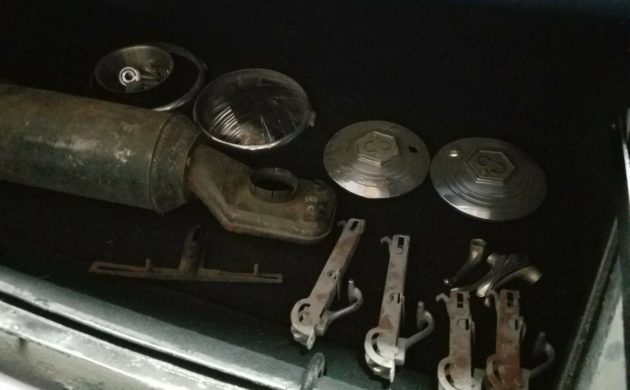 The seller of this Pierce-Arrow states that this car is in the process of restoration and is in "unbelievable condition" with no rust or body damage except for a minor dent under the rear deck lid. While it shows well, the seller adds that it needs paint and chrome. That said, the original gray finish actually wears pretty well and based on the accompanying images, is more than just presentable. Where the listing gets confusing is that the seller claims that he has the "newly chromed pieces for the hood" along with the side mounts and accessories so I'm not sure what chrome needs he is referencing unless he means re-chroming what hasn't been re-chromed. Nevertheless, if all of these unattached parts are available, it would seem that attaching them to the car would do wonders to get the bidding process started and enhance the value.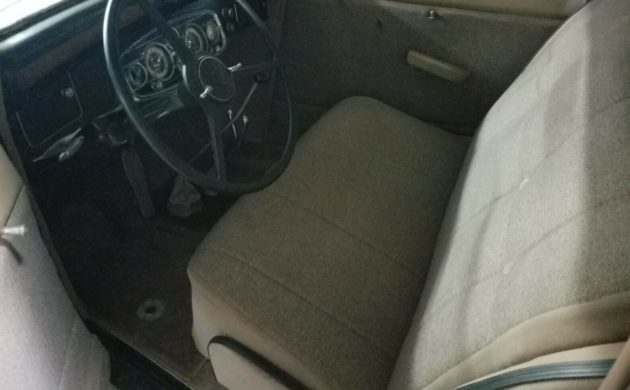 The seller states that the interior of this Packard was recently reupholstered at a price of $7,000. The interior shows like new, all of it; seats, carpets, door cards, and headliner. No word on the instrument panel and its workings but it appears to be in fine condition. The only things missing are the two rear door, inside handles. This must be a really important matter as it is mentioned twice in the listing.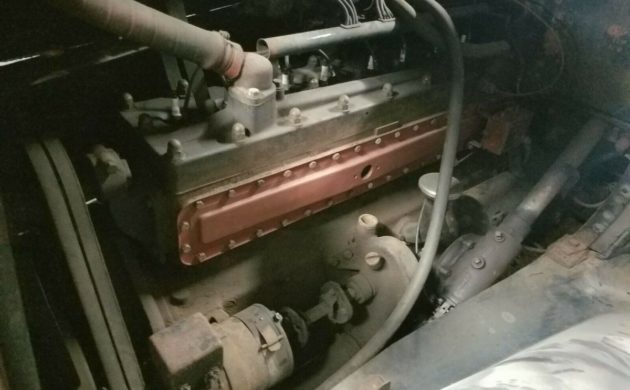 Pierce-Arrow automobiles were known for having enormous engines. This 836A is scaled back a bit with a 366 CI, in-line, eight-cylinder engine (still substantial in size)  generating 135 HP. Typical for the era is its three-speed manual transmission. It doesn't sound like this Pierce-Arrow has been driven lately as it has been stored indoors for 70 years. The owner states that the engine has been "fired off" and the external water jacket has been replaced. I take "fired-off" to mean started but the listing also claims the usual, "ran twenty years ago" and the engine "turns over freely" so there is some further explaining that needs to happen.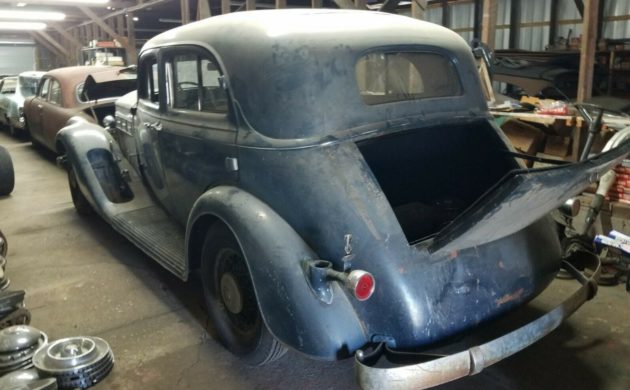 There are no bids on this automobile so far and part of the issue may be that a potential seller just can't see this as a completed car – that's where the missing parts installation could be so beneficial. Preserving old cars is obviously a consistent thread throughout Barn Finds but it is even more poignant in the case of fallen marques like this Pierce-Arrow or a Duesenberg, Auburn, Packard, etc. Once they're gone, they're gone and memories and knowledge fade. I certainly hope this Pierce-Arrow finds the right home, is reunited with all of its missing parts and is driven and enjoyed by its new owner. Might that new owner be you?