Stored since 1981, this 1958 Triumph TR3A has been awaiting refurbishment for a while. Unfortunately, the owner has realized that it will be uneconomical to have the car professionally restored, and thus the shop has listed it for sale here on eBay. It's currently located in Newark, Delaware. Bidding has started at only $2,000 and there's no reserve. This seems like a pretty good project for a home restorer with more time than money.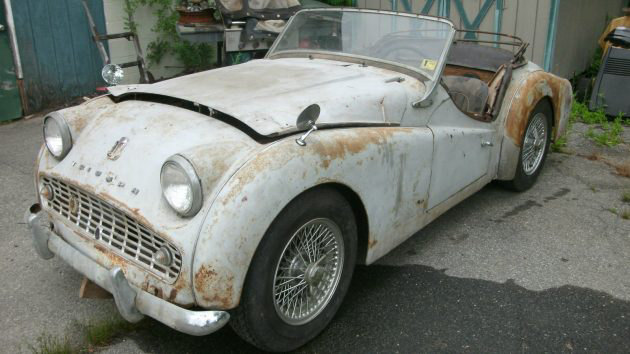 The owner of the shop has the car listed, and seems quite honest about its condition. The floors, trunk and rocker panels will have to be replaced, and I suspect there will be other localized repairs as well. Additionally, although the 72 spoke wire wheels fit, there aren't original for these cars, so if you really want originality (I'd stick with the 72 spoke ones, myself) you'll need to replace them. After that long, they may need rebuilding anyway; thankfully there are specialists for that kind of thing.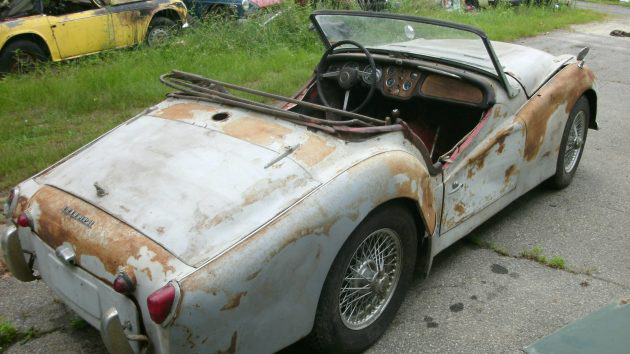 There will also be some dents to take care of. However, I've seen far worse TR3s restored to beyond showroom condition, so don't despair if an open Triumph roadster with cut down doors is what you are looking for.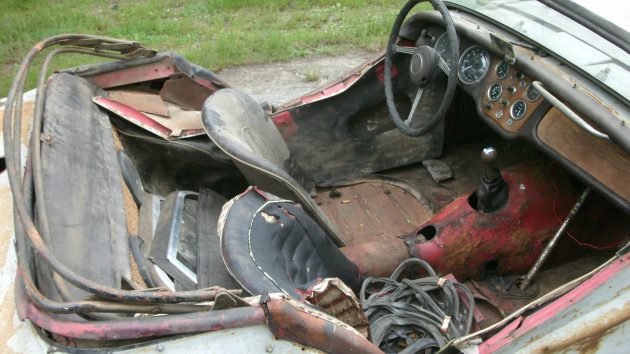 Here's another area where you will need some new parts; but many more things are available now than there used to be. For example, you can get excellent reproductions of the springs needed for the bottom of both of the seats. All the other components are available as well. I'm curious, how many other folks besides me would at least get the car running and driving first and show up at some events in its current cosmetic state?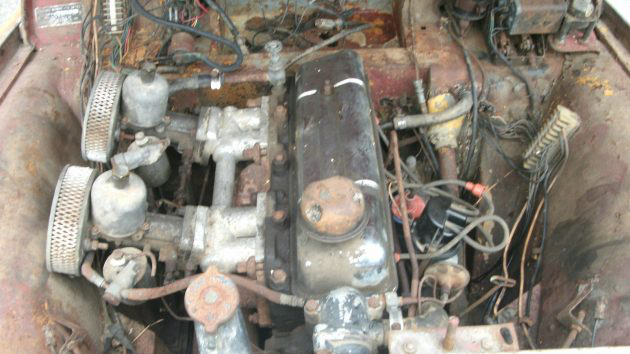 The little Triumph wet liner four cylinder started right up after some Marvel Mystery Oil was put down the cylinders and allowed to soak for a while. Not only did it start, but it ran without smoking as soon as the MMO was cleaned out of the cylinders. I'd have to agree that you could buy a restored car for far less than this would cost to restore, but if you were to do most or all of the work yourself, this might be the perfect project for you. If you decide to bring this TR home, be sure and let us know!