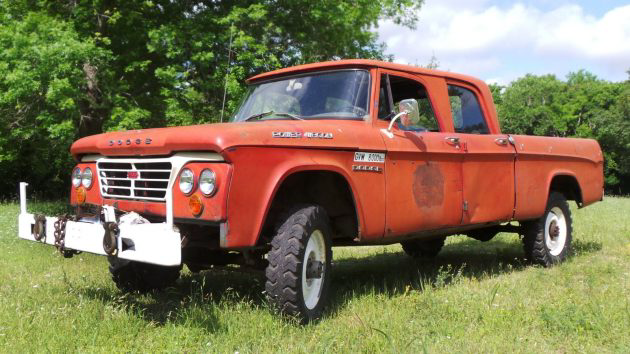 Now this is a truck! A truck-truck, not a D-50 Sport mini-truck, this is a truck for tough, hairy men to haul rusty chunks of iron with. Thankfully, the driver can haul three other tough, hairy men while they're heading out to do tough men things, like wrestlin' bears and such. I wonder if it has cupholders, hmm.. This is a 1963 Dodge Power Wagon W200 crew cab and it's on eBay with fierce bidding all the way up to $6,900 so far, and believe it or not, the reserve isn't met yet! This heavy hauler is in San Antonio, Texas.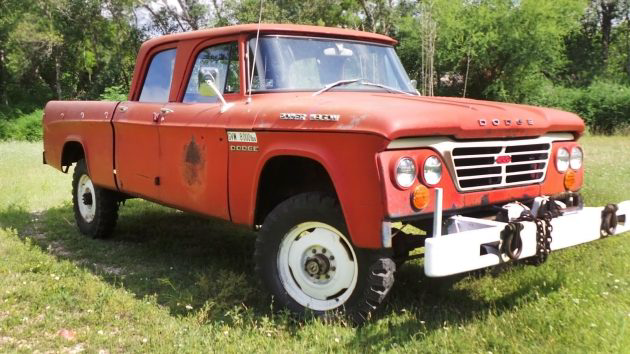 Yep, this is one tough truck. Halfway through the 1962 model year, Dodge added a crew cab model Power Wagon for the 1963 model year, which this truck happens to be. This was originally an Air Force truck, and you'll see the blue bits in a minute, but I'm guessing that it was painted red when it was used in a "small town fire department."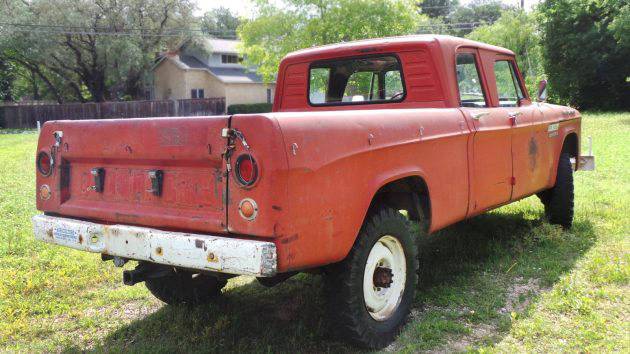 Thankfully, this truck isn't a rusty mess like it would be if it had spent its life a few states north of Texas. The seller says that it has a few bumps and bruises and some rust-through, but for a truck of this vintage to have this much of the wheel arches in tact is amazing in my world.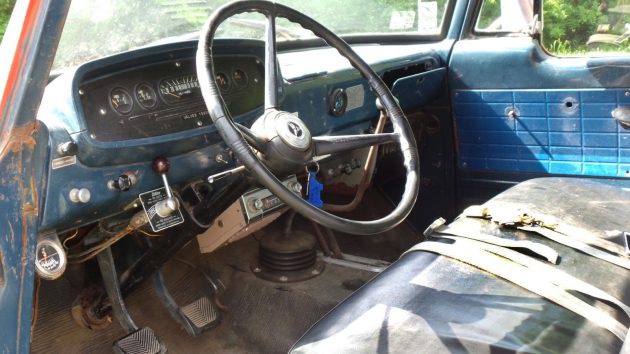 Resale red turns out to be most likely fire department red, but the heart of this beast is blue. The front seat passenger will have a heck of a time getting out or rolling down the window. There should be plenty of room in the back for more passengers, or dogs, or luggage. There's even a PTO winch and the AM radio works well as does the 4-speed transmission and clutch.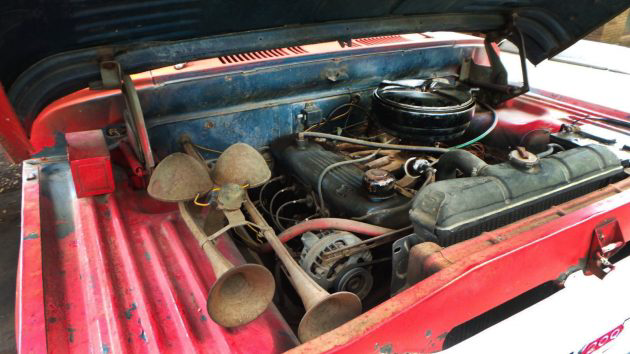 It may look somewhat like half of a V8 upon first glance, but this is the venerable 225 slant-six! This one doesn't smoke or knock, unlike most of us. This truck was "recently found in a building", but is said to run, drive, and stop. The 225 slant-six was used in the W100 and W200 Power Wagons starting in 1963. Would any of you have a use for a monster truck like this '63 Power Wagon crew cab? If so, what would you use it for?