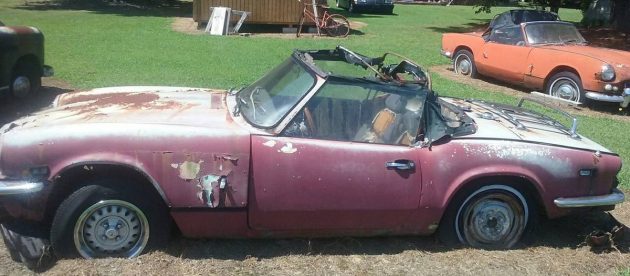 Have you ever read an ad and just felt like whomever wrote it is a pretty interesting guy?  When I read this ad, I immediately felt that Kenny, the owner of these three lost souls, was a guy that I'd like to hang out with.  How could you not like a guy who has two British sports cars and an odd little Mercedes four door scattered about their back yard?  The fact that they aren't neatly lined up in a row messes with my OCD tendencies, but my guess is that Kenny would have a cold one waiting for me to help me overcome my flaws should I decide to visit him and his wayward flock in Halifax, North Carolina.  The way he wrote the ad on craigslist, selling each of these beauties for under $900 a pop, makes me think that he was a bit desperate to get these treasures off his property.  Maybe the wife has delivered an ultimatum, or the evil zoning man is breathing down his neck.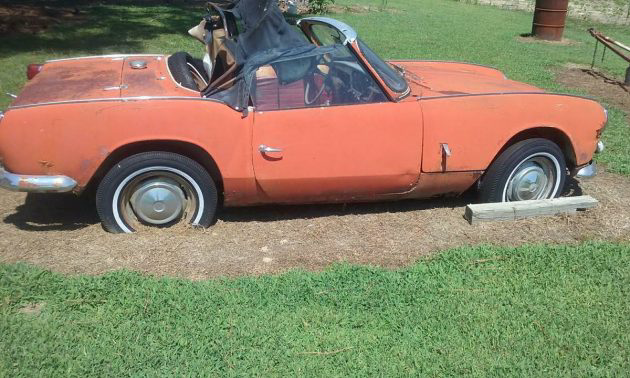 Looking at these beauties, I see a little potential.  Our new pal Kenny, however, sees a whole lot of potential.  He states that all of these cars run, but have not been started in years.  While you contemplate that statement for a moment, I do have to say that the Triumphs may be the best choices in this deal.  The 1978 model seen in the first picture needs a distributor, but Kenny reminds us that it does run.  These later Triumph Spitfires were well sorted out by the time 1978 rolled around, and the dreaded swing axles of the previous generations had been redesigned into a tamer setup.  If you haven't driven a swing axle car in a high speed corner, you have never lived on the edge.  Usually that's where a car with this type of rear suspension would put you, because the tires lose traction as the axles lift up under load.  They make an early Porsche 911 seem positively sedate at speed.  Under the hood, the old engine had been bored out to 1,500 ccs of displacement by 1978, making the cars much more pleasant to drive.
The picture directly above is the one that makes my heart flutter.  This one is a 1965 Triumph Spitfire, and, of course, Kenny says that it runs.  Notice that the rear end on these is designed differently, and that the whole shape has a groovy sixties feel to it.  These did carry the diabolical swing axles, and a much smaller engine (1,147 ccs).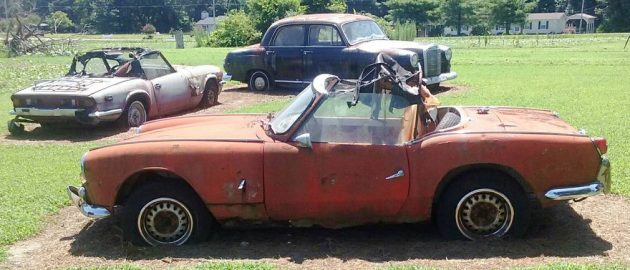 On the driver's side of this 1965 model, you can see why very few early Triumph Spitfires have made it to 2017.  Every British car's first instinct is to return to the ground from which it sprang, but these seem to have an exceptionally low survival rate.  A lot of that could be blamed on the swing axles as well.  I think Kenny helped the process along by keeping these cars covered with tarps or covers of some sort.  All this does is create a giant greenhouse of moist air.  This moist air ruthlessly finds every unprotected nook and cranny in the car, and you know what happens next…
That reminds me, I have always wondered why nobody in the British automotive industry ever got serious about adding rustproofing to cars in any meaningful quantity.  It rains all the time over there.  I guess their lack of proactive problem solving is the reason why there isn't much of a British automotive industry left.  We won't even talk about Lucas electrical systems.  There is a reason that Lucas is considered the original Prince of Darkness.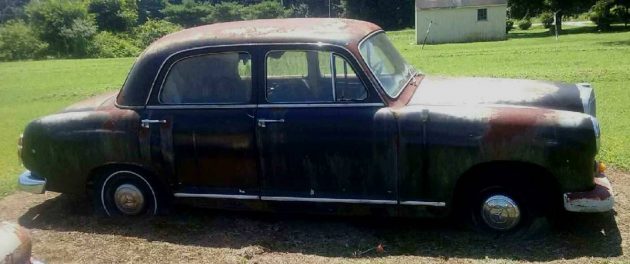 The third car in Kenny's collection is a 1960 Mercedes 190D that, you guessed it, runs (according to Kenny).  These stately Benzes were the first modern unibody design for the company.  The front end utilized a sub frame design that held the engine, transmission, and suspension.  The engine, however, had around 50 horsepower, so these weren't the speed queens of the era.  We had to wait a few years before AMG showed up to work their magic.  These cars do have a following, and restored ones sometimes sell at prices approaching $20,000.  Despite Kenny's optimism, this one would probably need a lot to get back on the road.  Mercedes does have a fairly new restoration and vintage parts department, but I'd bet that picking up parts from them would be a little more expensive than ordering from the J.C. Whitney catalog.  Just imagine what replacing that de-laminated windshield would cost!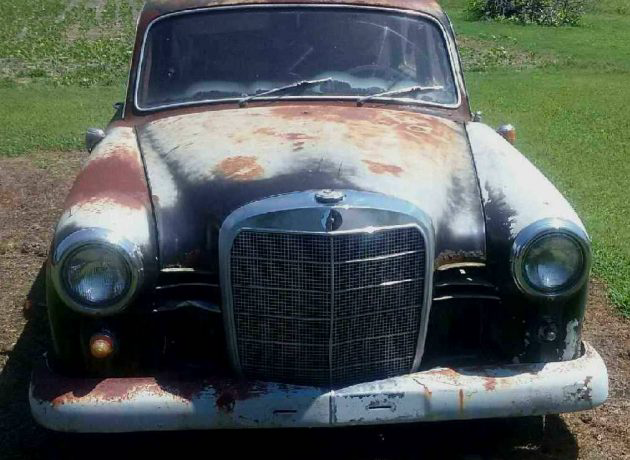 I would imagine that Kenny drove all of these cars around at some point, but, like all of us, distractions left them sitting while he moved on to other things.  All three could be saved with the usual liberal applications of money, time, parts, and sweat.  However, the dilemma Kenny finds himself in is that buyers can purchase better examples for not a lot more money.  It also seems that time is not on his side from the sense of urgency he conveys in the ad.  The Mercedes could be made into an interesting street rod (Thousands of Benz enthusiasts are all screaming simultaneously at that statement!), or, preferably, restored into a unique cruiser.  The Triumphs could be transformed into an awesome combination of the late model engine, transmission, and suspension with the neat 1965 body.  There is potential here, but it would take some work.  It would be a shame to see these being towed off to the crusher.
I hope that one of you can visit our friend, grab a cold one, set a spell with ol' Kenny, and rescue one of these beauties.