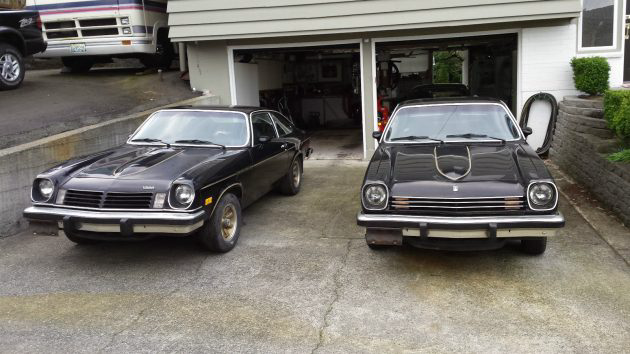 1975 on the left, 1976 on the right
Vegas are similar to Pintos when we bring them up on Barn Finds–they are very polarizing.  And the Cosworth variant even more so–there are those that love these cars and those that find them useless. I happen to fall into the former camp, having spent much time in a friend's Vega GT and finding it very civilized (air conditioning, real windows that seal) compared to my Triumphs. These two are projects that have been given up on and are for sale together here on eBay. They are located in Edmunds, Washington.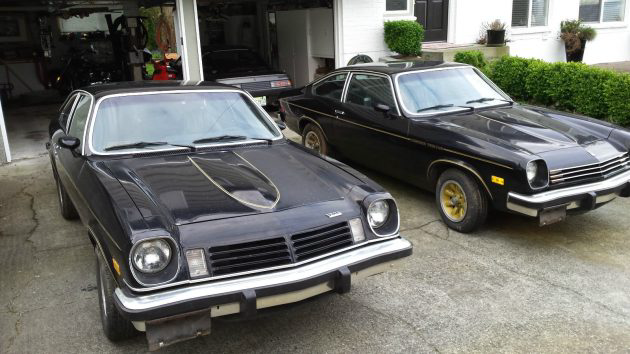 Quick familiarization: the Cosworth Vega was an attempt to build a performance variant of the Vega with a twin cam, 16 valve engine and suitably beefed up suspension.  Considerably more expensive than a run of the mill Vega, the Cosworth only delivered a mild performance upgrade in stock form, largely due to emissions strangulation. They were only produced in 1975 and 1976, and all the 1975s and a lot of the 1976s came in this black and gold paint scheme. You can see the minor difference in the nose styling between the two years in this picture.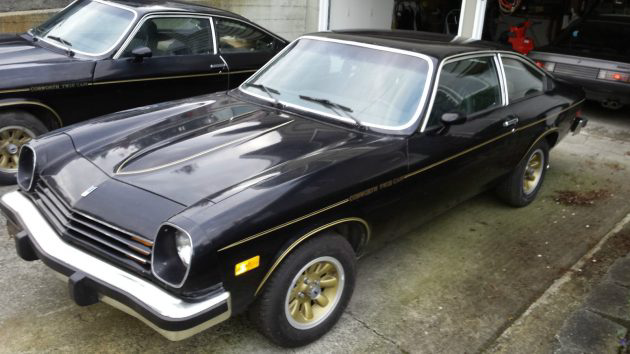 The 1976 #2596 is said to be the better car of the two, with 45,786 miles and the cylinder head still attached to the engine–unlike the 1975. Nothing about running condition is mentioned, so assume it doesn't.  The seller rates the interior as a 7 out of 10 and reports zero rust on either car. Wait a minute, now I'm in the Twilight Zone. Two Vegas next to each other with no rust on either one? Of course, there are the usual parking lot dings and dents, but I would at least try to polish out what's left of the original paint anyway.
The wheels on the 1976 have also been refurbished and fitted with new radials.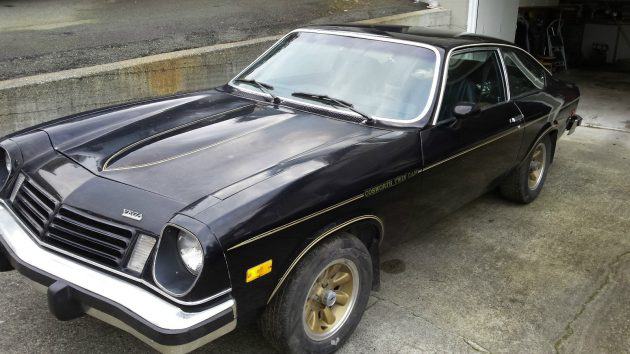 As mentioned, the cylinder head from the 1975 #0095 is off for an unknown reason (the seller bought it that way) but it still looks pretty good on the outside. Although this one's interior is rated as a 5 out of 10, a new carpet set is included to be installed by the purchaser. The seller has purchased NOS gold stripe kits for both cars and is included them in the auction.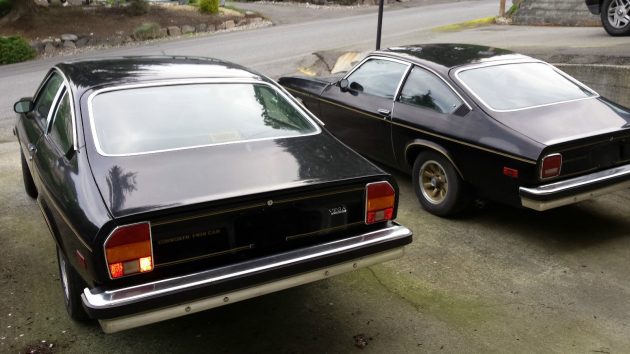 As previously mentioned, you are going to have to love these cars to take on these two as projects. My wife has looked over my shoulder this morning and expressed pleasure that they are all the way across the country–she knows me well. Are there any other Cosworth Vega fans out there? And is there anyone else that could not resist the temptation to use JPS decals and to create a non-existent Cosworth Formula One edition? It is, after all, "just a Vega" to most of you!