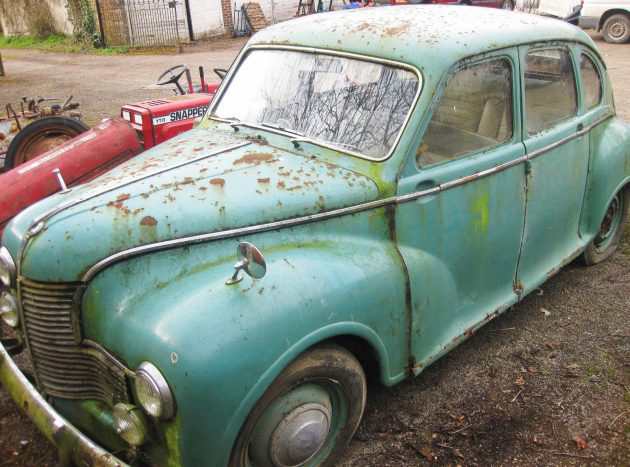 Brought to our attention by reader Dik S., this Jowett Javelin barn find located in Maidstone, Kent, United Kingdom is listed for sale here on eBay UK. This is a fascinating little oddity of a car with some very distinctive engineering features, despite what some would call humdrum looks. Bidding is only up to 1,220 pounds ($1,579 today) and there's no reserve, so a bargain may well be had.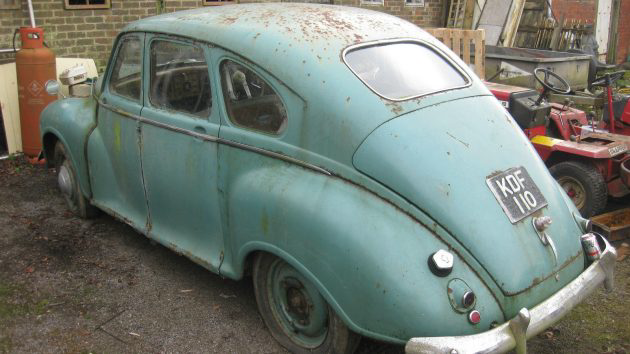 The vaguely Volkswagen-ish or Tatra-ish shape was a huge jump forward from previous designs for Jowett, and was presumably styled that way to enhance aerodynamics. Although we don't know the year of this car, they were produced from 1947 to 1953. About 23,000 were made over that period.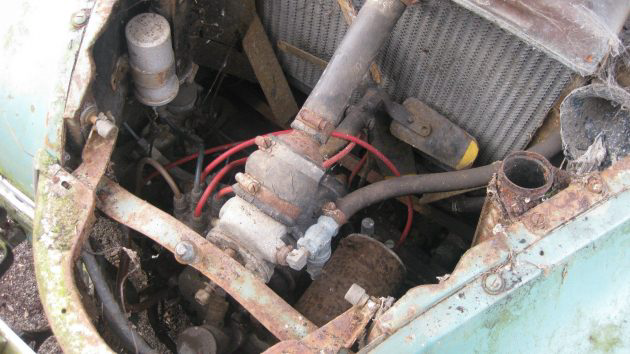 Believe it or not, somewhere down there is a water cooled flat four engine! In case you're wondering, the fan is run off a jack shaft, and the radiator is towards the rear of the engine compartment. Never let it be said Jowetts were traditional!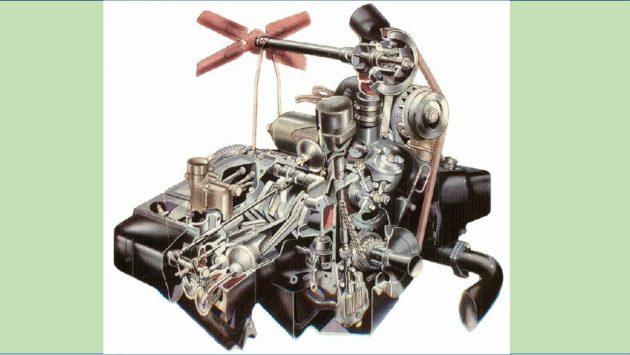 Here's a cutaway drawing of that engine courtesy of the North American Jowett Register. You can get an idea of how low the engine is in the chassis by comparing the fan position in this drawing with the picture above. I'll bet not too many of you Subaru, Porsche & Volkswagen owners knew there was a British flat four as well. Not only that, but there was a sports car version of the Javelin called the Jupiter, that had pretty decent performance for its day.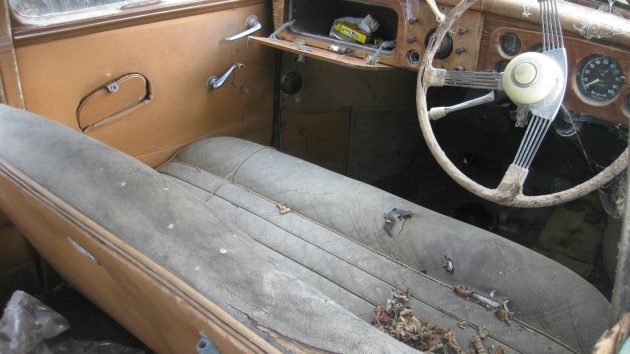 There's nothing quite like the smell of an old, neglected British car. It's more organic smelling than a similar American find. I don't really know how else to describe it. Apart from the tears at the top of the driver's seat, some of this could actually be reconditioned with some work, at least to an acceptable driver standard. Unfortunately, the rust, although relatively minor in appearance, might relegate this Javelin to parts car status. Personally, I hope not. Are any of our UK readers interested?