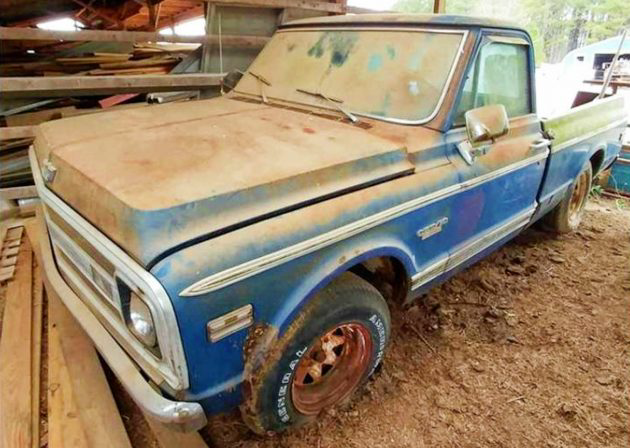 UPDATE 2/14/2020 –  It's been a few years since we featured this rare Chevy, but reader Tom G just sent us a link showing what happened with it! After being extracted from the barn, it's new owner gave it a complete restoration, returning this big block beast to its former glory. Now that it's done, they've since decided to raffle it off, with tickets running $100 apiece. In the terms of the raffle, they are requiring a minimum of 750 tickets sold, meaning they value the truck at $75,000+ which seems a bit optimistic even for a CST. Hopefully, some of those proceeds are meant for a good cause. If it's something your interested in learning more about though, you can find it here on Facebook.
FROM 5/23/2017 – Some cars just can't be bought, no matter the circumstances, or what you tell the owner. They either have plans or memories wrapped up in the vehicle and they simply can't part ways with their classic. Happens all too often, and usually does not turn out too well for the vehicle in question. That is part of what happened to this 1970 Chevrolet Custom Sport Truck. The previous owner who purchased it new had it parked in barn where many stopped and left notes asking to purchase this truck. Unfortunately, the owner passed away, but the truck has finally escaped the barn where it sat for many years. Packing a factory big block, this truck has been somewhat revived, almost ready to be driven on the opens roads once more. With 3 days remaining, bidding has reached $5,000 with the reserve not met. Check out this truck here on eBay out of Mays Landing, New Jersey.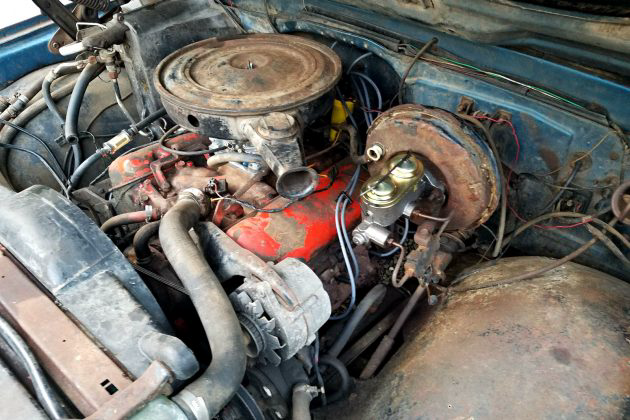 Dingy, dirty, oily, and rusty, this old farm truck has some life left after its long nap. The 396 runs great and has recently received a great deal of work. The fuel system was cleaned, and an Edlebrock carb was added as well as all of the typical "tune up" items replaced. Although running, stopping is still a concern. The brake master cylinder, soft lines, and wheel cylinders have been replaced or rebuilt. There appear to be some leaking concerns, but the seller is still sorting through the brake issues.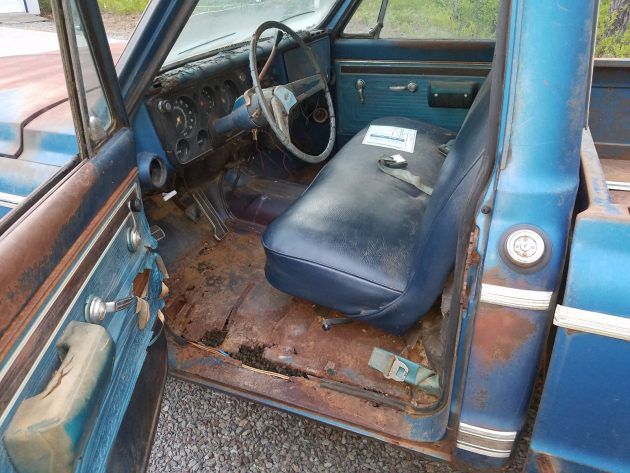 Taking a look at the interior may cause you to cringe as the rot in the floors was a bit unexpected from the sales ad, as well as the overall exterior condition of the truck. It would appear that farm life, mud, and snow, may have gotten the better of the floor boards. Beyond the rust, the door panels, steering wheel, and dash pad are crisp from sun exposure. Despite this rust there is a huge aftermarket for these trucks and factory big block trucks are not all that common.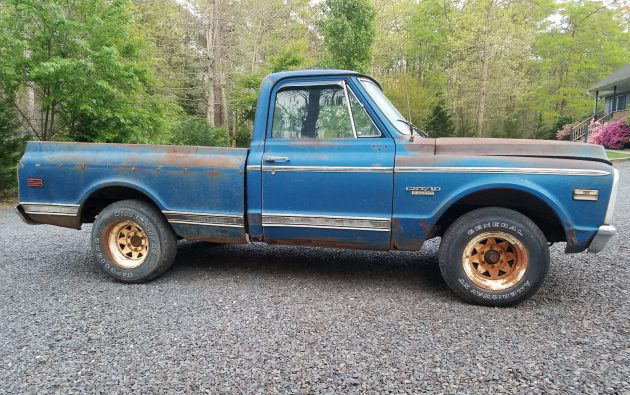 Wearing an even and minor surface rust, this Chevrolet has only minor rot to show on its exterior. The passenger side lower front fender has a bit of rot, as does the cab corner on that side. The driver side shows no rot, and surprisingly the rockers are solid, with only minor surface rust present. The interior of the door bottoms are a bit crispy, but there are no holes showing. Some of the trim is missing, as well as the exterior driver and passenger side mirrors. With some positives and negatives, would you take on this big block CST/10?