Jamming an American V8 into a great-handling European sports car makes for irresistible fun, and Carroll Shelby's Cobra is the king of them all. With the price of real Cobras having shot into the ionosphere by the 1980s, a host of replica manufacturers, and Shelby itself, have offered kits and turn-key Shelby Cobra replicas for far longer than the originals were produced. This 1997 LA Exotics/B&B Roadster example features a Mustang II front suspension, a genuine Ford 9″ rear end, and most significantly, a vintage Ford 427 cid (7.0L) and a proper Ford four-speed "Toploader" transmission. Thanks to reader James for spotting this red rocket here on craigslist where $61,000 will make it yours. That's about twice the going rate for a run-of-the-mill Cobra replica, but the vintage Ford parts add significant value and bring the authentic experience of the original.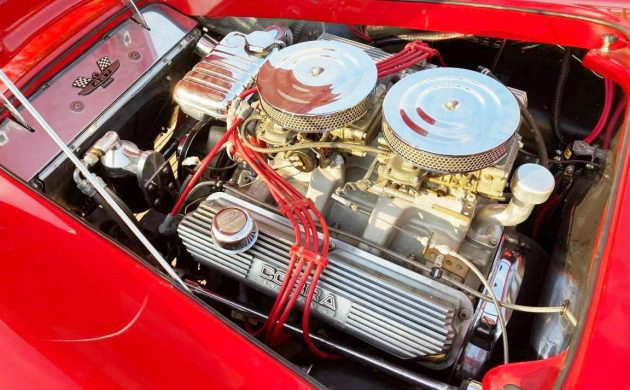 While the true 427 Cobra utilized a single four-barrel carburetor, Ford offered this dual-quad setup in cars like the wicked Fairlane Thunderbolt, and the seller of this Cobra lists casting numbers for motor parts that may hail from the Ford factory performance parts bins. A few years ago a fully dressed "as is" 427 went for about $17,000, and the seller estimates this motor's (fully built and running) value at $30,000.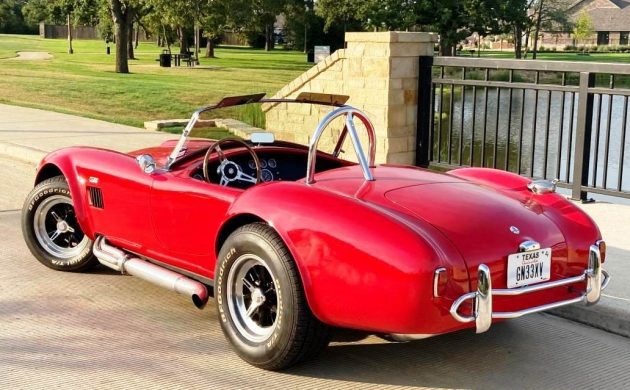 The body lines of the B&B body look great and true to the original. The original AC Ace came with a 120 HP four six-cylinder engine. The lovely British roadster would never be the same after a christening by Shelby's magic V8 hammer.
The instrument array differs only slightly from the original layout, but not in a distracting way. That shifter looks perfect, with the obtuse angle a necessity of packing a monster drivetrain in such a small chassis.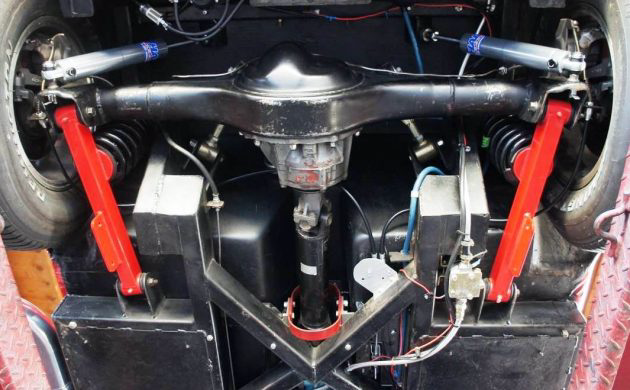 The Ford 9″ rates among the world's most durable differentials, spinning beneath the NASCAR fleet for decades. Hotchkis trailing arms and other upgrades indicate a serious effort to plant this mighty mite in the corners. While some Cobras found their way to the drag strip, they were built for road racing, and less than stellar handling will disappoint enthusiastic owners. Have you had a close encounter with a real or replica Cobra?