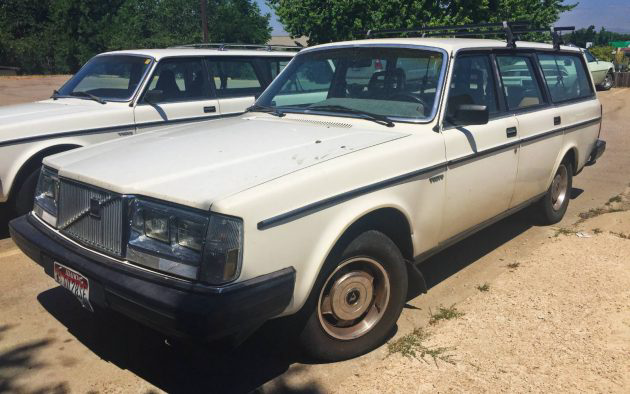 For the past several weeks we have been working day and night to get ready for our second go at the Monte Shelton Northwest Classic Rally. It's been a few years since we attended the Northwest Classic in our Bullet Hole Mustang, but we had so much fun that we decided to try it again. This time, we decided to go with something a bit different. We wanted a car that was affordable, easy to fix, fun to drive, and would be completely unexpected at an event like this, so we decided to go with a Volvo 240 Wagon! I know what you're thinking, an event with Gullwings and Ferraris in attendance is no place for a sedate Swedish family wagon, but our car has a few tricks up its sleeves!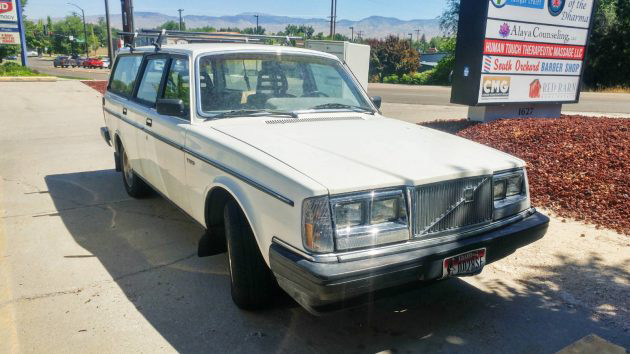 The decision of what to take on the rally wasn't an easy one. We have a Camaro sitting in our shop right now that was a strong candidate, but Jesse came across a local ad for a 1985 Volvo 240 mechanics special with a $600 asking price. We went and took a look and beyond some rust, it was actually in good shape. The owner had already done all the major maintenance to make it a sound driver, but it would randomly die whenever it was hot outside. We took it for a spin and didn't have any issues until I turned the A/C on. We discovered the wire going to the A/C pump was frayed and was rubbing on the power steering pump. Simply unplugging seemed to solved that problem, so we bought it. After driving it for a few days, we both decided it was the car to take rallying.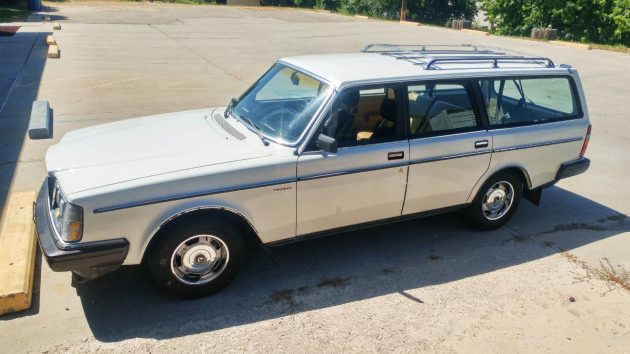 And that's when something unexpected happened, a near identical 240 Wagon popped up. It had more miles, needed motor mounts, and a complete tune up, but the body was rust free. So we decided to do what any enterprising Barn Finder would do and we bought it! With two identical Volvo 240s parked in front of our office, we started the fun task of combining them bpth to make one nice car.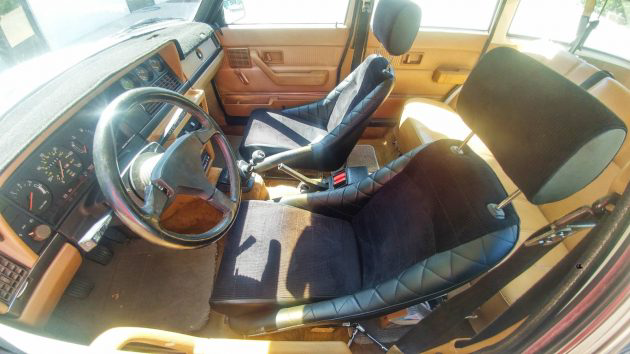 It seemed like a simple enough task at first, but we quickly ran into some issues. More on that in a minute though. While we worked our way through all the various issues our rust free example had, we landed a deal on some trick performance parts, including a period Volvo R Sport steering wheel, IPD sway bars, heavy duty torque rods with polyurethane bushings, a Volvo tachometer, an auxiliary gauge cluster and a pre-1980 quad round headlight setup. While none of these parts will necessarily make the car go any faster, they definitely give it a sportier feeling and look. We also landed a pair of awesome period looking rally buckets that should keep us from sliding around when we toss this wagon through the turns!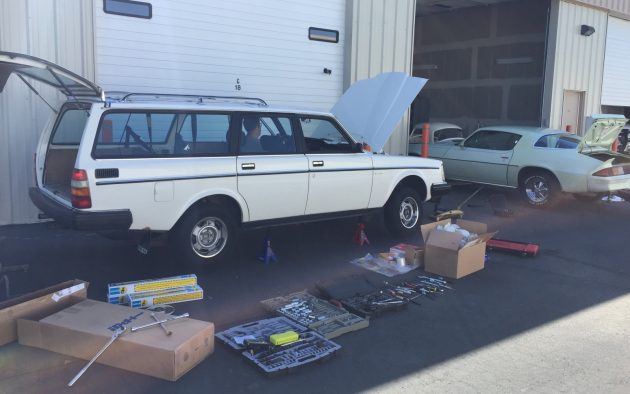 During the processes of swapping parts and installing new bits, I inadvertently disturbed something in the engine bay that caused surging idle, stalling and terrible fuel mileage. Since we had already installed some of our performance bits and had pulled all the good parts from the other car, we decided to hunt down the issue and try to move forward. Soon, I ran out of patience, so Jesse took over the task of finding the culprit of our issues.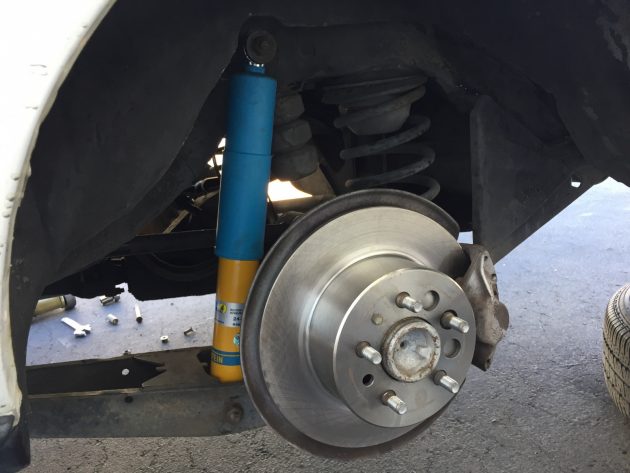 While he worked on that, I installed new rear rotors, brake pads and some performance goodies that our buddies over at IPD hooked us up with. Thankfully, they were able to get everything shipped to us ASAP, so I had lots of stuff to work on. A friend of mine who is a huge Volvo fanatic signed up to help out. So special thanks to Cameron for his assistance! With his help, we made short work of installing new Bilstein shocks, sway bars, torque tubes, and a high performance exhaust system. We also installed brand new motor and transmission mounts, also supplied by IPD!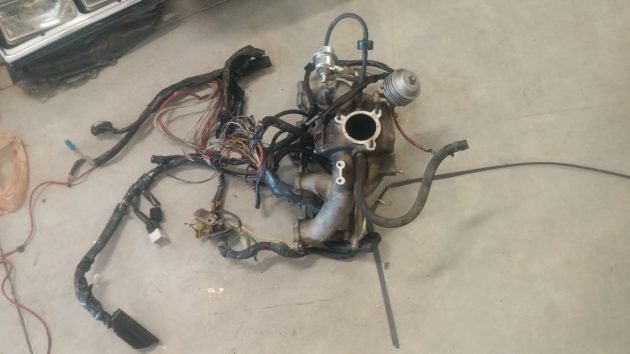 While we had no problem getting the suspension put together, Jesse wasn't having as much luck fixing our idling issues. That was until he discovered any 240 owner's worst nightmare, the car's wiring harness was disintegrating in a number of areas. So he began the painful task of removing the harness to repair the various faulty wires and connections. It ended up being a huge task, but amazingly, he was able to repair all the bad sections and get it reinstalled. And while he was in there, he ended up discovering what was most likely causing our issues. I had tried to clean the throttle body out and in the process I must have clogged up one of the vacuum ports. He removed the throttle body, cleaned out all the built up grim and reinstalled it with a brand new gasket. Late last night, we managed to get everything buttoned up and the car is now running great!
The car is at the suspension and alignment shop as I type this to be fitted with our new Bilstein front struts and to have the alignment done. We still need to get new tires installed and to do an oil change, but once those things are done, our little family wagon should be ready to tear up the roads around Mt. Hood. And we couldn't be cutting it any closer, as we set out for Portland, Oregon first thing tomorrow morning! So be sure to stay tuned for live coverage of the 2017 Monte Shelton Northwest Classic Rally as Team Barn Finds attempts to take first place. Wish us luck, because we are going to need it!
Read all the stories about our rally wagon:
We Are Headed To The NW Classic Rally!