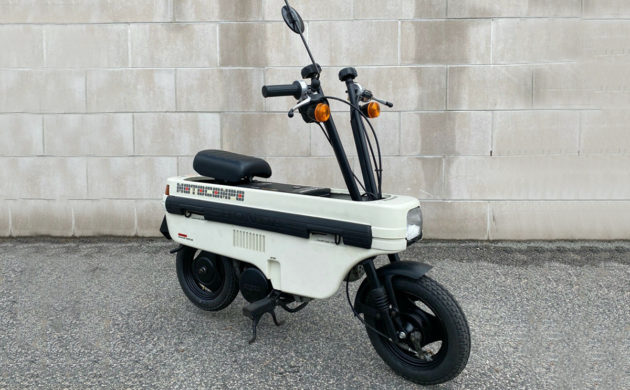 We've seen quite a few of these tiny folding mini-motorcycles over the last few years and with it finally being springtime – at least for those of us in the upper-Midwest and Northeast where we seem to have more winter than summer some years – I always get anxious to jump on a two-wheeler again. Yes, even a tiny one. This 1981 Honda NCZ-50 Motocompo can be found here on eBay in Jamaica Plain, Massachusetts. There are 40 bids and a current bid price of $3,000 but the reserve isn't met yet.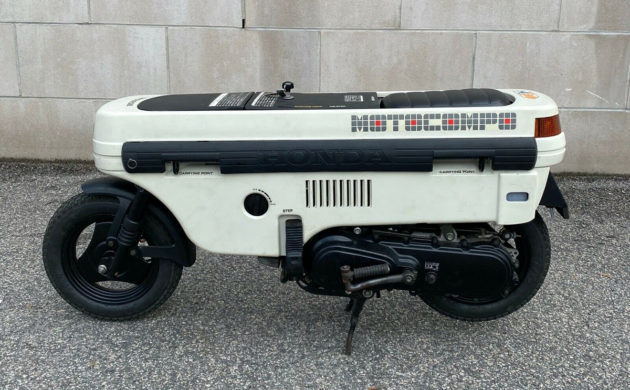 I have talked about my Motocompo in past posts and they really are fun to ride. Not in a white-knuckle impressing your buddies way, but in a back to childhood way. The older I get the less I care about impressing my buddies and the more I care about reliving my childhood. You can see how they fold up in the photo above and being around 90 pounds, they're somewhat easy to put into the back of a vehicle.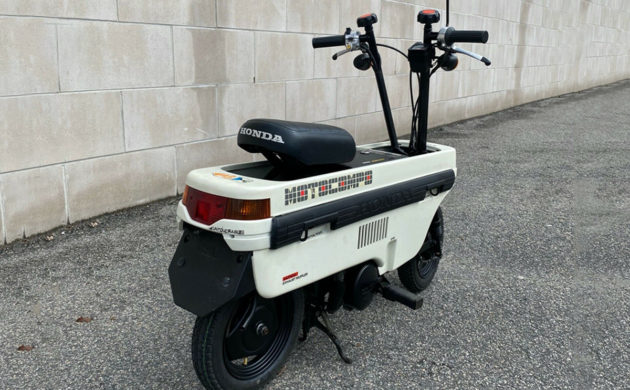 Most of you know the story on the Motocompo, that they were made for commuters in crowded Japanese cities so owners could park their cars on the outskirts of cities where parking was easier and cheaper, and then ride the Motocompo into the center of the city to their jobs or shopping or whatever. The seller mentions that everything works but the speedometer. I just rode my Motocompo a couple of days ago and I noticed that the speedometer is starting to make a high-pitch sound so I'll have to take that apart and lubricate everything including the cable. I'm guessing that's what happened with this one. Replacements are available on eBay if all else fails.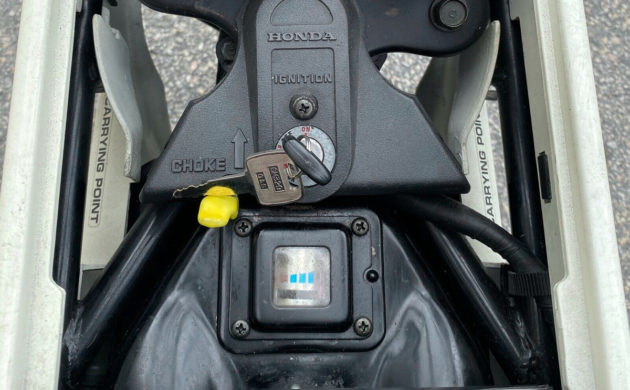 The seller says that they imported this Motocompo from their cousin in Japan last summer and it's very clean and has brand new tires. It does look great in looking at the photos, maybe nicer than mine is. Some of the areas such as the gas gauge and chain guard on this one look almost perfect, almost like they've been refinished. Not that it would be a bad thing at all if they were but they usually show some chipping and flaking in those areas as if they all had flawed paint from the factory.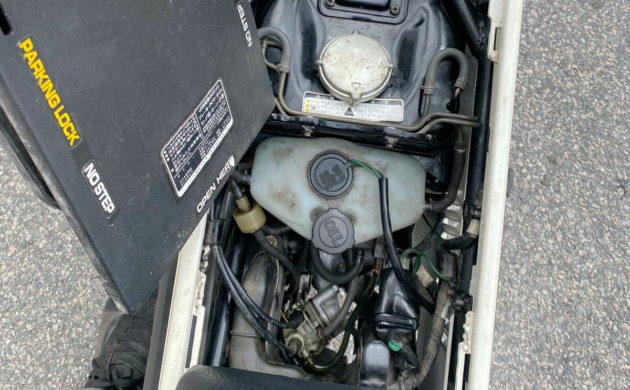 The engine buried under the oil tank is a 49 CC Honda sweet-blue-smoke two-stroke unit with 2.5-hp. It looks and sounds like it runs perfectly in the video that they have provided here on YouTube. Have any of you ridden or owned a Motocompo?