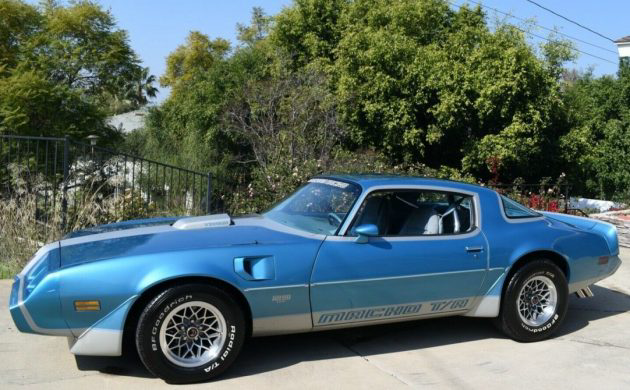 Various individuals and companies have formed an alliance with a vehicle manufacturer to produce some successful classic cars throughout automotive history. However, far fewer companies undertake the exercise independently and manage to produce something memorable and desirable. One such company was DKM Design and Performance. They breathed new life into late 1970s Pontiac Trans Ams, giving them the performance credentials they deserved and the model name of the Macho T/A. These cars were built in limited numbers with no official support from Pontiac, and unlike many such ventures, the vehicles that rolled out of their workshop continue to increase in value with each passing year. This 1979 Macho is an incredible survivor that is finished in a rare color. It is searching for a new home, so the owner has listed it for sale here on eBay. It is located in La Mesa, California, and the owner has set a BIN of $64,900. There is the option to make an offer if that price is a bit rich for your taste.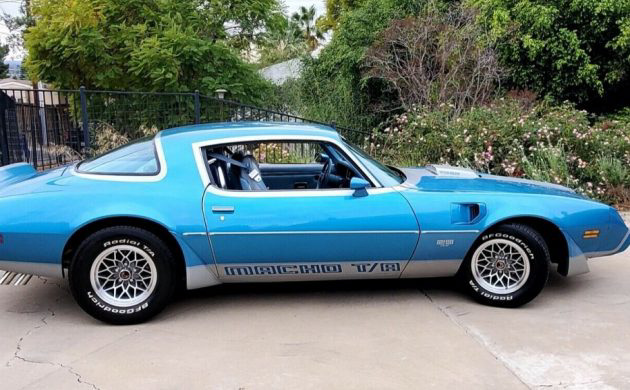 The Macho T/A first saw the light of day in 1977, and the company responsible for it continued production until 1980. The 1979 model year saw a mere 96 cars rolling out of the factory. Color choices were vast, and in addition to the 24 combinations of color and trim that were on offer, buyers could choose to hand over an additional $150 to have the combination of their choice. That meant that it was possible to tailor a unique classic without spending a fortune. This car is not a restoration but is a survivor that wears all of its original paint. It is finished in Atlantis Blue, and it is 1-of-2 Macho T/As to wear that shade. The paint shines beautifully, while the stripes and graphics remain clear and crisp. These decals were unique to the Macho T/A and included ones that signified the vehicle's build number on the front fenders and rear spoiler. The car has managed to remain rust-free, and there is no evidence of any dings or dents. The trim and wheels look as flawless as the rest of the exterior, and the tinted glass shows no evidence of problems.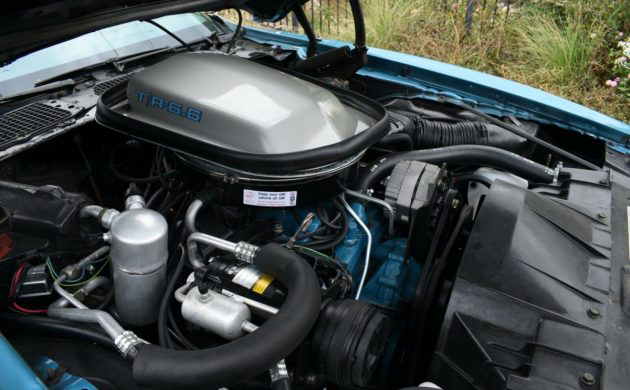 By the late 1980s, American performance car enthusiasts longed for the days when they could walk into a showroom and drive away in a muscle car with more than 300hp on tap. It would take many years before those figures were reached once again, but some enthusiasts wanted to recapture some of the magic. Enter Dennis and Kyle Mecham from Glendale, Arizona. Their family owned a Pontiac dealership, and the brothers were disenchanted with the asthmatic offerings available at the time. They chose to take matters into their own hands, and as we will see, they used some basic techniques to squeeze lively performance from the Trans Am. None of the work was ground-breaking, but it was carefully and skillfully considered and executed. The factory exhaust manifolds were consigned to the bin, and a set of Hooker headers and a full dual exhaust with a pair of catalytic converters was installed. The advance curve on the standard distributor was altered, the original carburetor was re-jetted and blueprinted, and the largely decorative hood scoop was opened to allow the engine to ingest plenty of fresh, cold air. As I said, none of this was rocket science, but it did awaken the V8 under the Pontiac's hood. The standard 400ci motor would produce 220hp and send the Trans Am through the ¼ mile in 15.9 seconds. There have never been any official figures released on the Macho, but it could slam-dunk the ¼ in 14.3 seconds. The Mechams sought to create a total package with these cars, so they received shorter front springs, Koni shocks on all corners, and the wheel alignment was set to their specifications, rather than to Pontiac's. Of course, performing all of this work on a new car brought with it some headaches. For example, they couldn't be dropped back onto the showroom floor as new cars because they no longer complied with the relevant emission regulations. The answer to this problem was surprisingly simple. The brothers formed a company called DKM Performance and Design. This company purchased the cars from the family dealership, completed the upgrades, and then sold them back to the dealership. Because they were now considered to be used cars, they bypassed those pesky emission laws. This car is an original survivor that features the 400ci V8 and 4-speed manual transmission. It has been meticulously maintained since new, and virtually none of the DKM modifications have been touched. The catalytic converters have made way for sports mufflers, but the original items are included in the sale. Also included is a vast collection of paperwork, including the Build Sheets, Window Sticker, DKM paperwork, and PHS documentation.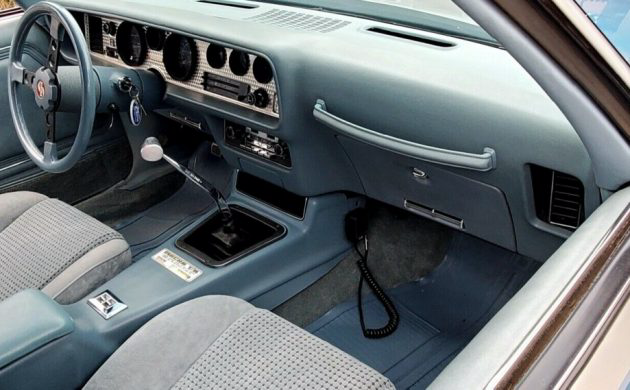 The T/A's interior presents just as impressively as the rest of the car, and apart from the replacement carpet, it remains original and unmolested. For those who desire 100% originality, the factory carpet has been retained and is included in the sale. The rest of the upholstery and trim is faultless, with no evidence of wear, rips, or stains. The plastic hasn't suffered from UV deterioration, while the dash and pad look factory fresh. The interior also features some rather nice factory optional extras. These include freshly serviced and ice-cold air conditioning, power windows, a tilt wheel, and a clock. One further option that was ordered on this car was the AM/FM/CB stereo. This remains in situ and is in excellent condition. Further enhancing the interior are DKM options that include a Hooker roll bar and a Hurst shifter.
With only 96 cars produced during that model year, the 1979 Macho T/A is a rare bird. These types of vehicles that are modified by outside concerns that receive no manufacturer support generally cost a pretty penny when new, but their values plummet as the years pass. That nearly happened to the Macho, but enthusiasts rediscovered them during the 1990s. By then, many had succumbed to lives lived hard and fast, and the majority of those that remained had been treated to some form of restoration work. To find an example that is not only original but is finished in a rare color is a treat. I'm not about to try to convince you that this is a cheap classic because it is far from it. However, the BIN price is not unprecedented. It is possible to find examples out in the market for around $32,000, but it isn't uncommon for pristine examples to sell for nearly twice that figure. This one falls into that territory, and I think that when you look at its condition and originality, it does seem to be justified. There are currently 68 people watching the listing. You have to wonder whether one of them will make the first move by making an offer or hitting the BIN button. Of course, you could always beat them to the punch.