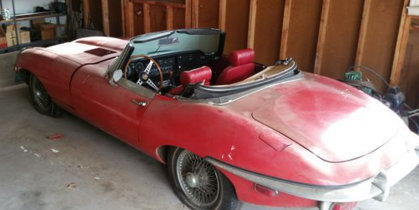 Mt. Airy, Maryland, is a somewhat rural community that has a great salvage yard worth visiting if you're ever in the area. And, for the time being, there's also a garage-find 1969 Jaguar E-Type that's been hidden away and has only one original owner. The vehicle is part of an upcoming estate sale, which includes a few additional project cars and other items fitting for a gearhead. Find the listing here on AuctionZip and thanks to Barn Finds reader John Reger for the find.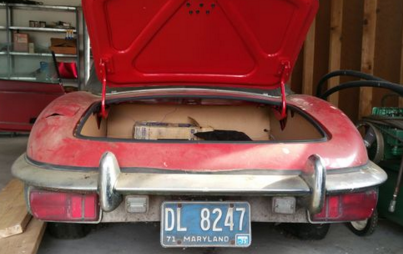 Those are some old Maryland tags, which gives some indication as to how infrequently the Jaguar has moved in recent years. A Series 2 car, it has the tail lights moved under the rear bumper and the headlights are uncovered, unlike the earlier models. As with many auctions of this type, few details are offered on condition, but what can be seen reveals straight body panels, an untorn top and four very flat tires.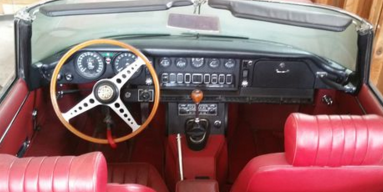 The interior is quite sharp, with untorn red leather seats and a wood-rimmed steering wheel and gear shift knob that appear to be in fine shape. While some may consider the Series 1 cars to be more desirable, the combination of a manual transmission with anything other than the 2+2 body design will usually draw a good price in the world of E-Type ownership. It does beg the question as to how long this Jaguar has been in this spot and what it will need for re-commissioning.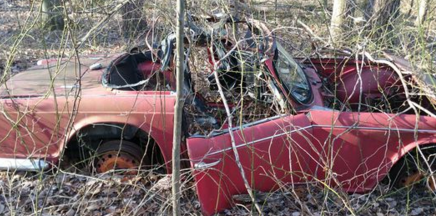 The auction listing includes a few other project cars, such as this parts-only Triumph TR4 shell. Randomly, there is also an early 90s Dodge Caravan and a Cadillac sedan from the mid-to-late 1980s. The other items that caught my eye were the "new old stock model airplanes and ships" and "hundreds of H-O trains and accessories." With a sizable house and five acres to go along with it, there's no telling what other treasure you may find.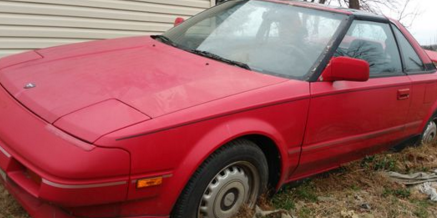 It is safe to say, however, the original owner liked red. This is one of two Toyota MR2's on the property, and both look like they've been sitting for an extended period. Really, the whole listing has the somewhat sad feeling of an enthusiast who one day could no longer drive the cars he enjoyed so much. Just a guess – but the level of inactivity combined with the vehicles here all being somewhat difficult to get into and out of (and all requiring a clutch pedal) makes me wonder about the original owner's younger years.