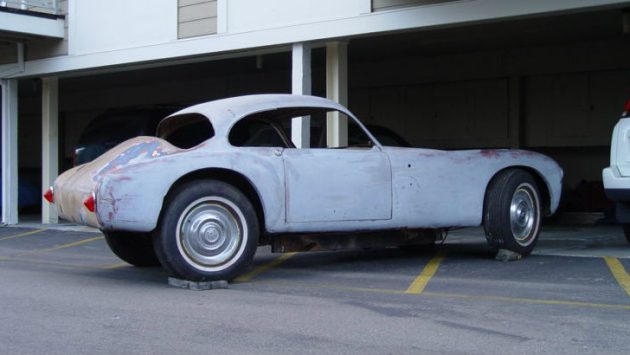 Being car folks, I'm betting you will know what a Cisitalia is–a rather rare (~170 made) Italian sports car that was considered so beautiful when produced it was one of the first, if not the first automobile exhibited at the Museum of Modern Art (one of the more obscure pieces of automotive trivia rolling around in my head…sad, I know). Anyway, the shape was considered pretty enough that several efforts were made to produce copies of the body for early kit car and specialty car use. This is one of those bodies, called an Atlas or Allied, depending on what year it was built. It's for sale here on eBay here on eBay (second listing) and was mounted to a Lincoln Capri chassis and drive train way back when. It's located in Sylmar, California Barnwell, South Carolina and is starting at only $1,000 without a reserve!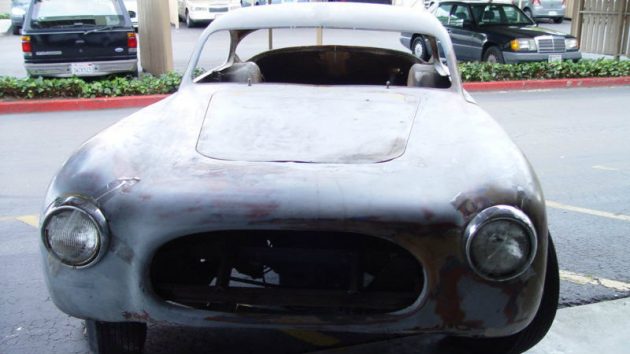 I think you might have to work on those headlight mounts!  The story of the Allied/Atlas is explained in much detail on Geoff Hacker's wonderful website Forgotten Fiberglass–apparently they made about 50 bodies over time, and the molds were actually taken from a Cisitalia surreptitiously when it was in the famous George Barris's shop! There's a cool period brochure here. Naturally, you'll have a lot of work on your hands, because it's hard to tell if the car was ever finished or not. There's certainly a lot of detail work missing. The shop that was originally going to restore the car is now selling it for the owner.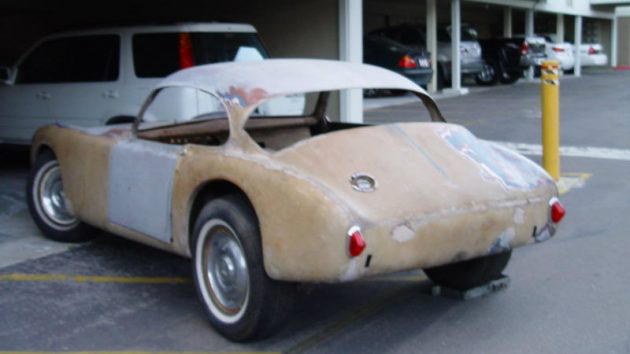 I think those are British roadster tail lights. Despite the appearance, the car comes with original front and rear glass and door hardware. I'm glad, because I think sourcing that rear glass would have been tough. Here's the deal–the Lincoln mechanicals give you a pretty solid base to build on; as the seller notes, they were used to win several long distance races at the time. I'm sure the fiberglass will require a lot of finishing work, but I don't see any huge breaks and a good Corvette or Lotus shop can help with that. Just imagine what it would look like once completed!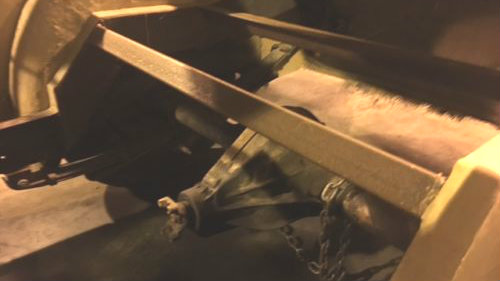 Furthermore, since this is what your interior looks like to begin with, i.e. nothing apart from the dashboard that the restoration shop has constructed, you are free to pursue whatever you would like in the interior. Personally, I would go for something quite simple, in keeping with the original Cisitalia interior. What would you do?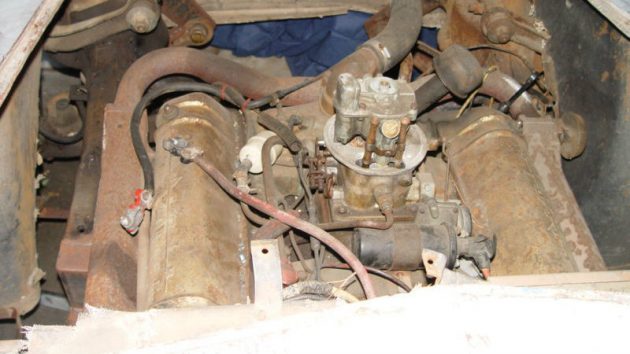 We're told the engine is in excellent running condition, and it certainly looks complete. Supposedly the Lincoln had ~50k miles on it when it was converted. I think this would make one heck of a project! My question for you today is a little different: pretend it was yours–what color would you paint it, what interior color and what wheels would you use?