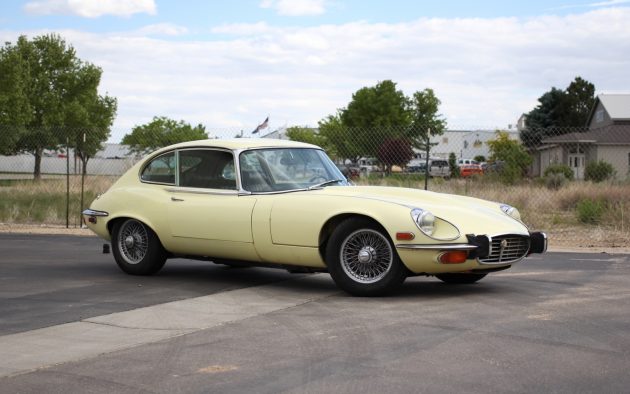 This is the first of two E-Types that we will be featuring today. If you follow the site then you may remember that a family had asked us to help clean and sell their late father's collection of cars. We will be listing the Series 1 later today, but first let's talk about this V12-powered 2+2. It's an older restoration, but presents very well and could be a great driver without too much more effort. It's located in our shop near Boise, Idaho and is listed here on eBay with a $1 starting bid and no reserve!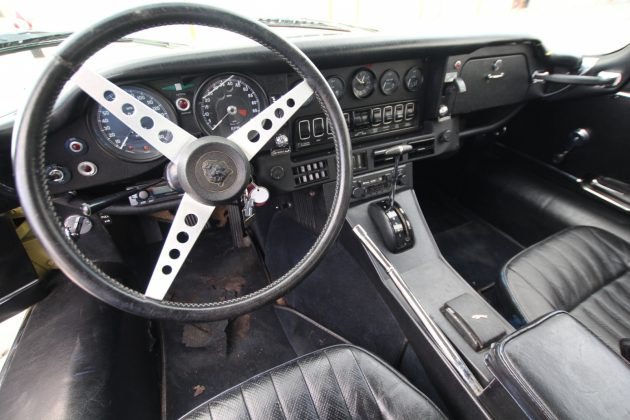 The inside is clean and comfortable. We did notice that the speedometer doesn't work, but everything else seems to function as it should. After getting it running we took it around the block and transmission shifted correctly. This was originally a blue over blue car. We could tell because the interior appears to have been dyed black and a few chips showed the old paint. The color change was well done though and barely noticeable. The yellow paint looks great and we were not able to find any rust besides the battery box.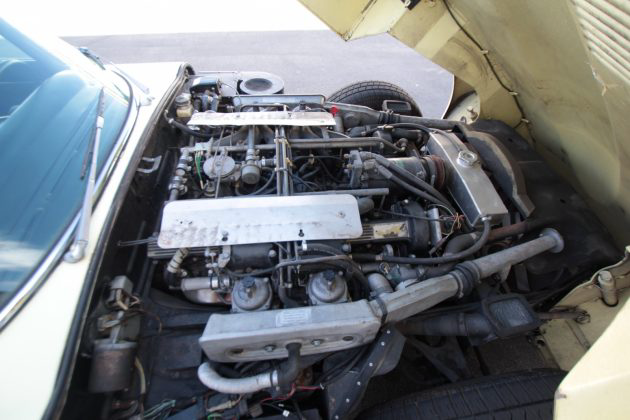 Jaguar used a V12 in this car because the inline-six used in previous generations had reached the end of its lifespan. It couldn't be bored out any larger and more power was needed to compensate for all the new emissions requirement. The V12 was actually lighter and more powerful so it just made sense. This particular car had been parked under a tree for a while. Luckily the body appears to have survived unscathed, but the the drain below the filler neck wasn't so fortunate.
Dirt and debri clogged up the hole so some water was able to go up and into the fuel tank. We drained all the water and gasoline out before starting the engine, but the next owner will want to coat the inside of the tank and rebuilt the carbs. All the consumables will also need replaced, but that's normal when you are dealing with a classic that has been parked for more than a couple years. New radiator hoses, tires, and brake lines don't cost that much, but they sure provide a lot of insurance against catastrophe.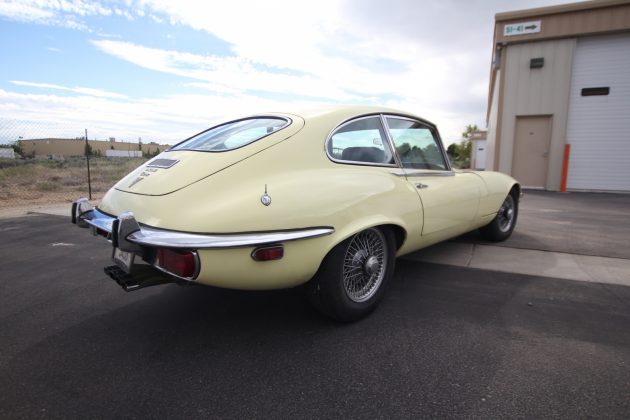 The Series 3 E-Types just don't get the credit they deserve. They may not have the toggle switches or headlight covers of the earlier cars, but they are seriously special with those wonderful curves and sweet sounding V12. With just a bit of work, this particular one will be ready to enjoy this summer. Heck, if you are real ambitious, you could even try to get the AC system hooked back up. Then this would be the ultimate British cruiser!
Click here for even more photos!
Previous posts about this car:
Part 1 – SNEAK PEEK: Amazing Backyard Find!
Part 2 – The Backyard Jags Are Ready To Go!