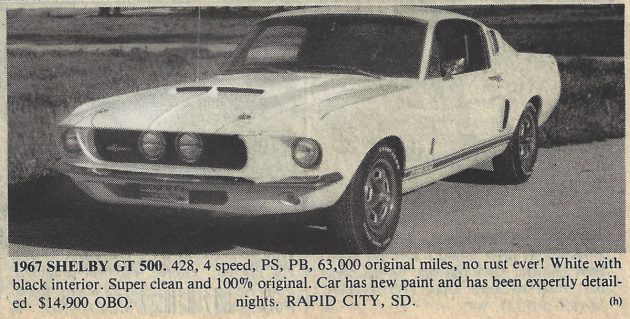 This is a different one, but it may be fun, and very, very painful. In going through a couple of boxes of old magazines recently I ran across an August 1986 edition of "Deals on Wheels", a somewhat regional car sales magazine which normally would have been found in grocery stores, auto parts stores, and places like that. It was the car bible for us as teenagers, not having heard of Hemmings yet. I'll run through a few so you can see how wonky prices have gone for some cars over the last three decades. I have blocked out the phone numbers and tried to make all of the images the same size, in case you were wondering about either of those things.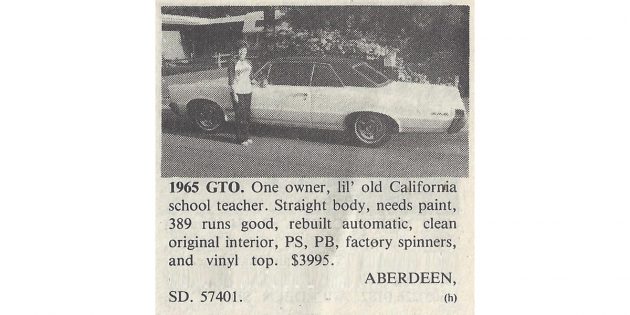 The first one, the '67 Shelby GT-500, is perhaps the most painful of this bunch. $14,900 in 1986 dollars equates to $32,800 in 2017 dollars, but Hagerty lists a #2 "excellent" car at $163,000! Ouch. Not quite as painful but an equally desirable car is this 1965 Pontiac GTO, the classic "little old lady" car, except in this case the woman isn't that old and she was a school teacher with perhaps thee coolest car in the parking lot. $3,995 in 1986 dollars is about $8,800 today. NADA lists a 1965 Pontiac GTO with a 389 V8 (and, this one needs paint) as having a "low retail" value of $19,900 and an "average retail" of $45,200. If you can find a car like this for $8,800, please let me know right away!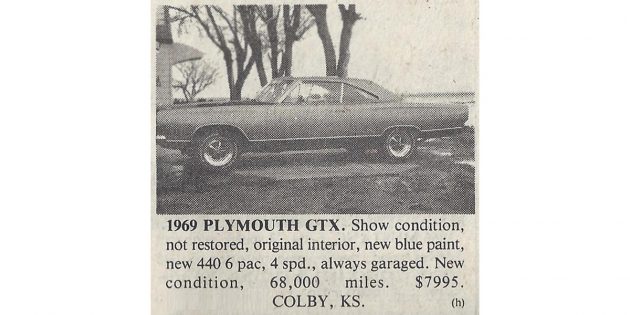 A 1969 Plymouth GTX with a 440 six-pack for $7,995, anyone? Yes, please! Neither Hagerty or NADA lists a 3-two-barrel set up for pricing, but a regular, if there is such a thing, 4-barrel 1969 GTX in #2 "excellent" condition is valued at $54,600 today. And, inflation says that $7,995 is only worth $17,600 today, so yes, some vehicles can be great investments.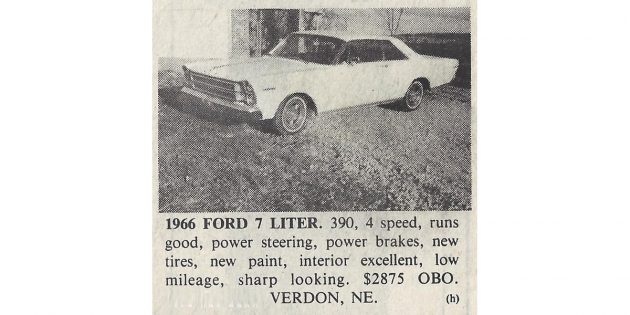 Is anyone a fan of a 1966 Ford Galaxie 7-Liter? I thought so. This $2,875 asking price would be around $6,300 today, ha, that's so painful that it's actually funny! No, actually it's not funny, it's just sad that I didn't buy one of these thirty years ago. NADA lists an "average retail" value of $20,790 for a similar car today. Quite a hike from the $6,300 inflationary rise in dollars since 1986. Kleenex, anyone?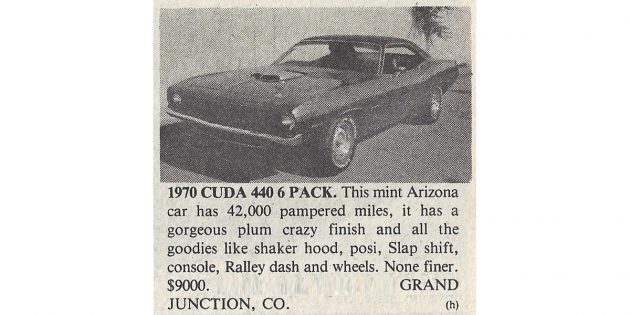 Are you in the mood for even more pain and depression? Here's a 1970 Plymouth 'Cuda with a 440 six-pack in perfect condition for $9,000. That price is equal to $19,800 today. A show of hands for those who would pay $19,800 for this car right now? How about $39,800? $59,800? How about Hagerty's #2 "excellent" value of $93,000! And, that's for a 4-barrel car, they didn't have a six-pack listing. That's also around what they're selling for, at a minimum, on Hemmings.
That's it for this edition of the 1986 Revisited! There is much more to come in future, equally-painful, editions.