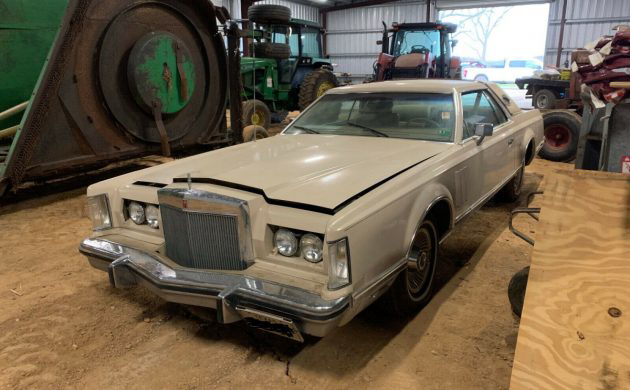 If the mileage claim for this 1979 Lincoln Mark V is correct, you have to be intrigued about how a car like this could find itself parked for decades with a mere 2,500 miles on the clock. There may well be a real story behind that, but it's probably one that we'll never know. The Lincoln, located in Sweeney, Texas, is listed for sale here on eBay. Bidding has reached $3,051, but the reserve has not been met. There is also a BIN option of $8,500.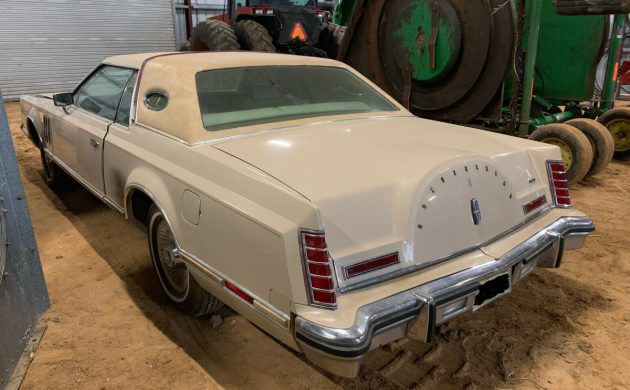 The Lincoln is said to have been stored in a barn for more than 20-years, and during that time it was covered with blankets to protect the paint. This seems to have done the job quite well, as the paint, panels, and trim all seem to be in pretty good condition. There are no obvious signs of rust or corrosion, but what I did notice is some black paint on the driver's side quarter panel, just in front of the wheel arch. At first, I thought that this was a trick of the light, but it appears to be there from two angles, so I'd like to know the story there.
This is the only shot that we get of the interior, and it does look quite promising. The upholstery on the passenger side door trim looks a bit odd at the top, but otherwise, it looks to be in quite nice condition. Of course, you get power windows, power seats, power locks, cruise control, and air conditioning as part of the package, but there is no indication as to whether any of this functions after all of these years. Unfortunately, the same is true of the engine. The owner says that the 400ci V8 probably doesn't run, which I would take as meaning that it actually doesn't run. After at least two decades of inactivity, you can be sure that there will be some work to do before the car hits the road again, but deterioration may have been aided by the dry Texas climate. We can always cross our fingers on that.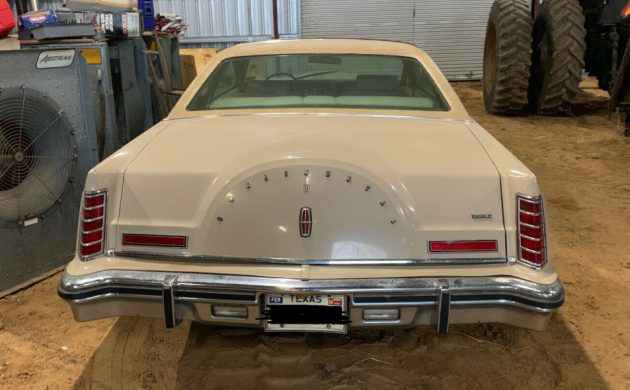 After sitting for so many years, it is really difficult to tell just how healthy this Lincoln is, or how much work it will take to bring it back to life. If the mileage claims can be confirmed, that will make it a pretty special vehicle, and place it amongst the lowest mileage examples in existence today. That's if this can be verified. Some people think that these are a bit of a boat, but the reality was that they were right for their era and the tastes of the time. The Mark V doesn't command big money today, and a good one can be bought for between $9,000 and $14,000. If this one is solid, clean, and the mileage can be verified, then it could be worth quite a bit more than that. There is every possibility that $25,000 or more could be a realistic value if all of these factors come together. This is one where I would definitely be asking the owner a lot of questions about its history.