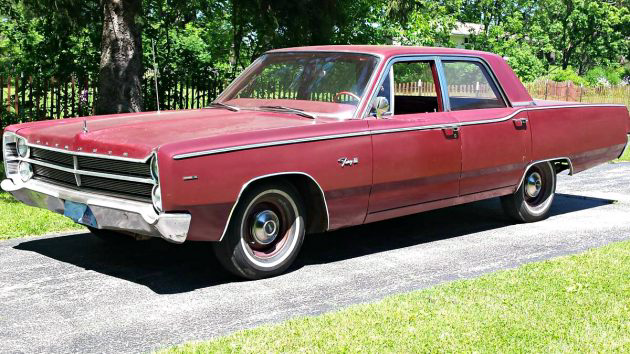 Sometimes when searching craigslist for a cool old classic, you will often be met by 4-door cars that are often not as desirable as their 2-door variants. But this 4-door left the factory with a 4-barrel 383 V8 and a 4 on the floor! Although having the appearance of a mild mannered suburban area runabout with a six cylinder, this Fury III is actually more of a surviving sleeper. Solid overall with some signs of age, this Fury is offered for $7,995. Check it out here on craigslist out of Brookfield, Wisconsin. Thanks are in order for reader Rocco B. for another awesome submission!
Beneath the 4 door skin lies the original 383 cubic inch V8 mated to a 4 speed manual transmission. Originally fitted with manual brakes and manual steering, someone along the way converted this Mopar to power steering. Although with the 383 and the 4 speed, I wouldn't mind power brakes either. The engine bay is dusty and dirty overall, but there looks to be little in the way of rust. Wash and detail the engine and bay, and invest the time and money into a power brake setup, and enjoy.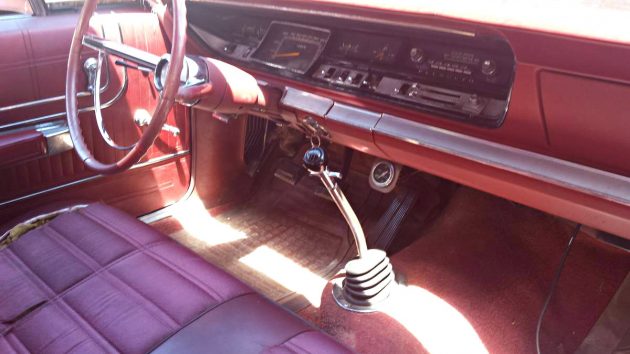 Inside you can immediately see the one thing that gets your heart racing, the manual shift lever. With an ocean of red inside, this interior has aged rather well. The front bench is off color and is split on the driver side. Also the carpet is a little faded, but matches the interior nice enough. The dash and gauge cluster look good with no cracking or discoloration concerns. It looks as if you could get away with reupholstering the seats, and leave the rest well enough alone for this survivor.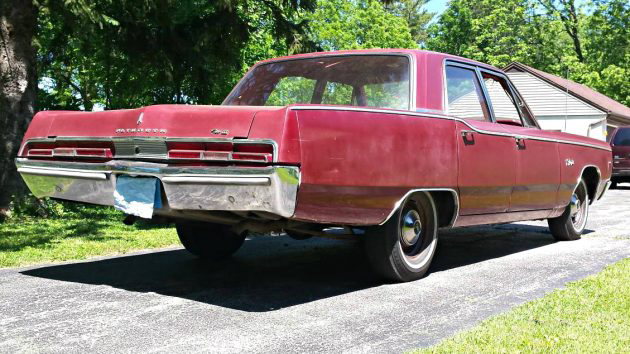 This classic has nice looks, but it has a slow, family oriented appearance, that is quickly blown to pieces by banging gears in this surviving sleeper. The paint appears to be original, having some fade, and minor oxidation. Rust is a minimal concern, but is present in the lower portion of the rear quarters. Otherwise this Mopar is solid overall, and would be great to maintain as is. It would certainly get some looks when rowing the gears, and making that 383 sing a tune of performance. With a great look, and a cool combination, what would you do with this awesome classic?