American Motors Corporation debuted the second-generation Javelin in 1971 with a body that was slightly larger and more muscular than its predecessor. The front and rear fenders had a distinctive bulge and the interior featured a cockpit-style dashboard angled toward the driver. The last of the independent US automakers, AMC marketed its redesigned pony car as a more radical alternative to offerings from GM, Ford, and Chrysler. A 1971 advertisement claimed that all other sporty cars looked, cost, and acted the same "except the 1980 looking Javelin." This 1971 Javelin SST available here on eBay is a nice low-mileage and original example.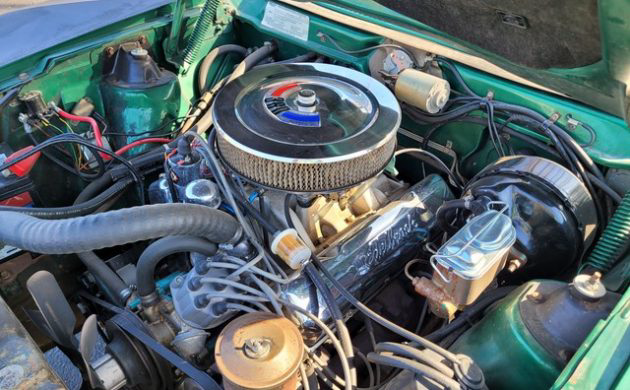 With only 40,000 miles on the odometer, this Javelin has averaged less than a thousand miles a year over the past half-century. The body is solid and rust-free; the owner indicates that it spent most of its life garaged and in a mild climate. The muscular appearance of the second-generation body is enhanced by the chrome mag wheels with BF Goodrich white letter tires. The metallic green paint is original with some dings and thin spots, the worst area being the front right fender which has some black primer on it. The original white and red striping along the beltline is present, though there is some cracking from age. The engine compartment is also well-preserved with its original stickers present, and a clean 360 V8 with a chrome air cleaner and Edelbrock valve covers. This engine is said to run well and delivers its power through a smoothly shifting automatic transmission.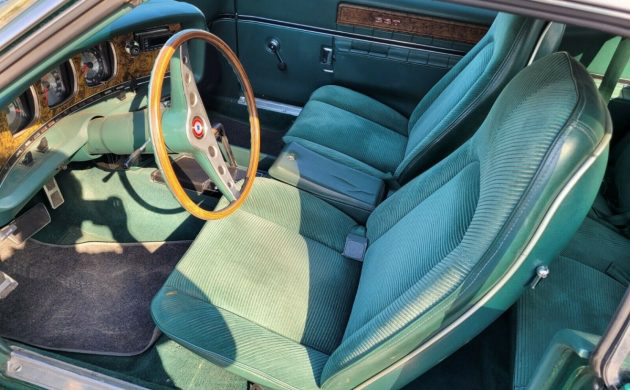 The nice original condition continues throughout the matching green interior. Being a luxurious SST model, simulated burled woodgrain is abundant on the dash, doors, steering wheel, and automatic shifter handle. The dash is not cracked, and the corduroy seating surfaces are in good condition with only a small tear on the driver's seat. The headliner is beginning to sag. A nice bonus is the dealer-installed air conditioning, which is said to be in working condition. A modern vintage-style radio is fitted, though the original is included. A good amount of documentation and literature comes with the car, including the purchase order, build sheet, window sticker, owner identification card, owner's manual, and consumer information guide.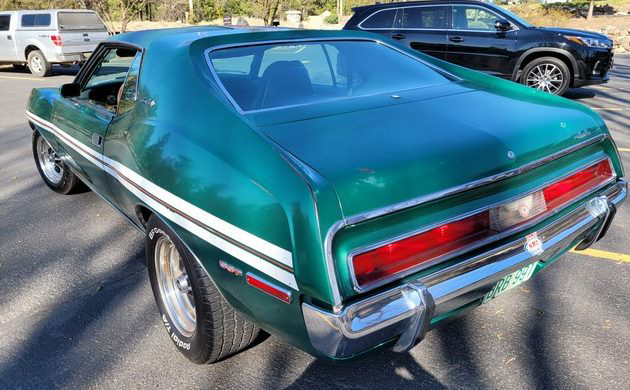 The AMC Javelin remains a relatively affordable option as prices have not quite gone to the level of pony cars manufactured by the Big Three. This clean and original Javelin SST is currently bid to just over $10,000 with no reserve, so a potential buyer could come away with a deal. Would you preserve the patina or repaint it? As is often said, they are only original once.