This 1967 Chevrolet Camaro SS is the version that many say Chevrolet should have built. In a sense, they did via high-performance dealerships like Don Yenko from Cannonsburg, Pennsylvania but a 1967 Camaro, equipped this way, didn't roll off of Chevrolet's assembly line. This Camaro is a fine-looking example of Chevrolet's freshman year 2+2 and it packs quite a surprise under the hood; time to take a closer look. Located in Cincinnati, Ohio is this 1967 Camaro SS and it is available here on eBay for a current bid of $32,100, reserve not yet met.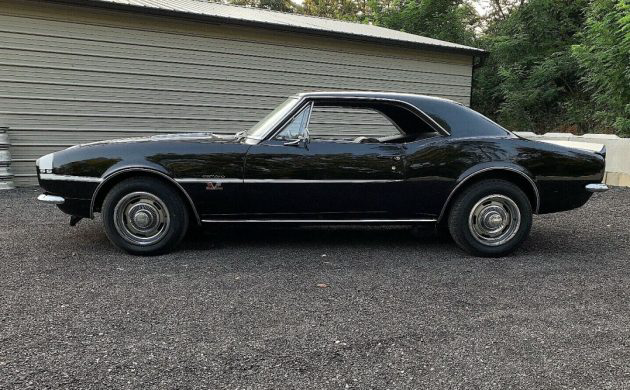 When the Camaro was introduced in late September 1966, as a '67 model, the largest, and most powerful engine offered was listed as a 325 HP, 396 CI V8. In reality, a 375 HP version was available too, but it wasn't advertised or promoted; a knowing buyer had to ask for it. The mid-tier 350 HP version of the 396 didn't make it under a Camaro's hood until '68. Chevrolet's more powerful 427 CI motor was prohibited from Camaro use by virtue of a GM corporate edict which stated that no engine exceeding 400 CI would be allowed unless it was being installed in a full-size car (B or C body) or a Corvette. That rule was retracted for the 1970 model year but that's another story.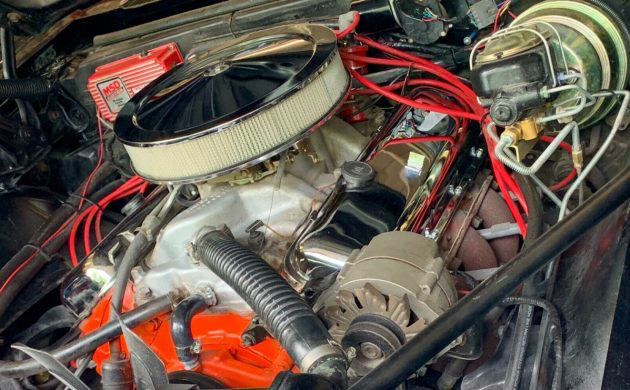 This Camaro, however, is sporting what the seller refers to as a 427 CI, 435 HP Corvette engine, obviously a transplant. Things get a little murky under the hood however as the 435 HP engine, known as RPO L71, was a tri-power (three, 2 barrel carburetors) arrangement and this engine is fueled by a single four-barrel carburetor. That puts the engine more in the realm of the 425 HP L72 engine which was a standard order item on various Chevrolet models in '66 and then a special, but regular production, option in '67-'69. Recall my mention of Don Yenko? What Yenko and other dealerships like Baldwin, Nickey and Fred Gibb did was order SS396 Camaros and then order the L72 engine, via their parts line, and perform a swap. This transpired in '67 and '68 whereas at some point in '69 Chevrolet actually built Camaros with the L72 motor but they were only available via the Central Office Production Order (COPO) system and the cars so endowed had to be part of a fleet purchase.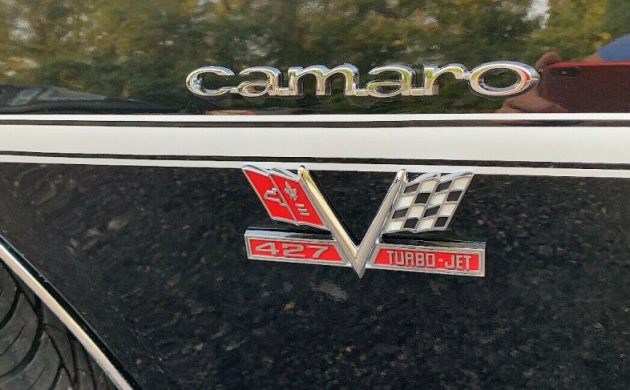 Further confusion sets in with engine pad alpha identification code of "IR" – true it corresponds to a 435 HP, 427 motor but it was also used on the '66 and '67 427 CI, 390 HP engine (RPO L36), an engine, believe it or not, that Chevrolet considered being a standard "passenger engine" and not a true high-performance unit. Things continue to be confused by virtue of the engine casting number, "3916321" which is in fact a 427 engine, but it spans multiple horsepower measurements including 390, 400, 430 and 435. It was also used on both two-bolt and four-bolt main bearing cap blocks – it would be nice to know which version is in this Camaro as the 390 and 400 HP were two-bolt architecture and the 425, 430 and 435 HP were the preferable four. So what do we have here? It's a 427 definitely, the provenance is just not clear. The seller sums it up as "Easy-starting, smooth and strong". A Muncie four-speed manual transmission handles the power to the rear wheels. Oh, and what was originally under the hood? Without the build sheet, it is hard to say exactly, but if this is a legitimate SS model, then either a 350 CI-295 HP V8 or one of the available 396 motors. If, however, this Camaro started life other than a SS model, it would have had either a 327 V8 or an in-line six.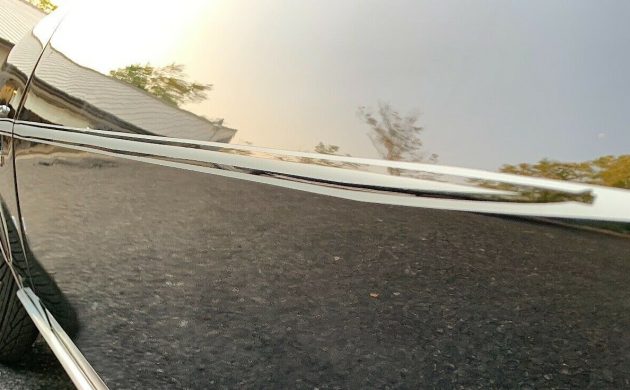 The exterior of this Camaro looks to be arrow straight, if it's not, black will always let you know. The seller describes it as having a "straight and solid body, trunk and floors".  The trim and chrome are all very sound too – the seller refers to the bumpers and stainless as "like new", agreed! Of note is the SS white body stripe, that's actually a '68 item as the '67 model was content with just the nose bumblebee stripe. Also, it's hard to tell for sure, but the faux hood vents look like the ice-cube tray versions used on the '68 and '69 SS, not the simple finned versions employed in '67. The 427 crossed flag fender badge is the one that was used on the "B" body car (Caprice, Impala, BelAir and Biscayne) in '66 and '67. Technically, the rally wheel centers are wrong, those employed are for a '68 and up model but I'm nitpicking. The only additional inclusion that would be nice would be some images of the passenger-side of this Camaro, just to be sure, as there isn't a single one included in the listing. Barring that, the entire package is fantastic looking.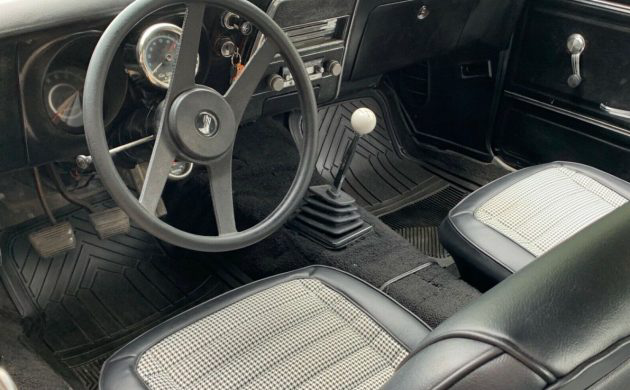 Inside, is a black and white houndstooth upholstery fabric and it is in as nice a condition as the exterior. The "console-less" look adds to this Camaro's vibe and is completely correct for this vintage. The steering wheel is an unfortunate choice, it's from a mid-seventies Chevy. Multiple models, including the Vega, used it, and it's cheap compared to the original '68 wheel, nevertheless, it works well with this interior. All-in-all, the interior looks to be a simple, clean, standard Camaro environment perfectly in keeping with the flavor of this SS.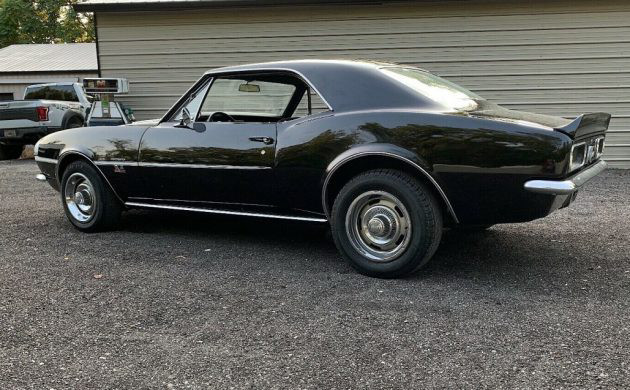 There you have it, the Camaro that Chevrolet didn't build in '67 but should have. It's getting pricy but that's no surprise, the mostly original, non-modified appearance working in conjunction with a mostly period-correct looking 427 engine is a real draw. Assuming that the unknown reserve is met, someone is going to end up with one spectacular 1967 Camaro SS427.