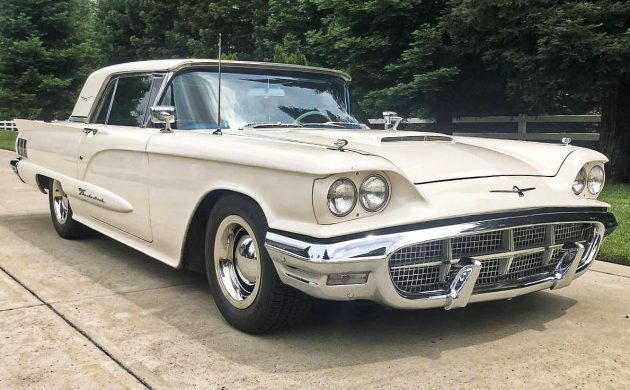 The second generation of the Ford Thunderbird, which ran from 1958-60, was it's first as a 4-passenger personal luxury car instead of the 2-seater it replaced. The decision to re-invent the car must have worked by Ford standards as they sold nearly 200,000 units of the "Square Bird" instead of 50,000+ of the now-iconic smaller car. This 1960 T-Bird has had a ton of work done to it in terms of aftermarket parts and looks pretty sharp. It's being offered in Roseville, California (near Sacramento), and here on craigslist for $23,000 OBO. Thank you, Ikey Heyman, for another classic find!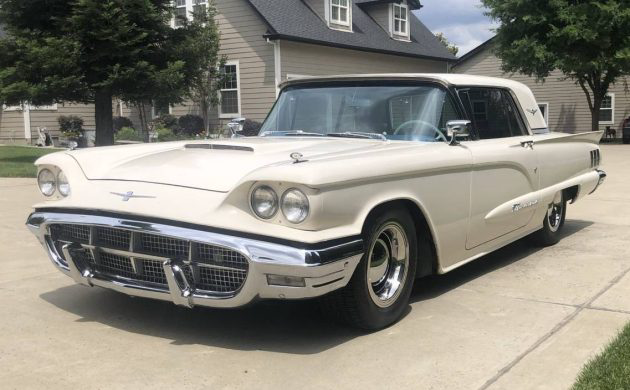 This '60 T-Bird was purchased by the seller from the original owner's family in 2018. Originating in Northern California, the car had previously spent 34 years stored in that family's wine cellar where it never saw sunlight. It had only covered 42,000 miles up to that point and only a few hundred more since. The seller has spent the last couple of years whipping it back into shape and here's a list of some of the work that has been done:
The paint is original, and the seller says there is no rust on the car. It was undercoated at the dealer when new and was recently redone. All the chrome is straight and original, as well. The glass is partially tinted and good overall with a few minor chips in the windshield. Inside the car, the seats have been reupholstered with OEM material, while the door panels, dash pad, headliner, and carpet are original to the car, as are the floor mats. The power windows and seats work fine along with the gauges, but the gas gauge is temperamental, and the seller has been looking to source an OEM replacement.
It's a 352 cubic inch V8 that produced 300 hp from the factory. It has been rebuilt and balanced, include rings, bearings, and camshaft. Add to that heads and valves, a Holley 4-barrel carburetor, drive pulleys, alternator, water pump, power steering pump, starter, air conditioner, distributor, radiator, fuel tank, and pump and dual exhaust. Not to be outdone, the Cruise-A-Matic automatic transmission has been rebuilt, too, including the torque converter.
This car wears powder-coated Coker wheels with BF Goodrich radial tires. The baby moons look really sweet on this car. All the brakes, shocks, and sway bar bushings are new, and the front end was lowered, giving it more of a badass look. If for any reason, some of these changes are not your cup of tea, the buyer will also take home a bunch of original parts, including fender skirts, air cleaner and carb, tires and wheels, and more.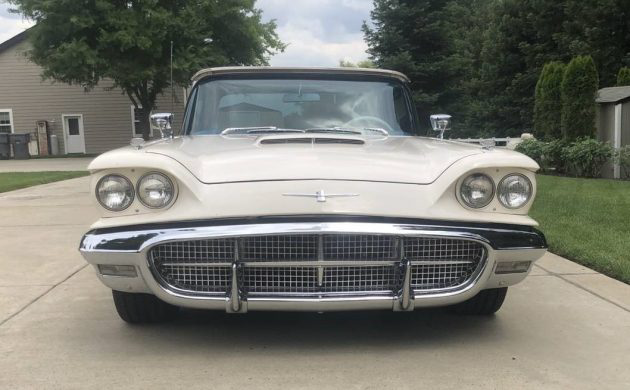 It's evident that the seller has put a fair amount of time and money into bringing this car up to its current condition. Hagerty points to $25,000 for a Concours 1960 Ford T-Bird, which sounds low, so the seller's car looks worth every penny he's asking. I wouldn't surprise me that he'd lose money on the transaction unless the original owner let it go cheap.