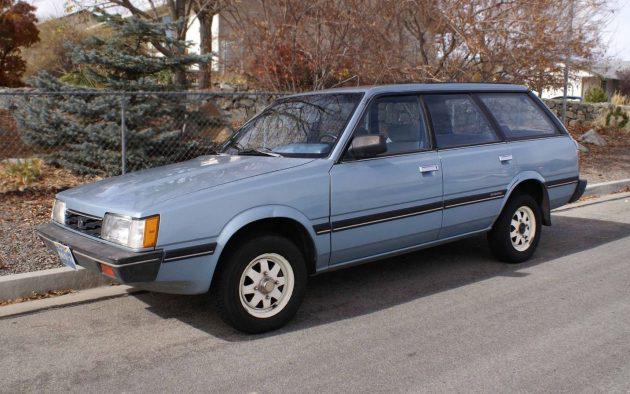 As an incurable Subaru lover, I can't believe that I don't have a 4WD GL wagon yet. This nice 1986 Subaru GL 4WD 5-Speed Wagon is listed on eBay and is located in Sparks, Nevada. The reserve hasn't been met yet at a current bid price of under $1,000. This is a good looking but not too good looking 4WD 5-speed wagon. As in, the next owner should be able to drive it without worrying about scratches or door dings like if it were a perfect example.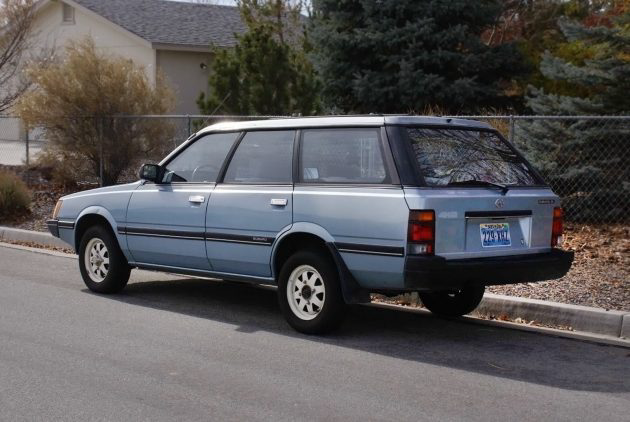 The seller says that this GL wagon is in "very good condition, no rust – originally from East Bay area California." And, it has its "original paint with some small dings and scratches." It sure looks good to me for being over three decades old, a lot of these cars have rusted away by now. NADA lists an average retail value for this car as being $2,800. There is no question that it'll be on a trailer headed to the Midwest if the auction ends at that price. The body on this car looks nice but there are some shenanigans going on with the paint on the rear hatch. I wonder what that is? With no rust, why would that area have been touched-up, and touched-up poorly? Maybe a former owner peeled off a "Visualize Whirled Peas" bumper sticker?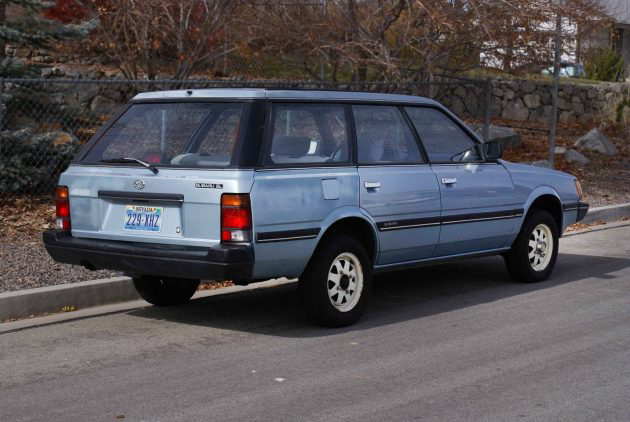 When you look at the passenger side quarter panel, something is going on with the paint there, too. It's not the end of the world, of course, and if this car were in perfect condition the bidding would be in the low-thousands by now, not the hundreds. The Subaru Leone was known by its trim level in most major markets, including the US. Two of the four Subarus in our little herd are Subaru Leone 5-speed sedans: one is a 1988 GL EV that was converted to battery power (!) and the other one is a 1988 4WD Turbo RX sedan. They both basically look like this classic, angular, third-generation Subaru Leone wagon, but in sedan form. I would love to add a GL 4WD 5-speed wagon to the mix. Is there such a thing as having too many Subarus? I think not.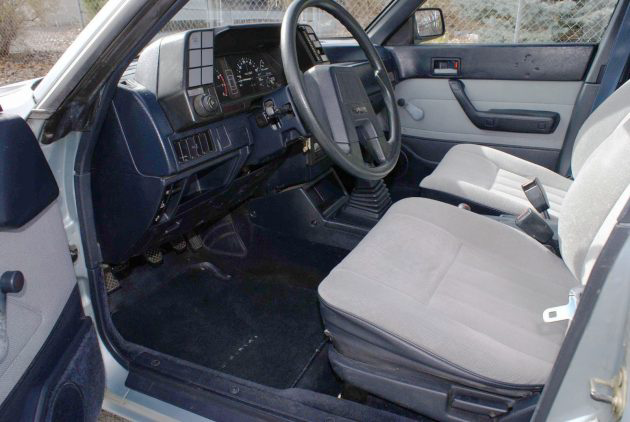 This GL wagon is pretty unusual in that it doesn't have power windows. Most, or actually all, of the GL models that I've seen have had power windows. This car also doesn't have power steering – gettin' back to the basics here! It does have AC, but as usual, it doesn't currently work. This 4×4 wagon has a high/low selector for the 4WD system, if anyone dared to actually take it off-road. The interior on this car looks fantastic, with just a few odd puncture "wounds" on the passenger door panel. I'm guessing that those are due to an excited dog's nails (don't ask me how I know this). The 5-speed will make for easier highway cruising, but freeway (70+ mph) speeds will still be done with a higher-than-I-like RPM. The dash looks like it's in excellent condition and the rear area also looks great. It's probably long enough with the rear seats folded down to sleep in, which is where I'll be sleeping if I get yet another car. Hey, I can think of worse places to sleep. I think it would be worth it, beds are overrated..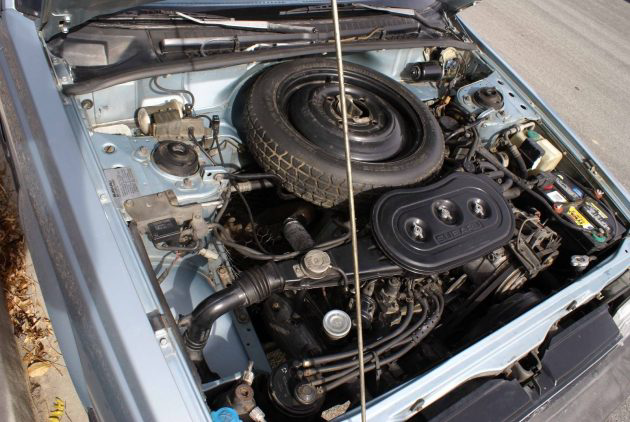 The engine and engine compartment look really nice! This is Subaru's EA82 1.8L boxer-four that would have had around 85 hp. Yes, the spare tire rides under the hood! Being a low-profile boxer engine there was enough extra room on top for Subaru's designers to sneak the spare tire up there. It frees up space in the back, or in the trunk on sedans, for more storage. Genius. My RX has fuel-injection and it still has the spare under the hood. It's just one of those unique things that makes a Subaru a Subaru. This car has had a lot of work done on it in the last 5,000 miles, including "new timing belts and pulleys, water pump, head gaskets, axles/cv joints, steering boots, PVC & EGR valves, tires, windshield, battery. Resealed motor and rebuilt carburetor." The seller mentions that it still has an "erratic idle". That could be any number of things: a carburetor that isn't tightly bolted down or one that needs to be rebuilt (again?), or it could be a lose or worn rotor in the distributor. But most likely, hopefully, it's a vacuum leak. These things have a ton of vacuum hoses on them! I don't know what the seller's reserve is on this car but it looks like a $4,000 Subaru GL 4WD wagon to me any day of the week. What do you think this one will sell for, and what do you think is causing the erratic idle?