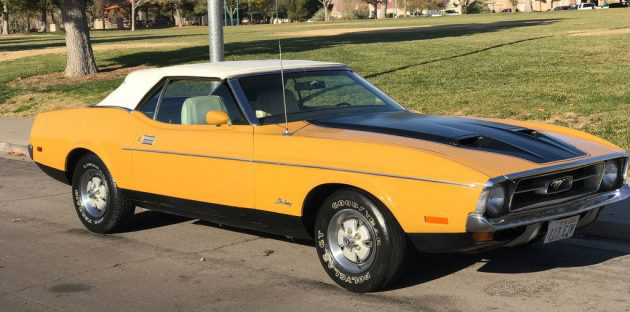 At first glance, this Mustang convertible looks like a wonderful example of the largest ponycars, and even upon closer examination it seems like a pretty nice cruiser. It's for sale here on eBay where bidding is currently at only $1,025 with no reserve. You can pick up your new (to you) Mustang in Henderson, Nevada after you buy it!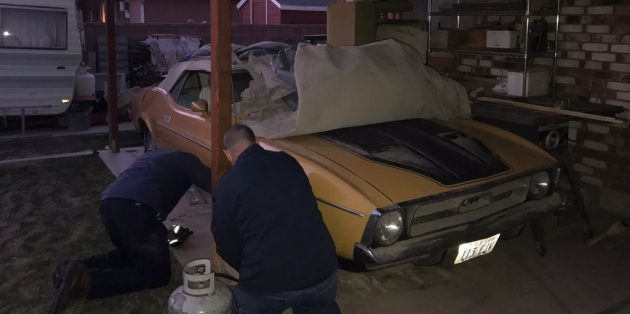 This is a picture of the car as found in the car port. The blue tarp has already been removed in this picture, exposing the original Medium Yellow Gold paint. It's been kept like this since the 1980s according to the seller, but has been put back into running condition. One item of note is that the seller says a hub cap is missing, despite them all being present in the pictures. They've also noted, quite correctly that you will need to replace all four tires. At least you can look and see whether you prefer raised white letters or narrow whitewalls (or neither!) before you choose your new tires.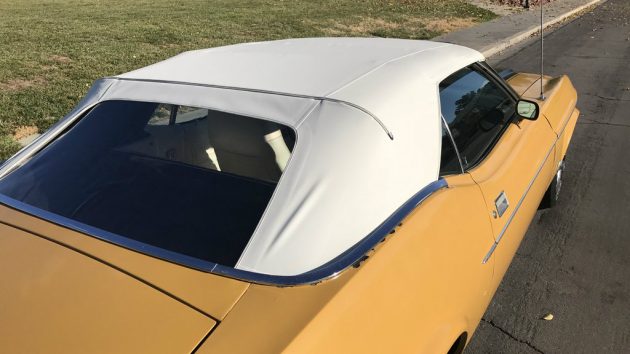 As you can see here, there are some issues around the top with chipped paint, along with a few other spots. However, the top itself looks pretty nice. We're told that all the windows operate well as does the top. And with only 88,000 miles, that's as it should be.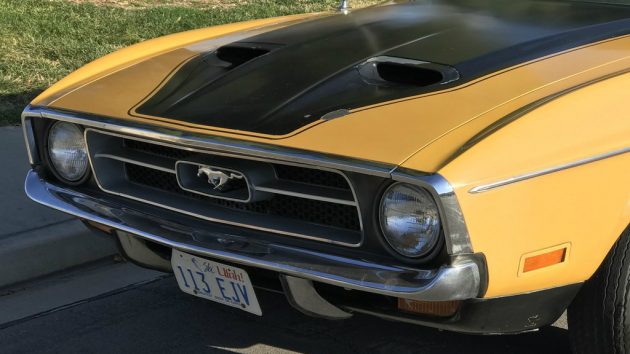 There's some damaged paint on the hood as well, but nothing too horrible. The chrome even looks pretty decent.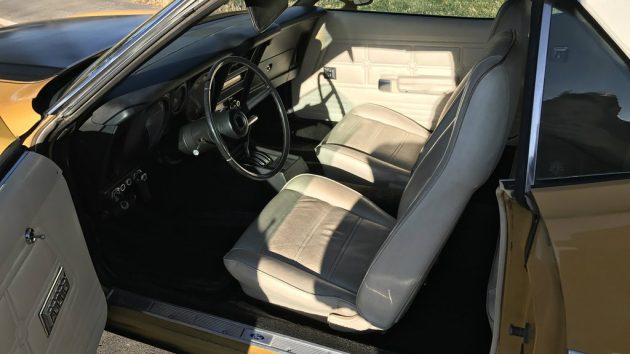 The interior isn't perfect, but there's nothing you'd need to replace right away. The pedal pads tell an interesting story. It looks like the brake and gas pedals have minimal wear, but the parking brake looks like it's done 300,000 miles. I'm thinking someone liked to drive and use it as a dead pedal, which is odd without a clutch. What do you knowledgeable readers think?
Under the hood, we have the venerable 351 V8 with a two barrel carburetor. We also have that all-important air conditioning compressor–at least for those of us in the South! With the car running well and supposedly being completely rust free, it's hard to argue with this as long as it stays below five figures in my opinion. But I'm interested in what you think!