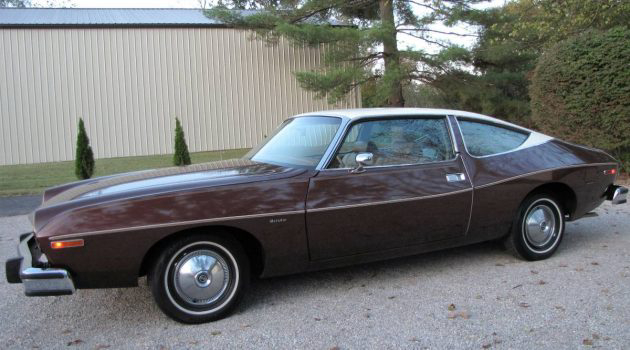 Feeling nostalgic for the Spirit of '76? What you need, my friend, is this Bicentennial baby, a 1976 AMC—yes, that's American Motors—Matador coupe! In 1974 and '75 there were chi-chi-la-la Oleg Cassini editions, and there was a Barcelona trim for '77 and '78, but neither of these suspiciously foreign-sounding options would do for America's big year, so what we have here is over seventeen feet of brown, basic, bench-seated American coupe. On top of that, this one's got just two owners and 47,000 miles under its (presumably white) belt, and a reasonable price of $6,800. Find it on craigslist in Evansville, Indiana—and thanks to Pat L for another great find! (Archived ad here.)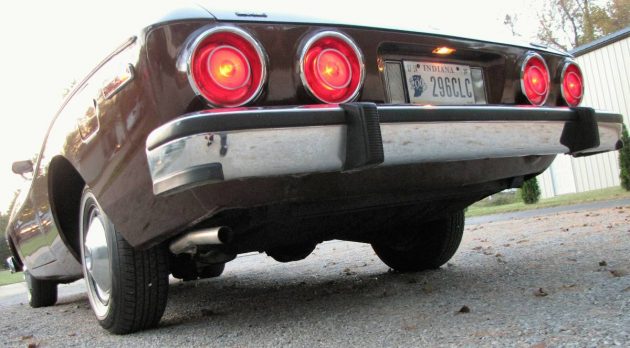 AMC had a pretty firmly established dorky reputation by the 1970s, but as the Matador coupe proves, Wisconsin's scrappy challenger to the Big Three was willing to take stylistic risks and try some pretty dramatic stuff. Following on the heels of the voluptuous 1971 Javelin and AMX, which the Matador coupe functionally replaced when it became apparent that continuing to modify the Javelin to meet bumper regulations would be too costly in the face of a shrinking performance car market, the Matador's flowing lines were partially intended to give it an aerodynamic advantage in NASCAR racing, an endeavor that AMC was returning to for the first time since the days of the Hudson Hornet. Those lines also give the Matador a unique presence among the era's personal luxury coupes, with a less baroque style than contemporary Monte Carlos, Cordobas, and Thunderbirds.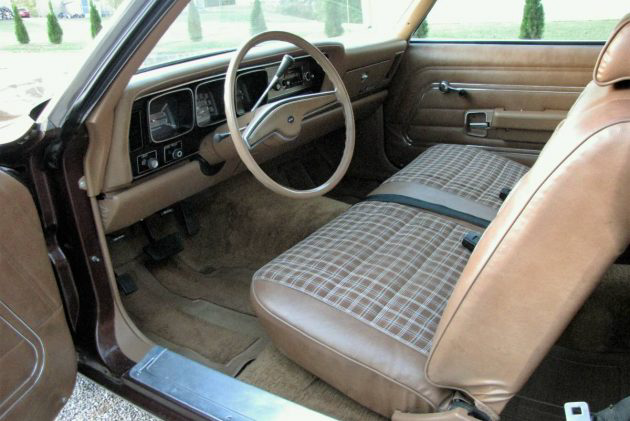 This relatively low-spec Matador takes us back into dorky territory when we check out its plaid cloth-and-vinyl six-place interior, but it sure is in great shape and, as latter-day VW GTIs have shown us, plaid is in again. The seller notes that the air conditioning blows cold; AMC's former subsidiary Kelvinator would be proud, although given that they had already been sold off before 1976, I don't actually know if they still provided AMC's systems at that point.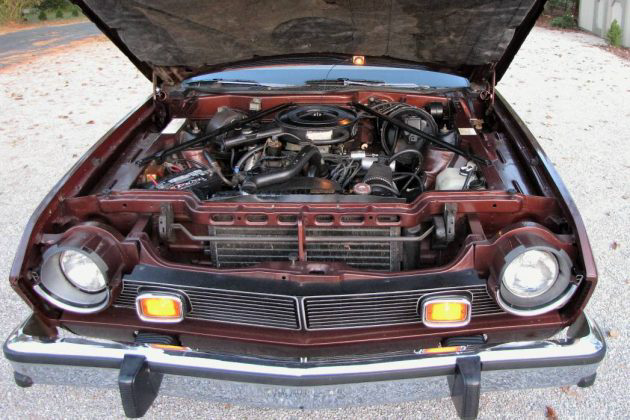 Things are similarly clean under the hood. We know that eight healthy-running cylinders are in residence here, partnering with a three-speed automatic, but not much more than that. It's likely AMC's 360-cubic inch V8; the single exhaust out back tells us that it's unfortunately not likely that it's the four-barrel carb "Power Package" version, so figure somewhere in the neighborhood of 140 horsepower.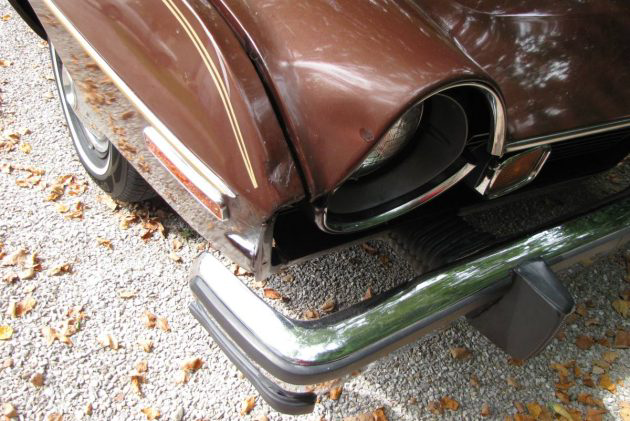 I always appreciate a seller who shows us the boo-boos, and this one is conscientious, indeed. Certainly there's nothing to seriously detract from this Matador's quirky appeal as a driveable, comfortable (air conditioned!) classic—and what could be more American than that?