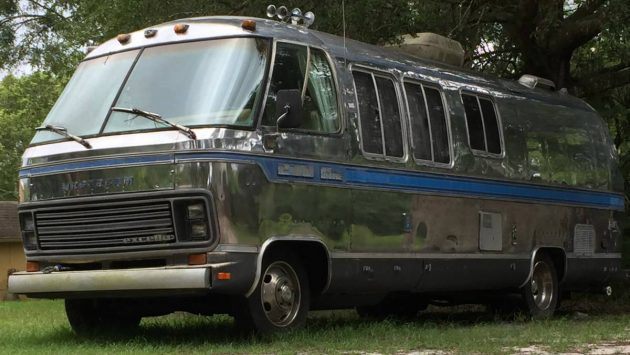 If you are a fan of NASA, then you are likely familiar with their historical reliance on Airstream trailers and motor homes for transporting and quarantining astronauts before and after their spaceflights.  After Apollo 11's capsule splashed down, the astronauts were quarantined in a modified Airstream trailer to make sure that they did not bring back any scary lunar pathogens.  Later, during the space shuttle years, NASA ordered and started using a 1983 Airstream Excella motorhome to transport astronauts around.  In use since STS-9 in November, 1983, the Astrovan (spaceman slang for Astronaut Travel Van) is still in service.  It seems that the astronauts want to keep the van around as part of the traditions honored within the space program.  While you cannot currently purchase the Astrovan on www.govdeals.com, you can get this 1984 version of the Airstream Excella off of Craigslist for a cool $20,000.  The good news is that it can be found in Orlando, Florida, which is just 50 miles from where the original sits at Kennedy Space Center.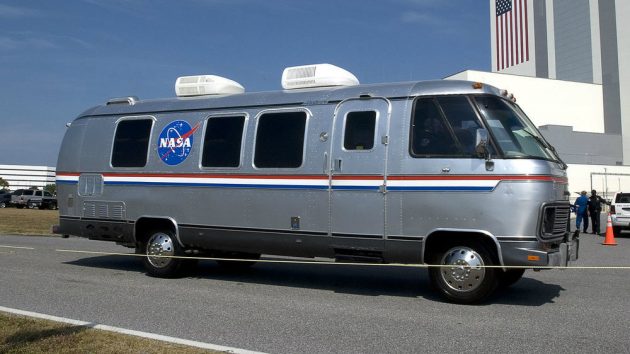 Above, for reference, is a photo of the original Astro Van.  While this 1984 Excella is not a perfect copy, you could get close by adding an air conditioner, painting a red, white, and blue stripe down the side, and adding the NASA meatball logo.  A set of hubcaps, some bumper guards, and some dark tint would make it an almost indistinguishable twin.  From there, the sky is the limit.  You could take the family for a trip down to Florida to see a rocket launch (sadly, still unmanned), and you could aggravate other drivers on the interstates by dressing as angry aliens for your trip.  Just imagine the looks of passing motorists if they looked in and saw the Predator wheeling this stainless steel rocket down the road.  Oh, the places we'll go!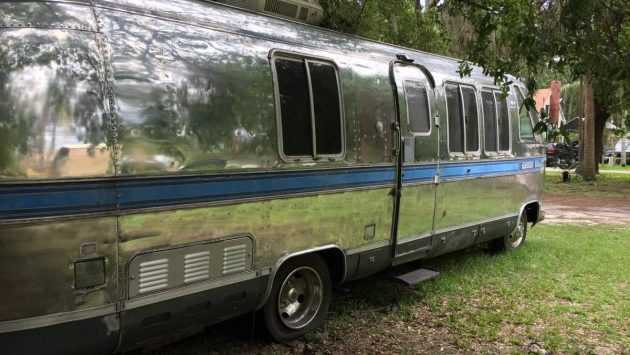 Houston, we do have some problems.  First off, this is a 33 year old motor home.  If you have never owned any kind of recreational vehicle, then you need to understand the first rule of recreational vehicle ownership: they age in dog years.  The materials used in making a travel trailer or motorhome have to be lightweight and inexpensive for both the vehicle to not be a tank, and for the manufacturer to make a profit.  These materials have to endure the bouncing and shaking associated with travelling down the road, the effects of sunlight and temperature swings, and the full frontal assault of children and pets.  Add to that the scrapes, dings, and dents that any recreational vehicle will accumulate over the years, of which this motorhome has a few.
On a positive note, Airstream is one of the best RV manufacturers.  The fans of these rolling shiny structures are almost like an army unto themselves.  The world's largest Airstream club, the Wally Byam Caravan Club International, pride themselves on camping in large numbers anywhere they can take an Airstream.  This popularity is due to the quality of construction and the high survival rate of Airstream products, and they are one of the few recreational vehicles that hold their value.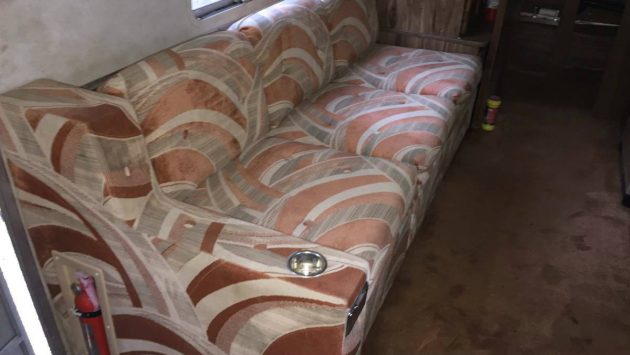 Inside, this couch picture kind of gives you a clue about both the style and condition of the interior.  This motorhome was made in 1984, so the interior style and colors will reflect the Max Headroom era of design. The other enemy to a recreational vehicle of this age, sunlight, has caused the couch material to fade and likely be prone to tearing. While the cushions would be easy to remove, the couch might be a bigger problem. A friend that worked on recreational vehicles told me that he hated Airstreams. When asked why, he said they were hard to work on because the interior was installed first, then the ribbing and skin were added over the top. He may have been wrong on that, but working on a vehicle like this will never be easy, and removing something the size and shape of a couch doesn't sound like a job I really want.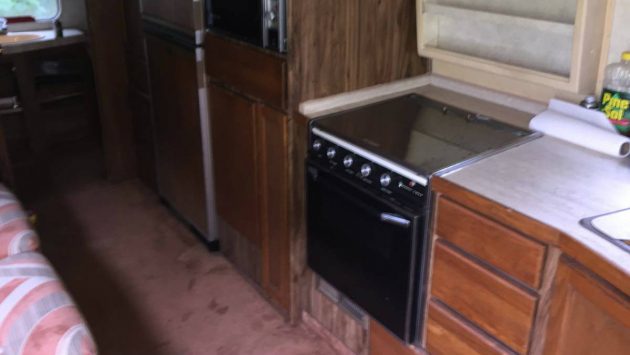 The rest of the interior looks dated, but in good condition. Before purchasing a recreational vehicle of this age and price, it would probably be a good idea to take it to an RV mechanic and have him go through the thing to make sure you know what you are getting into. I'd really be on the lookout for propane gas leaks, and that the electrical wiring hadn't been feasted on by an army of vermin. The last thing you want in one of these is a fire, and recreational vehicles have an accidental fire incidence rate second only to financially struggling restaurants. If you make it without a meltdown of some sort, plan on the refrigerator and freezer being inoperative, and expect the water heater to at least need an element.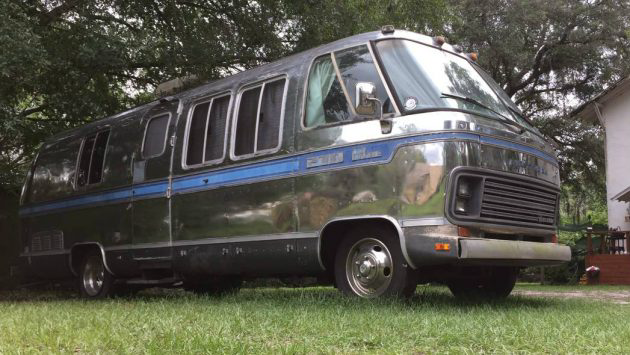 The owner does not give us any pictures of the drive train of this vehicle, but he does state that the engine is a 7.4 liter GM big block V8 (454 ci), and it has a Turbo 400 transmission. This is a sturdy drive train, and it is cheaper to maintain than a diesel. However, despite having only 68,000 miles, these engines and transmissions have to work hard to push a heavy, non-aerodynamic vehicle like this down the road. While Airstreams are usually more aerodynamic than their competition, there is still a lot of air to move out of the way at 70 MPH. Hopefully the owner has kept maintenance records on this vehicle, and used it fairly often. Sitting for months at a time is a good way to ruin an automatic transmission and to flat spot expensive tires.
You could have an out of this world time with a vehicle like this.  If you are not into trying out my angry alien plan, you can still use this monster for a lot of car-related activities.  It would probably be strong enough to tow a good sized car trailer and collector car combination to a meet or show.  You could also use it as a base of operations for going to races or even taking your race car to track days and vintage events (provided you have a vintage race car).  Most of all, this is a rolling chance to spend time with your family whether they like it or not.