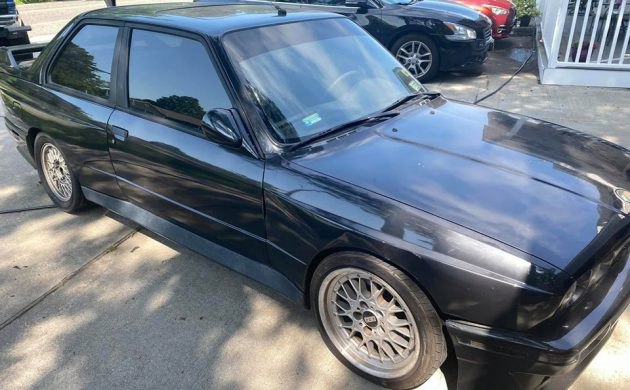 Few cars represent the Radwood era of automotive enthusiasts better than the classic E30 M3. It's been well documented how the car seemingly leapt from cheap project car to instant collectible in a very short time span, and today, even as prices has settled a bit, basketcases will still set you back easily into the low $20s. While it's hard to fathom – especially if you owned one in the late 90s and sold it for peanuts – they simply don't make cars like this anymore, and box flares are perhaps the sexiest thing found on an automobile outside of a V12 and the prancing horse badge. Find this claimed barn find 1990 BMW M3 here on Facebook Marketplace with an asking price of $34,000.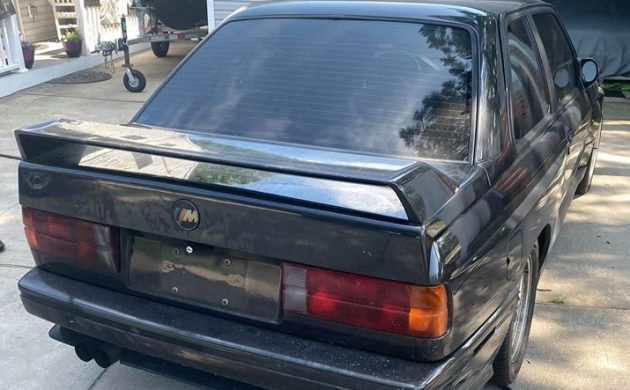 This iconic M car has some signs of being someone's toy in another life before it became a car you have to restore back to factory condition. The rare Mattig "Cup"-style mirrors (I had these on my Jetta in high school and wish I still did – they're worth a mint today), the Motorsport badge replacing the factory roundnel, the mismatched wheels with larger BBS rollers in the front, smoked side marker lenses in the front bumper – none of this is fatal, but it does point to a car that lived life not according to being a future museum piece. They were modified, tuned, raced, and left outside as tired projects when the next year's model came out.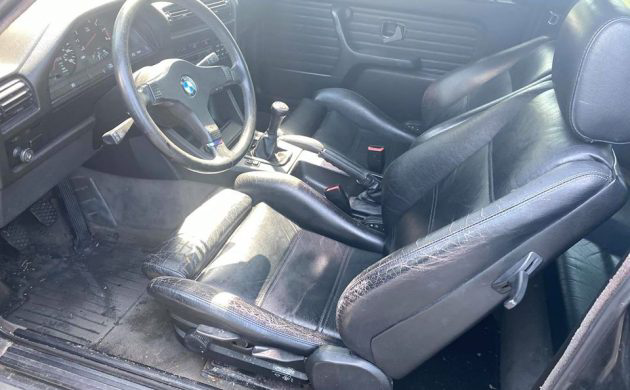 Fortunately, the modifications seem pretty inoffensive aside from what was detailed above. The interior remains in largely stock condition, with original sport bucket seats in black leather, three-spoke Motorsports steering wheel, factory door panels, and even the original shift knob. A lot of those items would have gone bye-bye if this M3 spent its entire life on the track, so chances are it just received some period modifications and was otherwise left alone. The seller does note, rather ominously, that the engine doesn't run and will likely need a rebuild – which is an extremely pricey proposition when we're talking about a high-strung engine like BMW's S14.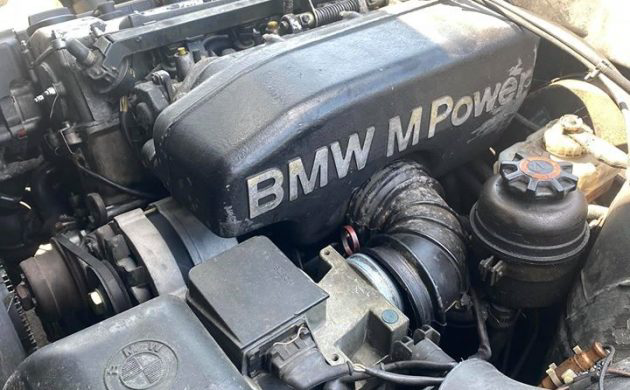 Now, to be fair, many S14s need a rebuild at least once in their lives regardless of how much you baby it. This is not across the board, of course, as there are plenty that haven't been opened up and are still happily running, but many experts will tell you to count on it for a project-grade example, especially one that isn't running. The asking price of $34,000 isn't the worst I've seen, but I routinely seen $10K-$20K thrown around in terms of the cost to properly rebuild one of these motors. Assuming the body isn't hiding any rust and it's as nice as the seller claims it to be (original paint and just a few small blemishes, and all VIN stickers intact), you're still under the price point of a good, running example even with the engine rebuild factored in – especially if you can do the work yourself.