Following World War II, it would be fair to say that the French economy was not in a healthy state. The government was keen to give it a kick-start, and part of that process was to get the population mobile again. However, with funds so tight, any cars that hit the market needed to be affordable, and the Renault 4CV filled that description perfectly. It was launched in late 1947 and remained in production until 1961. This 1959 model is a great example that has been parked in a barn for many years. It is virtually complete, and it is also surprisingly solid. It would be ideally suited to the person who is seeking to tackle a hands-on restoration project. Located in Osakis, Minnesota, you will find the 4CV listed for sale here on eBay. Bidding has reached $630, but the reserve hasn't been met.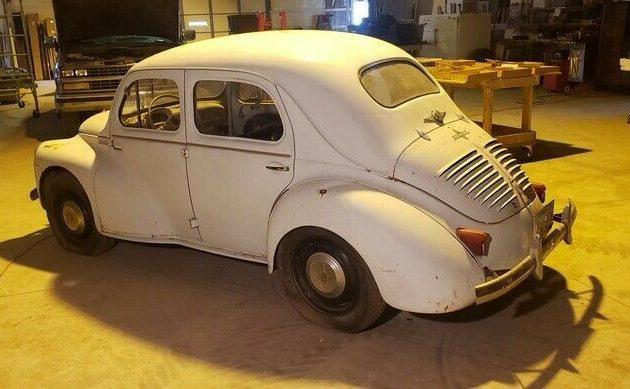 It seemed that there was a post-war competition between French vehicle manufacturers to see who could produce the quirkiest car. Citroen probably won with the 2CV, but Renault wasn't far behind with the 4CV. Initially developed in secret during the war as a 2-door, the car morphed into a 4-door family sedan by the time it first broke cover in 1946. It is also a car that was built with one of my favorite classic design features. I have always been a sucker for suicide doors, making this one an attractive vehicle in my book. This little 4CV has remained hidden away in a barn for many years, and you would have to think that the storage environment has been pretty favorable. Rust is always the great enemy of the 4CV, but this Rejane White example springs a surprise on this front. There is some minor rust in the front floor, but it appears that this could be addressed with patches. The owner doesn't believe that it is bad enough to warrant immediate attention, but given the reputation that I've just mentioned, I would probably tackle it ASAP. Some surface corrosion is visible in a few places, which should also be addressed before it gets any worse. If I were to buy this car, there would be no half-measures. Due to the construction techniques employed on the 4CV, I would probably dismantle the vehicle entirely and undertake a ground-up restoration. These are not a complex car to disassemble, and modern corrosion treatment techniques would allow the buyer to give this classic the chance of surviving intact for another 62-years.  The panels wear a few minor dings and dents, but they all appear to be repairable. The chrome is all present, but some of it will require restoration. The glass seems to be in good order, but the seals might need to be replaced.
Initially introduced with a 760cc engine, the 4CV received a revised 747cc 4-cylinder engine in 1950. This unit pumped out 28hp, which found its way to the rear wheels via a 3-speed manual transaxle. That was not a lot of power to play with, which means that it is no surprise that the journey down the ¼ mile took a leisurely 24.9 seconds. If the driver kept the right foot welded to the floor, the 4CV eventually ran out of breath at 62mph. Getting to that speed did take some patience because it took 48.7 seconds to achieve it. Flexibility was this little engine's key attribute, with the car capable of pulling away in 2nd gear from speeds as low as 3mph. With no synchromesh on low gear, this proved to be a blessing in heavy traffic conditions. This Renault is virtually complete. The starter is missing, but I've had no problems finding replacements for around $300. The owner has tried turning the engine with a crank, and he believes that it has good compression. I wouldn't be rushing into coaxing it back to life after decades of inactivity. It deserves a thorough inspection, and even if a rebuild is required, parts are cheap, and they are easy to work on.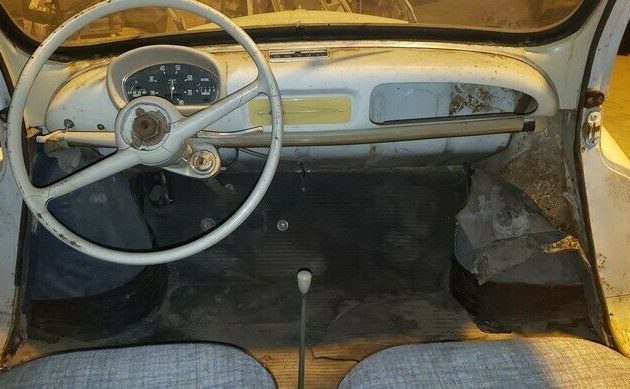 The 4CV was designed as affordable transport for the masses. As such, the interior is not weighed down with a lot of luxury items. Let's be honest here because it doesn't have any luxury items. There is a spot in the center of the dash where an owner could fit a radio, but that's about it. Renault designed the 4CV to seat four people, although it could fit five at a pinch. This interior needs some work, but its simplicity means that the buyer could tackle many of the tasks in a home workshop. The upholstery on the seats looks quite good, but the headliner has rodent damage. If the buyer is careful, they could remove it and utilize it as a template to make a replacement. There are no door trims, but they could also be made at home since they are flat trim items. The painted surfaces need a refresh, and the wheel needs to be restored or replaced. Complete those tasks and swap in a new rubber floor mat or carpets, and the interior would present exceptionally well. Rubber mats can be found for around $150, but the luxury of fitted carpet sets will cost about twice that amount.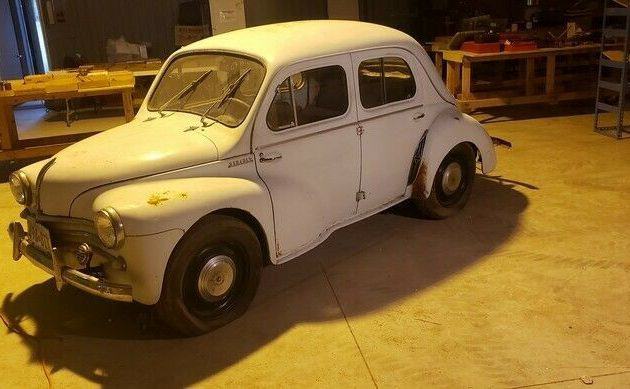 The Renault 4CV was designed to get the French people mobile, and it successfully achieved this. It became the first French car to sell more than one million units, and 1.1 million had found their way onto the road by the time production ceased. It was also built in seven other countries, generating much-needed foreign revenue for the French economy. Sadly, rust consumed many of those cars, so finding a solid project vehicle like this one is something of a treat. Today, good examples regularly sell for $11,000 or more. Depending on where the bidding ultimately goes on, this little French classic is a project car that could be worth considering if you are looking for something a bit quirky.