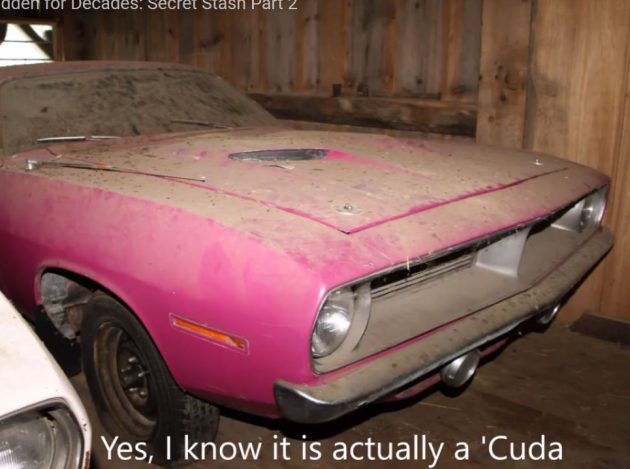 We know that a "Barn Find" has come to encompass many sorts of finds even when the "barn" is a garage or a storage unit or even a field. If you want to see one awesome barn full of mostly Mopars, check out this YouTube video of an East Coast barn. For the record the caption is part of the video. While the term 'Cuda began as a casual nickname for the potent Plymouth Barracuda, Plymouth formalized it with the 'Cuda option package in 1969. Read more here. But enough about that! If this 340-powered 'Cuda is wearing factory-applied FM3 Panther Pink / Moulin Rouge paint, it would be one 126 painted in this snappy color. The 340 was one of the hottest small-blocks going at the time.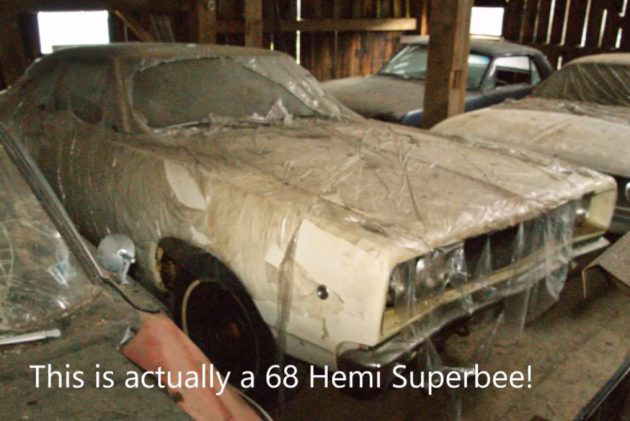 This 1968 Dodge Superbee is the performance version of the popular Coronet, and Dodge's version of the Plymouth Road Runner. According to Barrett-Jackson only 125 Superbees got Mopar's Holy Grail of muscle-car motors, the 426 cid Street Hemi packing 425 horsepower. Luckily moisture was protected from escaping the car by a thin veil of plastic. Just kidding folks, but if these cars go up for sale (not planned at this time) a closer inspection will be needed. This one doesn't look too heinous, but do you think *any* Hemi car is worth saving?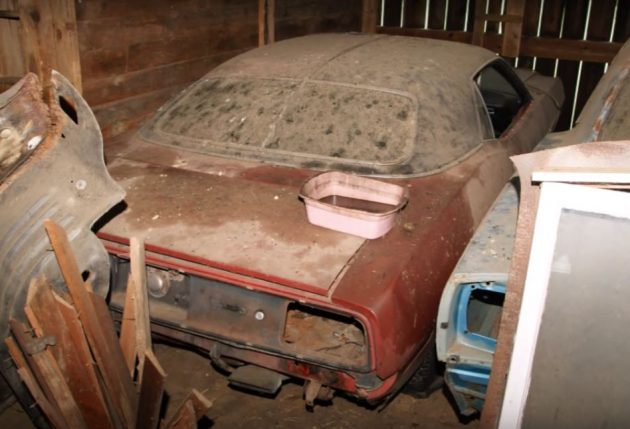 Another 'Cuda wearing what might be Deep Burnt Orange Metallic… or primer… or whatever rattle-can paint was on sale at the hardware store that week.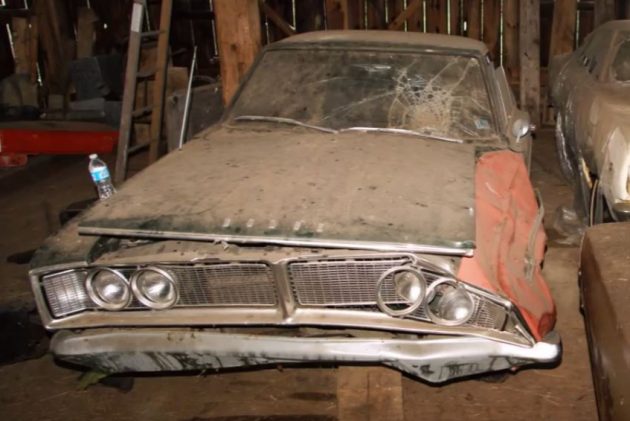 This 1966 Dodge Coronet has seen better days. Who can tell the best yarn about how a car gets damaged in the left front, has a junk-yard fender fitted, then, what… another car falls on it in the barn? While some '66 Coronets had 383s or the (new for '66 ) 426 cid Hemi, its "V8" badge suggests this one left the factory with either the 318 Polysphere or the almost-as-boring 361.
Other cars in the barn include a 1972 Plymouth 'Cuda, 1970 Plymouth Satellite, 1967 Dodge Coronet, a wrecked 1970 Plymouth GTX, and more! It's not all Mopar fun, though. A 1965 Mustang is the only animal of its kind in the barn. These classics may soon escape the barnyard into the light of day, and a gaggle of crazed bidders, but until then they remain shrouded in mystery… and spores. Bring a trailer? Yeah, and a respirator mask too.
OK all you eagle-eyes, take a close look at the video and let us know if you spot something the Archeologists missed.