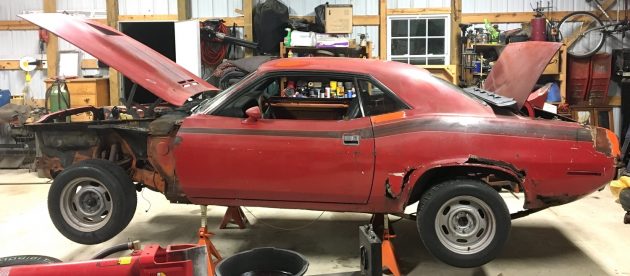 Project cars are our bread and butter here at Barn Finds. We remain steadfastly committed to the nuts and bolts of owning cars, you know, the fun part. Part of that fun, of course, is whatever potential a given project might have. If cool, rare and valuable muscle cars interest us, then this one has lots and lots of potential. A 1970 'Cuda is hard enough to find in it's own right, but how tough is the coveted AAR model? This one currently appears here on eBay, is located in the town of Pacific, Missouri, and at this writing, with a little less than five days left, is bid up to $18,600 with the reserve not met.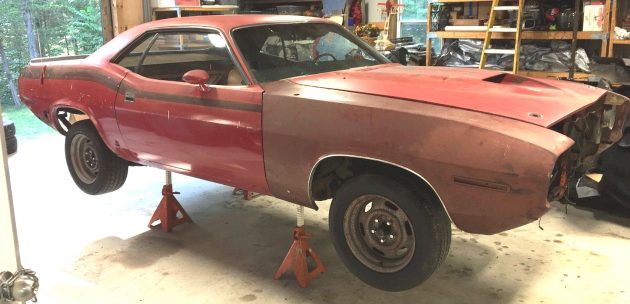 This certainly isn't the first basket case Barracuda we've featured here, but this one is a stand-out because of it's relative completeness, pedigree and related documentation. The seller has written this car up proper, with a lengthy, thorough description, and paired it up with dozens and dozens of photos, only a few of which we're able to show you here.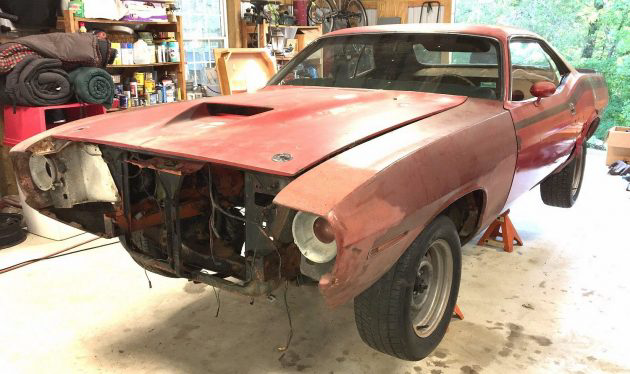 Non-knowledgeable nay-sayers will note the copious amounts of rust, and current state of disassembly, and may miss the importance of the rarity and relative completeness of the car. In other words, the seller has a lot of the important missing parts included with it, many of which are extremely hard to come by (read: expensive).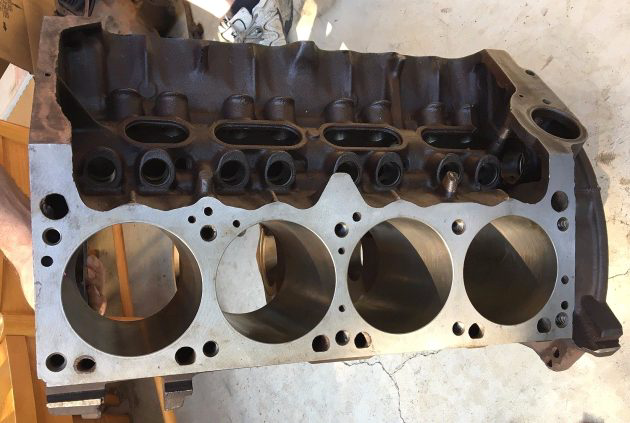 First and foremost, is the original numbers-matching drivetrain. This one is a 340 cubic inch six pack with three Holley two-barrel carburetors, and the 4-speed close-ratio manual transmission. The seller says the machine work has been completed on the engine block, and the quality of it is excellent. While I've mentioned only a few of the highlights here, many of the engine parts are apparently included.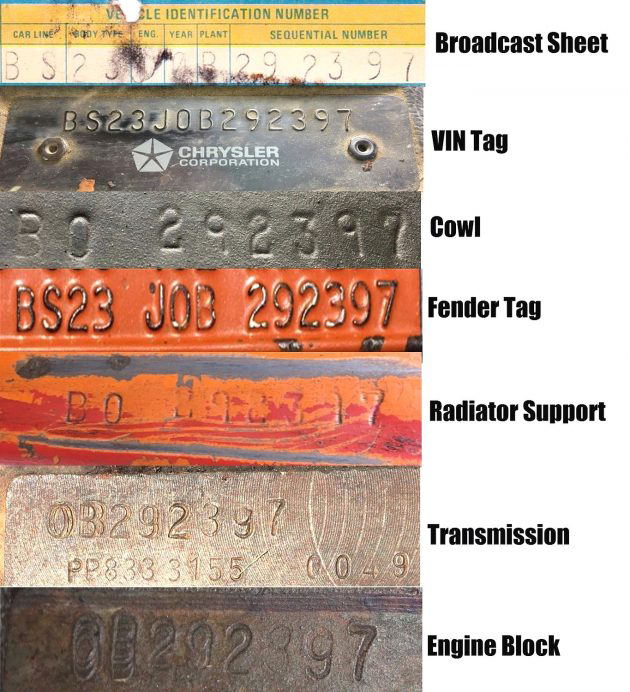 What makes any car interesting, at least for me, are the numbers and documentation. The seller has provided plenty of it, detailed photographs, the build sheet, a clear title and more. The photo above shows this, and this is one of the better eBay listings I've seen in awhile.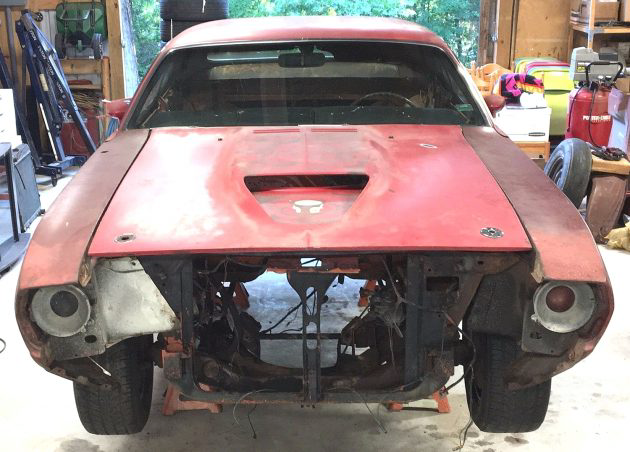 One of the many unobtanium parts included is the original fiberglass hood. In good condition, and apparently with special light duty hinge springs to compensate for the lightweight fiberglass panel.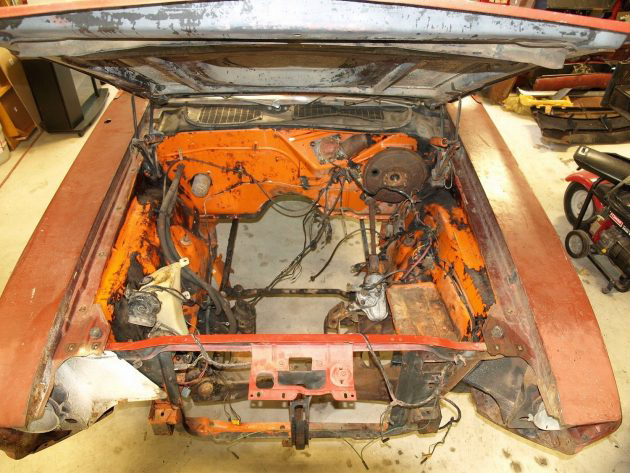 A look underneath that hood, and a quick double check of the documentation, confirms this car was not originally red, but EK2 "Vitamin C" orange, with black interior.  Also visible in this shot, is rust, and lots of it. This is where the car will fall out of favor with a lot of people. No car is for everyone, of course, but the serious rust repair this one needs will put it out of the question for many potential buyers. But if a real AAR 'Cuda is your thing, and paying six figures for it right out of the gate is not your preference, then maybe you're still with me. Other buyers prefer the hands-on experience, and want to walk it through a proper restoration done to their own standards, instead of buying the mystery associated with someone else's completed project car. Rough ones like this get lots of derisive comments about them being nothing more than "a cowl and VIN tag for sale." Sort of, but the parts included definitely lift this one out of that particular category. Despite the extensive rust-through under the hood, the car is said to have a solid unibody structure, and floors and roof.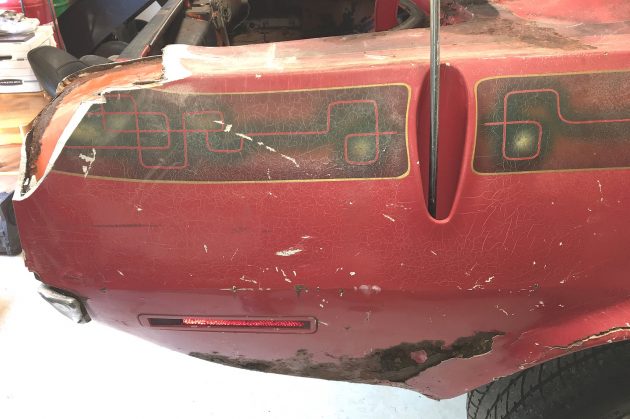 This is where it gets downright bizarre. From the looks of it, sometime in the late '70s-early '80s, this car was the hapless victim of some very ill-advised customization. The original orange paint was covered with bright red and whatever you'd call this graphics job. Underneath the paint, electrical conduit was used to 'flare' the wheel wells, and take a look at this crazy frenched antenna in the right rear quarter panel. Wow. To go along with it, apparently a large Daytona/Superbird-type wing was fabricated, and attached to the rear, which thankfully, has since been removed.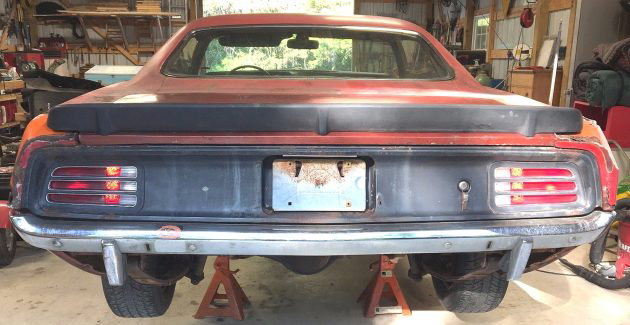 The seller tells us just 2,724 AAR 'Cudas were built, and that only 1,120 of them came with the 4-gear manual transmission. It's all kinds of rough, and all kinds of rare and desirable. It will be worth big bucks some day, and it's not a question of 'if', it's 'when'. So what's your guess? When the hammer drops, what will the final price be?