Studebaker always employed unique and interesting styling on their cars, and thanks is owed to Raymond Loewy for the Hawk. Born and raised in California, no harsh elements have ever reached this '56. Having only two owners since new, the first owner had this Stude' for 53 years. Clearly well taken care of and ready to drive, this golden Hawk is currently up for bid at $7,188 with the reserve not met, or for an astonishing buy it now price of $24,500. Take a look at it here on ebay out of Mission Viejo, California.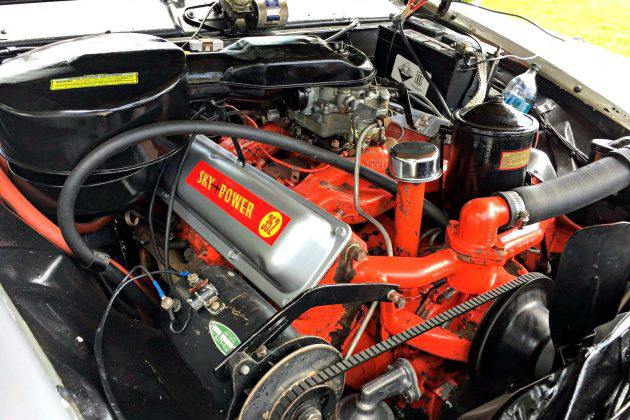 Under the hood is an extremely clean engine and bay. There is a great deal of factory paint present on the 352 engine, and in the bay itself. Thought to have covered 105,000 miles in its lifetime, it would seem this Hawk is a solid driver and needs little to be enjoyed. There are a few "creative" fixes done to this car that I am not exactly thrilled about. The windshield washer bottle is literally a soda bottle fitted to the driver side of the engine compartment. Also there was apparently an issue with the horn button, or its wiring, so a new button has been fashioned to the lower portion of the steering column. Both of these issues are minor and could certainly be remedied, but it makes me wonder what else could have been repaired in this manner?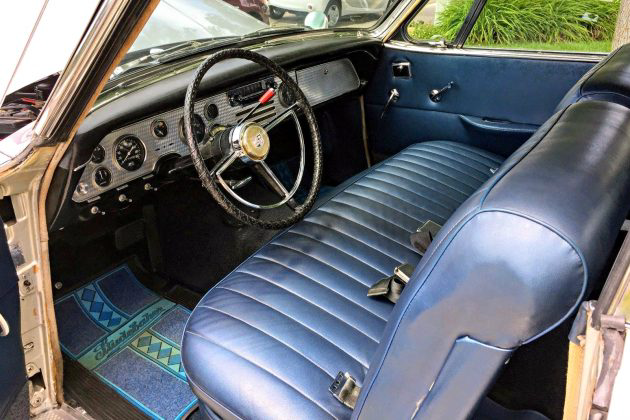 The beautifully engine turned dash is always a treat in these Hawks, and the interior of this car is beautiful. Covered in a steering wheel wrap, the rim of the wheel may suffer some minor damage or perhaps even a few cracks like so many vintage wheels like to do. The horn button suffers from some minor cracking, but as whole, the steering wheel presents nicely enough for an original condition driver as does the rest of the interior. Thankfully there is little else in the interior that reflects any signs of aging.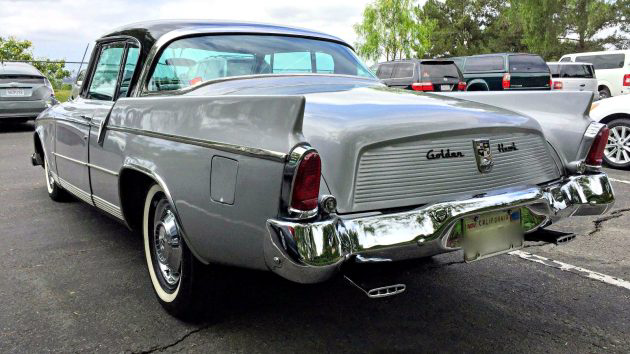 Have you ever seen a car as shiny as this Studebaker? It would almost seem like this Golden Hawk is a mirror out on a bright summers day with brilliance and light reflecting every which way. Although the paint is gorgeous, a repaint occurred at some point in the 1980's. The seller mentions that the paint has aged well, but does have some minor touch up areas. There is no rust or damage in sight, but the driver door looks to have some minor alignment concerns. The only immediate needs for this Studebaker would be new tires as the current ones are a bit old. With a crisp and clean appearance, what do you think this Hawk will sell for?
Have something to sell? List it here on Barn Finds!