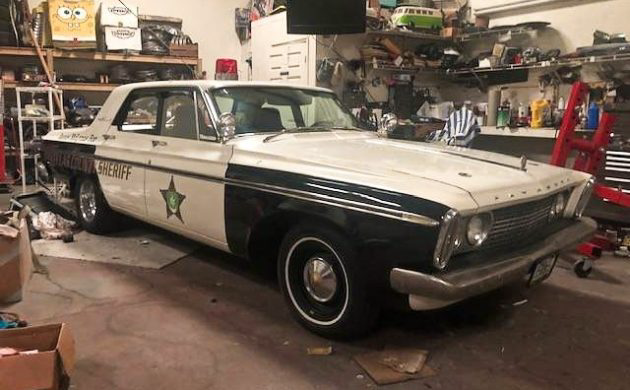 Did you ever want to head out on the highway, lights and sirens blaring, and pull over the bad guys but you didn't want to have to do the whole police academy thing? Well here's your chance, you can look the part with this 1963 Plymouth Belvedere police replica sedan and have some fun. Located in Largo, Florida, you will find this squad car available, here on craigslist, for $3,700. Thanks to Jim J for this tip!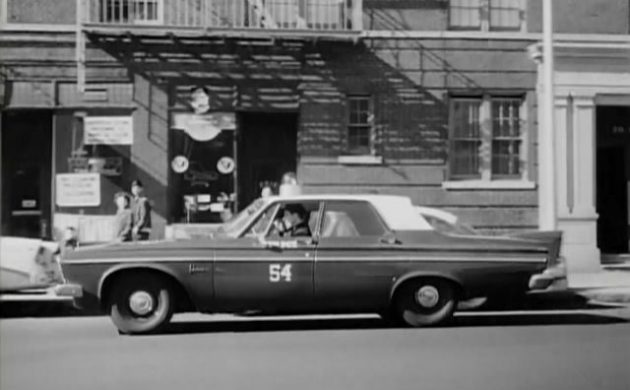 In 1963 Plymouth was in its second year of a "down-sized" full-size model with three trim levels, Fury, Belvedere, and Savoy. The '63 version came with a cleaned-up front end design that seemed more fitting for the time and a turn away from the last vestiges of "Exner" styling. And the '63 Belvedere was no stranger to police work, one was prominently featured in NBC's 1961-1963 situation comedy, "Car 54 Where Are You?" Besides the four-door sedan "cop package" body style, the Belvedere also came in two-door hardtop, two-door sedan, and a station wagon iterations. Plymouth extolled the virtue of their new for '63 five year/50,000 mile warranty, a domestic first according to their promotional material of the time.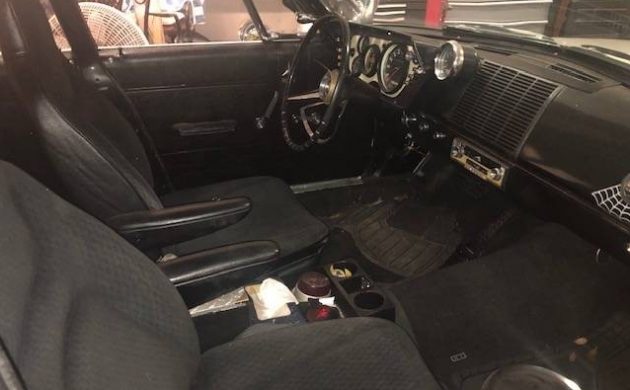 Now police cars usually come with a lot more than lights, sirens, and a two-tone paint job. Performance enhancements generally include a more powerful engine, heavy-duty suspension, upgraded brakes, suspension, and cooling system, maybe a transmission cooler, and other special features too; it all depends on what the fleet purchaser wants for the job at hand. While this Plymouth is stated as a replica it does have a K9 rear seat/unit and more modern bucket seats in place. The interior, in general, is in nice shape, with no noted issues with the upholstery, carpet, dash, instrument panel, or door cards. That said, the K9 conversion seems an unusual item, perhaps the seller has a dog or two.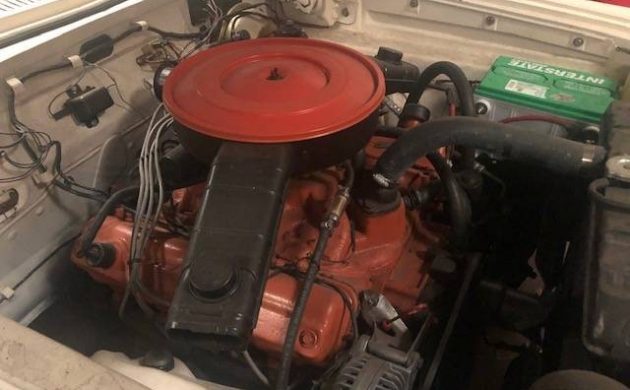 Under the hood is a decidedly urban performer in the form of a 230 gross HP, 318 CI, "Polyspherical" V8 engine. And of course, this engine comes with the most famous caveat, "…ran when parked" only to be followed up with, "Will run with very little effort". If it will run with very little effort, how about chop, chop! let's do it and help out with the sale effort. A pushbutton operated TorqueFlite three-speed automatic transmission is in place behind the 318 V8 and Plymouth even advertised the fact, in their '63 sales brochure, that there would be no more two-speed automatics – good move.
The exterior images are a head-scratcher as most show this Belvedere covered in detritus of every known type – what's the point? Also, the rear back-light is apparently missing, hard to keep Rex or a perp ensconced back there with no rear glass. The exterior would seem to be in a well-prepared condition, with legitimate police color schemes and markings, though there are no signs of lights or a siren. Just as well as my teenage friends and me, driving a white '68 Plymouth, equipped with a siren and removable, magnetic strobe light, managed to pull over an off-duty, unmarked police car. Being only 17 helped get us out of that jamb, but I don't recommend attempting that kind of stunt. Anyway, the finish is strong and deep and definitely has a proper police car vibe. Of note, are the rear wheels, there is a drag-racer theme going on there with the deep-dish chrome wheels, it seems incongruous with the rest of the car's persona.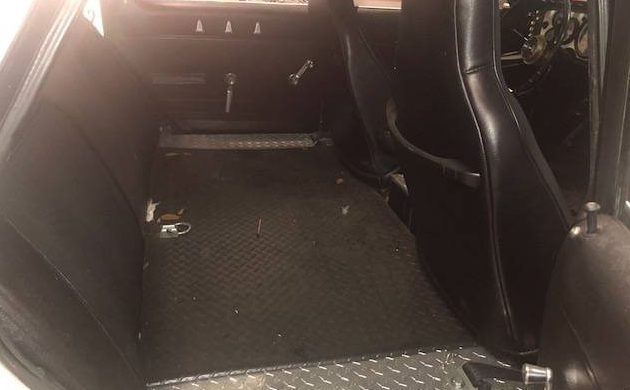 The seller suggests that this Plymouth would be "Great for marketing or advertising to bring attention to your store or business". I guess that could be true but if your business is not located in Pinellas County, Florida it will seem like a bit odd. I see the allure of this Plymouth but actually, I think I'd rather have a for real, former police prowler, how about you?